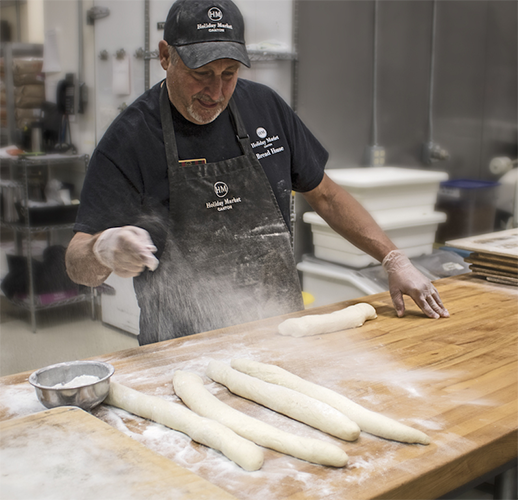 Holiday Market takes customers through an ever-changing journey of food products from around the world.
John Pardington's passion has always been to find new and exciting ingredients and products from all over the world. He travels frequently, exploring small towns and markets to acquire sauces, cheeses and wines like a museum curator gathering rare artifacts – except he shares his collection with every customer that passes through the doors of Holiday Market, a grocery store in Canton, Mich.
"You do that year-in and year-out and all of a sudden you have a store filled with things that are not only different – I could fill 50 stores with things that are different – but different and good," he says.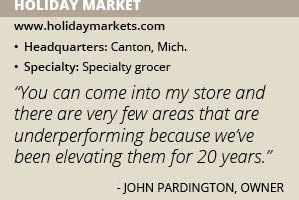 The products that most excite Pardington are those that have been made by local populations for a long time, are priced right and taste fantastic, such as sardines off the coast of Sicily and Giri coffee beans from southern India. "If you walk in our store, instantaneously you feel a whole different culture," Pardington says. "We cram 10 pounds of sand into a five-pound bag. We have lots of interesting things from all over the world."
Those items are constantly rotating in and out, giving customers new things to experience every time they shop. "I can't resist another beautiful product that I find. I've got to get it into the store," Pardington says. He adds that he doesn't want to be judged by the one item he brought in yesterday, or by the weight of all the products he's brought in over two decades. "It's like a stage in a play. Seasons change, so do our sets, so does what we carry."
Superior Selection
Pardington's father-in-law, Tom Violante, founded the first Holiday Market in 1954 as a neighborhood butcher shop and specialty store in Royal Oak, Mich. Pardington joined the company after leaving IBM and introduced several advancements based on items people his age were looking for, such as fresh roasted coffee.
Suppliers soon noticed the transformation and wanted to find other ways to work with Pardington. Twenty-five years ago, grocery wholesaler SpartanNash offered to help him open his own store in a 50,000-square-foot strip mall space in Canton. Today, Pardington says it's one of the finest gourmet shops in all of Michigan.
Walking Holiday Market's aisles offers a true taste of the world, but not every item makes sense to bring in from overseas. Many of the company's best items are made right in the store.
The store has its own smokehouse, a meat department that stuffs its own sausages and cuts seafood on a 40-foot-long counter, a coffee counter that roasts 40 different types of green bean coffees on site, and a world-class bakery known for its cakes designed by several-time award winner Don Buciak. Its alcohol section carries 4,000 different wines and whiskeys sampled and selected by Pardington and his daughter, Claire, the company's head of marketing.
Holiday Market even makes its own vinegars using vinegar mothers Pardington grew in his own home over several months. "We do stuff like that because I'm passionate about good food," he says.
The highlight, however, may be Holiday Market's breadhouse, which bakes bread fresh daily in a recently installed five-deck MIWE Oven from Germany. "We've never made such great breads," Pardington says.
Valuing Employees
The equipment brings an authentic old-world sensibility to the baking process, but the store's experienced artisan bakers are just as important. That is why the company invests in formal training by sending its bakers to the San Francisco Baking Institute. "I believe in an ongoing education for all my employees wherever I can," Pardington says.
Four bakers have already gone through the introductory artisanal baking program at the culinary school and will participate in additional classes over the next few years. Further, Holiday Market has hired baking consultant Maurice Chaplais from the United Kingdom to train staff at the store on several occasions. "We bring him in because it was a good way to get my bread people working with an expert for a week or 10 days and it was a good way to perfect their techniques with the oven," Pardington explains.
The result is a bread department with an unmatched reputation. "We have the best baguettes in America," Pardington boasts. "I really believe that."
Holiday Market's workers go far beyond the typical grocery store employee. They don't simply pull product out of a freezer or storage room and stuff it onto the shelves. They're expected to be experts in their area.
Finding employees that could live up to that image was difficult at first, but as the store became known for its artisanal culture, seasoned cake designers, meat cutters and pitmasters learned it was a place where they could find work. "It begins to attract people," Pardington says. "People begin to understand that holiday market has a great reputation."
Over the years, Pardington has learned that his employees are also his customers. He values them and strives to treat them with fairness and honesty, which has led to low turnover. "If we don't treat them right, they're not going to treat our customers right," Pardington notes.
Elevating Operations
Pardington is passionate about employee training and continuous improvement because he sees it as the key to staying ahead of the competition. Companies that aren't steadily moving forward risk suddenly discovering they are five years behind, he says, which is why he spends so much time traveling and attending food shows.
When Pardington still worked for IBM, one of the company's philosophies was that if it was going to introduce a new computer model the new version had to have something better about it. It's a lesson he's brought with him to Holiday Market. The store is constantly changing, but every one of those changes is designed to heighten the customer experience or improve operations.
"I believe I'm going to get a Nobel Peace Prize someday for what I call my '10 percent rule,'" Pardington says jokingly. Think of a store's sales floor as a vertical bar of performance. Pardington wants to take the bottom 10 percent of that bar – the areas or corners throughout the store that are the underperforming – and give them the attention or product needed to lift them to the top of the performance paradigm.
Over time, the store's entire operation reaches a higher level. "You can come into my store and there are very few areas that are underperforming because we've been elevating them for 20 years," he explains.
Community Links
One area where Holiday Market hopes to improve is its online presence. When Claire Pardington returned home to the family business a year-and-a-half ago after a career as a fashion designer in Manhattan and Milan, she began thinking of ways to bring the stores' experiential atmosphere to the internet and social media.
She plans to launch a Holiday Market blog within the next year as a way to reach younger customers with an interest in culinary travel. "I feel like the whole creative world these days is tapping into everything," Claire says. "Why can't we put a little art into our food?"
Even as they set their sights on the larger community of the World Wide Web, and his wife, Lisa, continue to actively support people throughout Canton. They were even awarded the "Hall of Fame" award from the city of Canton.
Pardington, Lisa, and their children Claire, Emily and Jack also created Live Like Max, a foundation that provide no-cost echocardiograms and electrocardiograms for student athletes at schools throughout the region.
The foundation was inspired by their son and brother Max, who died in June 2014 at age 20 from an enlarged heart. The couple has raised more than a half-million dollars to fund free student heart screenings. The foundation is a testament to how entrenched the Pardington family – and by extension, Holiday Market – are in the community, even in the face of growing competition. The combination of specialty products that can't be found anywhere else and a skilled staff that is trained in artisan trades has enabled Holiday Market to stay ahead of the market. Retail giants such as Target and Kroger have muscled out independent grocers in many markets, but Pardington says they can't match Holiday Market's selection or service.
"They want to bury me, but 20 years later, here I am still strong because I do what they don't," Pardington says. "I don't have to answer to Wall Street. If I have to eat a little profit to put more people on the floor to help my customers, I'm OK with that."