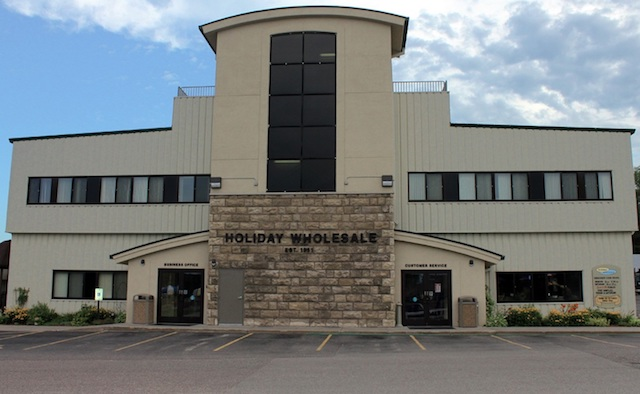 Holiday Wholesale doubles the size of its headquarters to broaden its product mix and bring greater opportunity to its customers.
Holiday Wholesale has prided itself on providing the "best possible service at the best possible price since 1951" when founder Bud Gussel began selling candy and cigarettes out of the back of his car in Wisconsin Dells, Wis. "We are a family owned company with family values and really concentrate heavily on working independent and mom-and-pop businesses throughout Wisconsin," Foodservice Director Michael Weaver says.
Gussel made a $26 profit his first week of business and purchased a station wagon in 1952 to begin delivering goods to his customers. In 1956, Gussel Distributing – which Holiday Wholesale was called at the time – outgrew the small garage it operated from and moved into a building on Superior Street in Wisconsin Dells. Through the years, the company continued to grow and expand its product line.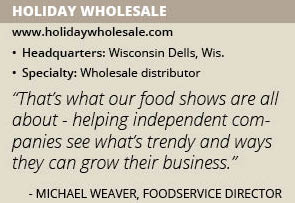 Today, Holiday Wholesale is still located in Wisconsin Dells and is a broadline distributor with about 600 employees serving more than 6,500 customers throughout Wisconsin and parts of Illinois, Michigan, Iowa and Minnesota. Its customers have grown to include any business or organization that purchases the health and beauty, candy, snacks, beverages, groceries, chilled and frozen foods, sundries, auto care and accessories, chemicals, paper and plastic, equipment and smallwares and tobacco.
Lasting Partnerships
Twice per year, Holiday Wholesale hosts a spring and fall food show to better connect its customers with products and suppliers such as Taste Traditions of Omaha, Neb., UniPro Foodservice and McCain USA Foodservice. Gussel and his company developed the show more than four decades ago to showcase the ever-changing innovations of the retail sector that Holiday Wholesale represents.
"It gives our suppliers a chance to get out in front of customers, collaborate and show their products," Weaver adds. "That's what our food shows are all about – helping independent companies see what's trendy and ways they can grow their business."
In addition to its annual food shows, Holiday Wholesale's 48 outside sales representatives visit customers regularly, taking orders for next-day delivery. The company trains its sales teams, both internal and external, on product knowledge regularly. "We do kitchen training weekly so they learn more about the current portfolio and any new products coming out so they can bring those opportunities to our customers," Weaver says.
Holiday Wholesale not only provides its employees with regular training, it also encourages further development to be promoted from within. The company also hosts a number of employee appreciation events, including family days. "We have a strong family atmosphere and do a lot of things for the employees," Weaver notes. "People bring their kids to work sometimes and younger families bring in their new babies – we have 600 families who really do depend on us to get it right."
Facilitating Growth
Holiday Wholesale is expanding its headquarters in Wisconsin Dells that will double the size of its existing facility to 100,000 square feet and allow for greater product diversity. The new multi-temp facility will feature state-of-the-art equipment to house its frozen, refrigerated and dry goods. "The new facility will allow us to go from serving 600 locations to just over 4,000 locations in the freezer section alone," Weaver notes.
The new facility will operate as a pick-by-wire system for greater accuracy and employee safety. "The system is safer and more efficient for our employees," Weaver says. "With more narrow aisles, a custom forklift is required to pick product and the width reduces the ability for an employee to turn the forklift too short and unintentionally damage product."
The expansion is expected to be completed next year. Holiday Wholesale then plans to expand its fresh produce and beverage lines into a "better, broader product mix," Weaver says, as well as implement new training programs.
Moving forward, Holiday Wholesale plans to continue growing and focusing on independent businesses in Wisconsin. "This is our sweet spot," Weaver notes. "There are so many things we can still get better at and do a better job with the customer we have now that we are pretty geographically satisfied."