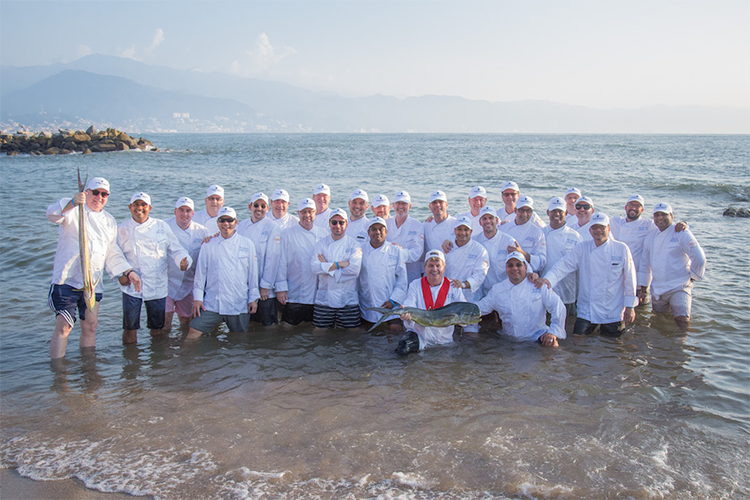 Holland America Line aims to enhance its food and beverage offerings even further.
After nearly 150 years, Holland America Line knows it has to keep its offerings fresh. "As guests become more rounded in the travel world, their expectations are rising every day," Vice President of Food and Beverage Frits van der Werff says.
"How to wow these guests is going to become a continuous challenge," he notes. "You have to push yourself to find ways to provide a unique food and beverage experience."
Seattle-based Holland America Line operates a fleet of 14 ships that provide more than 500 cruises to over 400 ports around the world. The company started operations in 1873 as the Netherlands-America Steamship Co., a shipping and passenger line.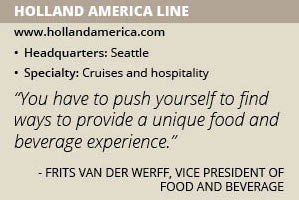 Today, Holland America Line is a subsidiary of Carnival Corp. and offers cruises to all seven continents, ranging from short getaways to 115-day itineraries. But for van der Werff, who took his role at the company earlier this year, a constant goal is making sure its ships continuously develop new concepts and food and beverage experiences.
In fact, his department follows the mission statement of "Refining Food and Beverage Experiences," he says. "Refining implies elegance and that we are on the journey from good to great. It implies we already do lots of things very well now and are focused on getting it as great as we can."
Experiences, he notes, encompass everything in the food and beverage program, ranging from food quality to service to creativity in the menu. "In the end, we are selling experiences," he says. "So our mission is to continuously deliver high-value experiences for all of the stakeholders: guests, crew and Carnival Corp. shareholders."
Refining the Vision
Recently, Holland America Line took its 38 chefs to a conference in Puerto Vallarta, Mexico, with the goal of refining its culinary vision. Although its food and beverage program is recognized as industry leading, "There is still so much more we can do," van der Werff says.
"We're focused on getting it as great as we can," he states. "We ask, 'Is this new experience we're developing making it better?' If it isn't, we're not doing it.' These questions come up in everything we're doing in refining our food and beverage experiences."
van der Werff also looks for ways to push the envelope, including hiring food and beverage talent from outside the cruise industry. "[That helps] us get out of our comfort zone and helps us push our boundaries to wow and surprise guests," he says. "That is really the key going forward."
Authentic Experiences
Holland America Line recently wowed guests with its new Rudi's Sel de Mer, a seafood brasserie that offers French seafood with a contemporary twist. The concept debuted on the company's ms Koningsdam vessel, with a menu featuring fresh oysters, seafood chowders, salt-crusted whole fish, scallops and bouillabaisse.
"It was really popular and well received by our guests," van der Werff recalls, adding that the company looked at ways to bring it to its other ships without having to build new restaurant spaces.
Holland America Line ultimately decided on opening Rudi's Sel de Mer pop-ups in the Pinnacle Grill restaurants on all its ships. "None of the other cruise lines operate a specialty pop-up experience," he says, noting that the pop-ups transform their space with the use of plateware, uniforms, music and even lighting.
"This is a French seafood brasserie, and whenever we do something food and beverage-wise, it has to be authentic," van der Werff says, noting that this philosophy is carried over into its other vessels, as well as its upcoming cruises to Cuba, which will start in December.
Its staff will wear Cuban fashions, including guayaberas, while the company's team of chefs has created a Latin and Caribbean-inspired menu. "We've [had that] vetted by a Cuban destination expert to really verify what we're doing is authentic," he says. Holland America Line's competitors often overlook these details, van der Werff says. "These are what the guests are looking for," he says. "It's all about these unexpected surprises that pop out of the cruise once we head to Cuba from Key West, [Fla.]"
Culinary Guidance
Holland America Line also keeps its offerings strong with the help of its Culinary Council, which consists of six world-class celebrity chefs. These include David Burke, who has been featured on "Iron Chef America" and "Top Chef Masters," and Elizabeth Falkner, who is a frequent judge and competitor on the Food Network.
"We have Jacques Torres as the chocolatier to help us with our sweet spots," van der Werff adds. The team also includes Jonnie Boer, who has earned a three-star Michelin rating annually since 2004, and is led by Holland America Line's Master Chef Rudi Sodamin, the creator of Rudi's Sel de Mer.
The Council also includes Andy Matsuda of the Sushi Institute of America, who manages the company's sushi program in its Tamarind restaurants and its buffet operations. Holland America Line will announce a new member this January who will focus on the company's ships sailing in the Pacific Northwest.
"These chefs are involved in our menu planning and provide guidance to our culinary team on an ongoing basis," van der Werff says, adding that the council also requires new associates to train in its restaurants to understand its concepts.
"It's one thing to do that through a concept guide or concept brief," he says. "Then there is the way of actually experiencing it, living it and breathing it in the restaurants itself."
Exceptional Spirits
Holland America Line strives for innovation on the beverage side. As part of that effort, the company has formed a partnership with renowned mixologist and author Dale DeGroff, who curates the company's cocktail program, van der Werff says.
Although some guests may prefer traditional drinks like piña coladas and margaritas, "We really have unique craft cocktails available," he says, noting that the company works closely with DeGroff on these beverages.
For example, the B.B. King's Blues Clubs serve such exclusives as its Lucille, Rock Me Baby and Motown Melody drinks. "When we go into Cuba, we will get Cuban inspired," van der Werff predicts. "When we sail into Australia, we look at what our Australian sister brands are offering in terms of trends and bring it on board."
Company Pride
Holland America Line is proud of its team, which includes many who have worked on the food and beverage side for 40 years. "We've got fathers and sons, and uncles and nephews," van der Werff says. "In this business, when you've got an average tenure of 10 years-plus, that's pretty good. We pride ourselves on that.
"We have a very loyal staff that is just very pleased with the work environment we provide to them," he adds. "It makes them very comfortable."
Holland America Line's future has the potential to be strong, van der Werff says. "If there aren't any economic downturns or geopolitical concerns, then the cruise industry has a very bright future ahead of us," he says.
"With that comes a very bright future where we are continuously able to push the envelope and create new experiences that are unmatched in the industry, but still keep that traditional heritage in there," he says. "We're going to have fun doing it."