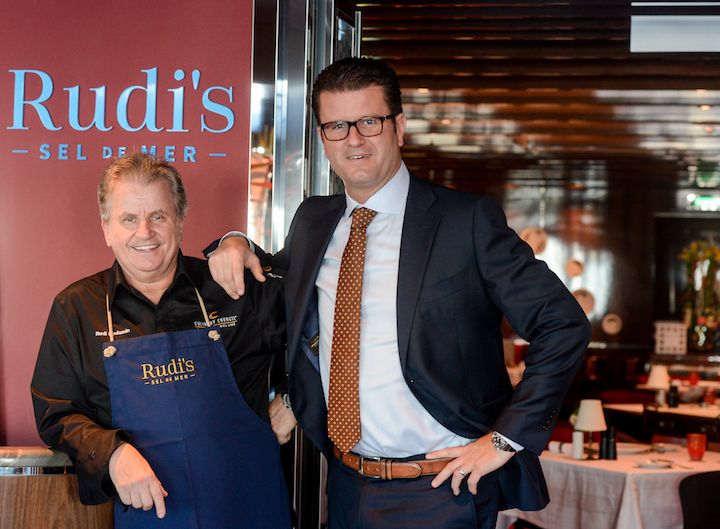 Holland America Line debuts enhancements to its food and beverage program first aboard its newest ship, Nieuw Statendam, and has since rolled the changes out fleetwide.
Holland America Line's newest ship, Nieuw Statendam, set sail on its maiden voyage in December, offering travelers a new way to connect and understand the world. With a plethora of destinations available that inspire one to explore the world, Holland America Line focuses on the journey by providing guests with experiences and memories that will last a lifetime.
"Nieuw Statendam is a vessel for exploration and adventure across countries, languages, cultures and people, and – we hope – a source of joy for our guests for many years to come," President Orlando Ashford says.
Holland America Line's fleet of 15 ships offer more than 500 cruises to more than 400 ports in 98 countries, territories or dependencies around the world. Celebrating its 145th anniversary last year, Holland America Line has carried more than 11 million passengers from Europe to the New World and to vacation destinations across the globe since its founding. Today, the company carries more than 800,000 cruise passengers a year.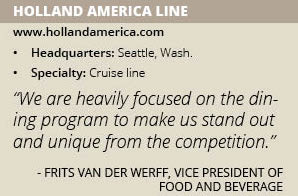 Fleetwide, Holland America Line's ships feature innovative initiatives and a diverse range of enriching experiences focused on destination immersion and personalized travel. "Our cruise lines are appealing to foodies, music lovers and explorers, which is how we want to position ourselves in the marketplace," Vice President of Food and Beverage Frits Van Der Werff says. "We are heavily focused on the dining program to make us stand out and unique from the competition."
Nieuw Statendam, a 2,666-guest ship, has an ambiance that balances fresh, contemporary styling in perfect harmony with the line's renowned classic elegance. Internationally acclaimed hospitality designer Adam D. Tihany and Bjorn Storbraaten, one of the world's leading architects in the cruise industry, designed the ship and the interior.
The ship offers an abundance of unforgettable dining options. Award-winning cuisine is served in the Dining Room; and an array of specialty restaurants feature exclusive experiences such as steak and seafood at Pinnacle Grill, authentic Italian cuisine at Canaletto, the culinary traditions of Southeast Asia at Tamarind and Nami Sushi and a contemporary twist on French seafood classics in Rudi's Sel de Mer.
In February, Oprah Winfrey – philanthropist, film star, TV icon and founder and editorial director of O, The Oprah Magazine – officially named the ship in a ceremony in the ship's World Stage onboard. "We are deeply honored to have Oprah Winfrey serve as the godmother of our newest ship in a celebration of our shared belief that travel has the power to open minds, build connections and inspire shared humanity across cultures and people," Ashford says.
Experiential Dining
Before Nieuw Statendam's debut, Van Der Werff's team took a close look at its food and beverage program to make enhancements. "We took the time to perfect what we are doing," he says. "We looked at every concept under the microscope to determine what's working well and where we can do better."
The company took advantage of the culinary talents of its unique Culinary Council to transform its dining experiences. The council includes Holland America Line's Master Chef and council chairman Rudi Sodamin; three-star Michelin rated Chef Jonnie Boer; restaurateur, cookbook author, inventor and consultant Chef David Burke; French-trained Master Chef and artisan chocolatier Jaques Torres; one of Food & Wine's "Best New Chefs in America, Chef Ethan Stowell; and Sushi Chef Institute founder Chef Andy Matsuda.
Chef Burke fine-tuned Pinnacle Grill's steak and seafood menu, giving it a new twist with innovative dishes while maintaining its reputation as a classic Pacific Northwest steak and seafood grill. "David Burke is renowned for his innovative steakhouse menus," Van Der Werff says. "So we wanted to use his creativity to add new dishes to the iconic menu that is a favorite among our guests. Our steaks are sourced from Double R Ranch in Washington and are hand selected to only include USDA choice and higher levels of marbling. With Holland America Line being based in Seattle, we like to work with vendor partners in the Pacific Northwest and Double R Ranch is a great example of this.
"David also implemented the bacon clothesline, which is candied maple bacon with a taste and presentation that is phenomenal," he continues. "The presentation alone sparks so much interest as a conversation piece when it is delivered to the table."
Aboard Nieuw Statendam, Holland America gave its Italian restaurant, Canaletto, more prominent space and enhanced its offerings. "We now make fresh pasta on board and made sure each dish represented has an Italian authenticity to it while still being very approachable," Van Der Werff explains.
Tamarind delights guests with exotic menus that evoke the culinary traditions of Asia. Launched in 2008, Van Der Werff's team has added new offerings this year as well as creating an al fresco dining space overlooking the back of the ship.
"What used to be simply a sun deck has been converted into a bar, lounge and dining space, so guests can enjoy al fresco dining from this restaurant," he adds. "We have looked at every restaurant and made positive changes like this where needed. These are already very successful restaurants, but we further refined and perfected them."
Club Orange is Holland America Line's newest offering for guests who opt to pay for club level service and amenities. "These guests have a designated restaurant for breakfast and dinner, enhanced menu features and other amenities that set them apart," Van Der Werff says. "We named it Club Orange as a nod to our Dutch heritage with the color orange representing the House of Orange-Nassau."
The opening of Rudi's Sel de Mer on board Nieuw Statendam was celebrated with a traditional ribbon-cutting ceremony. Master Chef Rudi officially opened the venue and welcomed its first guests. The popular Sel de Mar restaurant first launched in 2016 on board Koningsdam and was later introduced as a pop-up restaurant on all Holland America Line ships under the name Rudi's Sel de Mer.
"After successfully introducing Rudi's Sel de Mer on the rest of the fleet, the restaurant has garnered both guest and industry acclaim," Van Der Werff says. "Chef Rudi is known as a culinary pop-artist and created Food Faces art for the exclusive show plates featured in the restaurant."
"When developing the concept of Rudi's Sel de Mer, I aimed to make it one of the finest at sea that would rival the best French-inspired brasseries in the world, and I am proud of the work that went into making it a success," Sodamin says. "I am very pleased to bring global culinary expertise to the prestigious Holland America Line brand and have my name on the list of chef-branded restaurants in the cruise industry."
Complementary Pairings
In addition to its Culinary Council, Holland America Line also enlisted the help of wine critic and curator James Suckling to create "James Suckling's Guide to Great Wines," and master mixologist Dale DeGroff to introduce a new craft cocktail menu.
Holland America Line debuted its sophisticated new wine list, designed to help a wine novice make a selection that pleases their palate from a range of cellar-worthy gems.
All of the "JS 90+" wines by the glass and all of the bottle options were hand-selected by Suckling and consistently receive a rating of at least a 90, which is outstanding on his 100-point rating scale. "You will never go wrong selecting any of the wines," Van Der Werff says. "James stays a journalist at heart, he's a critic and every wine has a story behind it, and that's what makes it so appealing."
Known as "King Cocktail," DeGroff's new craft cocktail menu of seven specialty drinks showcases the craft cocktail movement and embodies Holland America Line's commitment to being at the forefront of food and beverage trends. "We are continuously working with Dale to evolve our cocktail menus to be on the cutting-edge of what's trending and what's going to resonate with our guests," Van Der Werff says.
Holland America Line has designated a commemorative collector's bottle from Heineken to celebrate King's Day each year on April 27. Kings Day in the Netherlands marks the birthday of His Majesty King Willem-Alexander. Holland America Line will feature the commemorative premium beer aboard its 15 ships, creating a connection between two companies with a history deeply rooted in the Netherlands.
As the food and beverage industry continues to evolve, so too will the food and beverage program of Holland America Line.
"Food and beverage is the largest department at sea," Van Der Werff says. "And the food and beverage service and programs are a key driver of the outstanding guest experience on our ships. The food and beverage team makes this happen each and every day, and I couldn't be more proud to work alongside everyone."