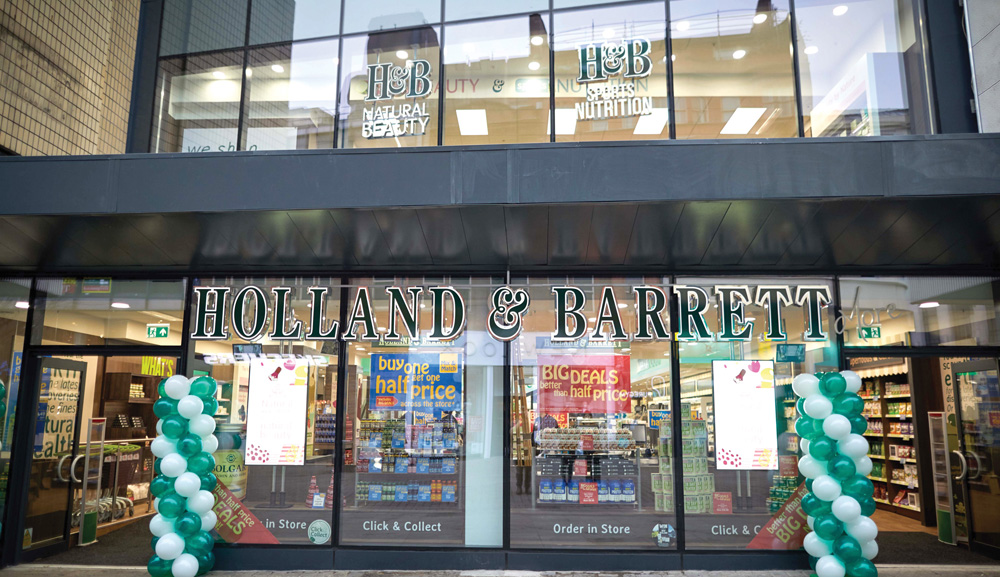 Entering the mainstream
By focusing on constant evolution in all areas of the business, Holland & Barrett continues to maintain its reputation as a leading health retailer in the UK
One of the leading health and wellness retailers in the world and the largest of its kind in Europe, Nuneaton headquartered Holland & Barrett is a household name in the UK as a supplier of vitamins, minerals, health supplements, specialist foods and natural beauty products to its customers. With a history reaching more that 145 years in the industry, the company has become a
familiar sight in almost every major city and town throughout the UK and is becoming increasingly more visible in locations such as the Netherlands, Malta, the UAE, China and India.
Discussing the background of the retailer, CEO of Holland & Barrett Peter Aldis comments: "The history of the company as a natural grocer goes back to 1870, however in the 20th century the company has something of a chequered history and was eventually owned by Booker McConnell as it went through a phase of buying up small chains of health food stores such as Southern Health Foods and Guilford Health Foods. Booker McConnell had 140 or 150 health food stores by the 1960s and made the decision to put these stores under one name, with Holland & Barrett chosen. While somefelt it was a good name for a natural grocer chain, other members of the board debated that it didn't describe the business well; nevertheless, it was decided that such a name didn't do a company such as Marks & Spencer any harm! With a name decided Holland & Barrett was reborn in the 1960s."
He continues: "As decades passed, the company began to struggle to be profitable in the 1990s; at this point Lloyds Pharmacy acquired Holland & Barrett from Booker McConnell as part of deal when Lloyds was actually seeking to acquire Kingswood Chemist. With the deal agreed, Allan Lloyd invested a huge amount of money in Holland & Barrett, building an estate and chain of stores, eventually growing the business to 400 stores by the time he sold it on to our current owners, the US based vitamins manufacturer Nature's Bounty."
From 400 stores, the company has grown to 1400 stores around the world, with 750 locations in the UK, approximately 50 stores in the Republic of Ireland, more than 200 stores in Benelux and around 150 franchise stores in 11 different territories across the globe. On top of this, the company has nearly 400 store-in-store shops, where it has between three to five metres of space that is heavily branded with Holland & Barrett goods; these types of stores are located in locations such as India and Hong Kong with Holland & Barrett's partners Apollo and AS Watsons.
"Since the acquisition we have gone from strength-to-strength and have evolved the business to become a hugely successful high street and thriving ecommerce business. In terms of location and growing our international base we have developed very positively considering we only went international around five years ago," confirms Peter. "Although the market is currently positive for us as we are operating in a category that is in growth, this sector is also highly competitive, with those vying for space in this area. Because of this, we focus on staying ahead of the curve when it comes to trends and developments."
Ethical stance
One such example of the company staying ahead of the curve can be seen in its proposition, in which Holland & Barrett's business is segmented into key areas: VHMS, active nutrition, specialist food and drink, FNSS and ethical beauty, the latter of which is the most recent addition. "If a certain trend is going to become popular in three to five years time we want to be working on that
now. Take for example ethical beauty, if you asked 1000 people on the high street where they would get ethical beauty products they may say a store such as Body Shop or somewhere like that. Depending on your definition of ethical from our point of view this is to do with ingredients, as such as we have banned all parabens; additionally, when micro beads were heavily in the press before Christmas we have already banned micro beads from our products," says Peter.
"With all parabens and chemicals taken out, we have also taken out sodium laurel sulphate; this is a foaming agent that doesn't clean or preserve or add colour or aroma, but because we have grown up with toothpaste and soap that foams we believe this is what is cleaning us when it actually isn't. We have taken a very ethical stance to issues such as this and have also looked at where else we can do this, so we have no genetically modified ingredients or hydrogenated fats; these are areas that our customers may not know about but they expect us to be ahead of the curve, so there are also things that we are now looking to try and embrace that we believe will be important in the future."
He adds: "In 20 to 25 years time, the ethical beauty concept will become more mainstream and will no longer be known as 'ethical beauty' but 'beauty', much in the same way that Anita Roddick started the Body Shop as a pioneer against animal testing and today many countries view animal testing as abhorrent."
Agile approach
With the UK currently in the throes of a mega trend surrounding health and wellness, Holland & Barrett is benefiting from consumers developing an increased understanding of themselves, their bodies and the effect of food, drink and exercise on their body. To serve this growing demand effectively, the company is self-qualified in nutrition and supplementation, making it a trusted provider of health and wellness products. Furthermore, the company has the ability to provide products to the market swiftly thanks to vertical integration at its manufacturing plant in Burton upon Trent, where vitamins from specialists in the UK and commodity sourced fruits and seasonal snacks from locations such as Turkey and California are packed. "Not only a packer of items such as herbs and spices as well as snacks such as apricots and walnuts, we are also a manufacturer of sports powders. Because of our capabilities in this area of the business we have enhanced our growth margin and boosted our agility in delivering products fast to the market."
Future strategy
On top of this, the company focuses on delivering an omni channel platform for sales, which involves seamlessly interacting across channels regardless of whether a consumer interacts with Holland & Barrett on Facebook and other social media or instore. "Because consumers may research online but approach us in store, it is very important to be consistent across all channels when it comes to pricing, loyalty points, discounting and promotions. It is about having a network of stores and technology that is best-in-class, while also keeping up-todate with technological developments. We also complement omni sell with the availability of our complete range in store through a thing called 'Order in Store', which means regardless of the size of the store we can provide a click and collect service back to the store or to the consumer's home address," says Peter.
Alongside a focus on consistent customer service across all channels and a commitment to staying ahead of the curve with regards to market trends, Holland & Barrett has also pushedforward with its More stores. Jampacked with the healthiest items, Morestores have more products, services andfabulous new features from the Good Life Garden to its own Beauty Kitchen as well as delicious organic Food-to-Go bars. Additionally, these More stores have fully qualified to advise store associates, a new in-house nutritional therapist service, gift wrapping service and dedicated customer services.
Opening a flagship two-floor 6000 square foot More store in Marble Arch, London, Holland & Barrett has shown the new direction it intends to take its stores with the deep, modern and bright décor used within the various, easily identifiable departments. Approximately five times larger than the retailer's average outpost, More Marble Arch has faux wooden planks, a dark wood veneer for the mid-shop display equipment and a layout that ensures that the healthy nature of what is on offer is clearly seen; because of this, the More store offers a modern and relaxed feel to consumers. Featuring a vegan nail bar and oil bar, the More store also offers wide range of free from foods, super foods and vitamins; additionally, the company has also ensured its Ethical Beauty range has substantial space. Meanwhile, in the lower ground floor is the company's sports nutrition segment, which has a more masculine feel thanks to blue colours and bold writing.
With a strong audience for health and wellness in the UK and across the globe, the company aims to open as many as 50 More format stores in the future, with a Manchester based More store following Marble Arch, London. "We are very excited about the progress and performance the opening of this store in Marble Arch has driven," says Peter. "It has given us confidence that generally we are going to bigger spaces in prime locations and towns, however not quite as big as that. We are also working very hard at looking at additional categories, not just additional products within our current categories but actual expansion."
Having recently completed its 32nd consecutive quarter of like-forlike growth, the future looks ripe with opportunities for Holland & Barrett as it revamps its stores, opens new locations and continues to invest in the business. "We have had eight years of growth and it is our intention to keep that statistic flowing through a range of initiatives. In these days of technology and Amazon, we need to make sure that our capability is excellent while also remembering what our strengths are. We have a great deal of knowledge when it comes to health and wellness, for example, and also push forward to drive trends. A few years ago we were viewed as wacky and alternative, but today what we provide is viewed as mainstream, so how do we continue to push and drive these trends?
"Our revenue is currently around £650 million and our business plan is to reach £680 million by the end of this financial year as a group and to reach £1 billion by 2021. Alongside our financial goals, aspirationally we would love to be globally known as a leading health and wellness business," Peter concludes.