Another one bites the crust
With 75 years of dedication to delicious pizzas, Home Run Inn is not slowing down. As the new era of technology opens up opportunities for the restaurant industry, the company is seizing each one to keep its name a staple in households across Illinois in the US
Home Run Inn never compromises on its quality by using preservatives. Instead, the company adheres to a long-standing tradition that depends on natural, tasty ingredients to create the perfect pizza. Home Run Inn is a proud, family-owned restaurant company with deep roots in the city of Chicago. In 1923, the original Home Run Inn location opened on the city's South Side, and, founded by Mary and Vincent Grittani, received its name one fateful day when a baseball from the neighbourhood park smashed through one of its windows
In 1947, after that baseball made history, Mary and her son-in-law, Nick Perrino, crafted the iconic Chicago pizza recipe known today. Speaking with Dan Costello, the CEO, we learn about the secrets that have become staples in the business, making it one of the most successful pizzerias in Illinois. "My uncle Joe paid great attention to health, he was very focused on our pizza having a clean label. He was always so proud that you could flip over our box and look at the ingredients and know what everything listed was, because that is how his dad made it; wholesome and natural and we have made sure to keep it that way," he shares.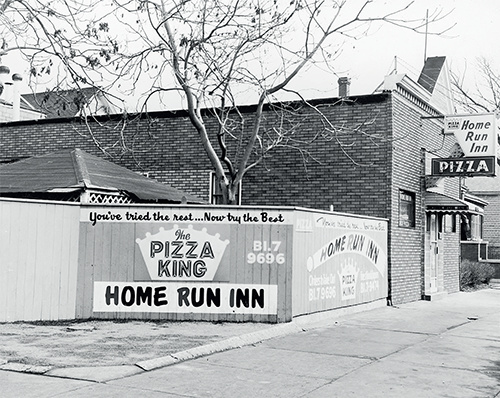 Core values
The business also expanded to provide a frozen pizza offering. "Around the 1960s, Joe and his father, Nick, figured out how to let customers experience the same pizza from the restaurant, any time, from their home. We started making pizzas by hand, and putting them in the freezer, and then one of our bar tenders offered to take them to the grocery store to see if they wanted to buy them. By the time Joe started coming of age in the 1980s, he decided to see how we could make this bigger, and he built our first small USDA frozen pizza factory behind the original restaurant in 1987. His focus was to bring what he and his father had created in our restaurants to the frozen aisle of the grocery segment."
Now Home Run Inn is celebrating its 75th year in business. To commemorate the occasion, the multigenerational company is going back to basics to reconnect with the core values that lay the foundations of its success. "We are trying to do a better job at acting on what we believe, and keeping those characteristics alive that brought us to where we are today. What we want to do with our organization is really remember our roots and where we came from, because that, I believe, that is one of the reasons why customers love visiting us," Dan expresses.
"As an organisation of 500 people, it's important that these values are discussed openly so that our team is on the same page. When we have behaviours that do not align with these incentives and goals, we try not to beat ourselves up about it, but rather, we find a way to learn from them and move forward."
Interestingly, on the topic of what inspires the company's values, Dan shares an anecdote that relates to Kobe Bryant, the professional American basketball star who died in 2020. "There is this video of him that feeds into this concept about using your values to be great. In the video, one gentleman asks Kobe if he could come see one of his legendary workout routines, to which Kobe agrees. He describes this scenario where he goes to watch Kobe Bryant's fitness plan at four in the morning, and he was amazed at what he saw. He was doing exercises that we teach 5th and 6th graders, but these are the fundamentals. He responded with shock, saying, 'You are the best player in the world, and yet these exercises are the basics.' And Bryant said, 'I know, that is why I am the best player in the world.' At Home Run Inn, that's what we're trying doing. If we follow our values, if we do what is fundamental to making a great product, to providing great service to our guests, or being a great employer, I believe we will thrive," Dan elaborates.
This proved even more critical during the pandemic, when the company was forced to exercise agility in response to the changing environment, without losing focus of what it stood for. "I think what Covid-19 did for us was, firstly, learn how to pivot quickly. Secondly, it showed us the areas in which we had become complacent. We had never challenged ourselves to understand how we would react to an emergency situation, if that day ever came, and Covid-19 presented us with that day. The last two years have challenged us and stretched us to discover what we are actually capable of in terms of reaching our potential as a community-based business that cares about its staff and customers.
"We are a much better company today, because we got to the point where we saw where some of our short comings were, and there is nothing like a crisis to shine a spotlight on your weaknesses," he highlights.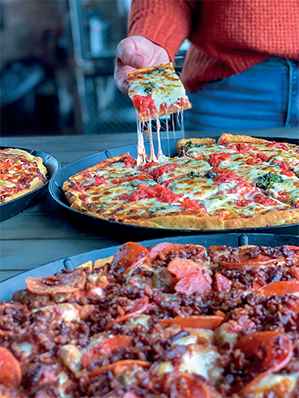 Future vision
As the past two years have progressed, Dan shares how Home Run Inn has refined its processes, and strengthened its relationships with its supplier network in order to execute business better. Often this has meant turning down opportunities that do not necessarily align with the company's ever-important values. "I think in business it's great to be able to say 'no' to the shiny optics that distract us from what we need to do. So, we are not going to put energy and resources into something that isn't going to help us thrive, and I think we have been able to do that a lot better over the last two years than we did prior," he explains.
With these objectives in mind, this year the company is excited about the journey that these new lessons will take them on, and kicking off the ride is the opening of an additional restaurant. "It will be a step towards developing a better prototype that I think will slowly change the restaurant business. When you talk about where the consumer is going it's not going to have a dining room, it is going to be a carry out delivery store. I think that is one thing we have already seen from the pandemic. There was a move to off-premises as customers wanted the convenience of delivery and pick-up. Accordingly, we designed this store to be 100 percent geared towards that experience, and we are very excited to see if we have read the consumer right.
"I have five kids and I look at how they experience food; three of them are only just coming of age, one is at college and then I have two teenagers that have phones. So, they can go online and order something to show up at their doorstep, and that is what we need to consider. I think this next generation of consumers is very comfortable with technology and having that convenience, and we need to tap into that."
Complementing this, Dan is also keen to take on greater opportunities for the company's frozen pizza menu. "The pandemic really unlocked a lot of our manufacturing capabilities as well, and its created capacity here that has allowed us to be a little more aggressive on the sales front. This means that we can continue to grow throughout the country, and we are working to get our name into multiple regions in the country.
"Many of these grocery chains, like Walmart, are staples in the lifestyles of many of our customers, and I'd love to see our name have the same effect. I'm really grateful to our retail partners and suppliers who are equally as excited to help us grow, and we've learnt to have better conversations with them so that we can all go on this journey together," Dan expresses.
In bringing our conversation to an end, Dan concludes with an additional venture the company is developing to stay connected with the changing trends taking place across its customer base. "We know from our restaurant experience that there is great value to being in direct connection with your consumer. So, we are going to launch our own e-commerce channel and by the summer, you will be able to go onto our website and order our frozen pizza, and have it delivered to your doorstep. Although we are still working out some of the kinks, I am really excited to have this as another option for our customers, and I cannot wait to launch it when the final stages are complete," he says.
www.homeruninnpizza.com