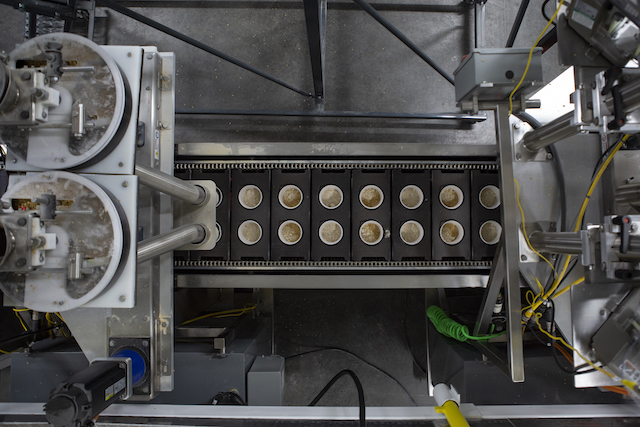 Honeyville aims to help people as individuals, not market segments.
After the Japanese bombed Pearl Harbor, Hawaii on Dec. 7, 1941, President Franklin D. Roosevelt signed an executive order allowing authorities to arrest and move Japanese-Americans to detainment camps. Lowell Sherratt Sr., a citrus salesman in southern California, sold his home and helped 10 Japanese-American families move from a restricted area in California to southern Utah.
In 1951, Sherratt bought a mill in Parowan, Utah to crack grain for a feed company in southern California. Later Sherratt moved the company to Honeyville, Utah, where he adopted the name of the town for his company, becoming Honeyville, Inc.
Today, Honeyville retains the vision of its founder. "The company is built upon the ideal that we love people and want to help people," COO Nathan Hyde says. "Business is an avenue for us to make dollars and cents and to better people's lives. The Sherratt family is way more interested in the culture and the legacy of the business than the personal financial gains of the business."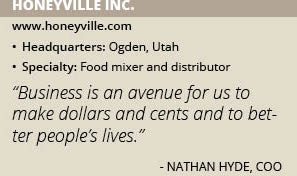 Co-packing and Distribution
With the success of the flourmill, Honeyville expanded into distribution. "We anticipated that if were producing product, we could find local distribution channels to sell the products," Hyde says. "Today we have three distribution hubs in Rancho Cucamonga, Calif; Ogden, Utah; and Tempe, Ariz."
By the early 1980s, Honeyville again expanded its service to became a co-packager for other companies. Today, Honeyville's major sources of revenue are mix/co-packaging and distribution, Hyde says, although it also offers heat treatment to kill microbial growth, mills grains and does formulation. Its customers include the largest of cereal companies, individuals who just have a good idea and everyone in between.
"If your grandma has a great barbecue mix you want to sell on the marketplace but you wanted to make it a powdered blend, you'd come to Honeyville and say I have this great idea," Hyde says. "We would work through it, formulate it, source the ingredients, mix it, blend it, package it, do a quality check and even warehouse it. If you wanted to sell it on Amazon, we could give you a price. You would just be a sales and marketing company."
Honeyville takes a different approach than the major food distributors. "At its core, Honeyville is a problem-solving company that is very customer-focused," Hyde says. "We look at customers as individuals rather than a segment. These large companies want you to conform to what they want to do. We are going to conform to what the customer needs are."
More innovation
Hyde sees several trends in food ingredient production including specialized ingredients, organic ingredients, gluten-free products and ancient grains. "A lot of new projects we see are heavy in protein," Hyde says. "I think the food industry is becoming a lot more unique. We see a lot more innovation in foods and food ingredients and food packaging." He adds, "We are also seeing a trend in the heat treatment process. There is a lot of focus on safe foods and ensuring foods are not tainted and are ready to eat. That's expanding greatly."
Finally, Hyde thinks the masses may be steering away from major brands. "They are interested in brands they connect with and have a mission," Hyde says. "We're going after a demographic that cares about where their food comes from and what they do with their profits."
Capacity Doubled
By 2017, Honeyville knew that it needed to expand as its main production facility in Rancho Cucamonga, Calif. neared its production capacity limits. In October 2017, Honeyville constructed 200,000 square feet for its facility in Ogden, Utah and added 150 employees, thereby doubling its capacity in mixing ingredients.
Low unemployment and the pull of big cities can make the recruitment and training of employees a challenge. "We try very hard to look at our employees as partners we are working with," Hyde says.
Hyde means that literally. Company executives, including Hyde, spend time on the production line, shoulder to shoulder with workers. "They get to know workers by first name, know their life situation and challenges," Hyde says. "Working with them is really one of the joys of my job. And it transforms my profit and loss. It's expensive to hire employees and train them and its expensive to lose tribal knowledge by replacing somebody. We want to drive those feelings of family and of being part of something bigger than us."
Since Lowell Sherratt Sr. helped move those 10 Japanese-American families, Honeyville's theme of helping others has remained consistent. In recent years, Honeyville donated food to victims of Hurricane Maria in Puerto Rico and Hurricane Harvey in Texas. "The difficulty of [making a donation] seems small," Hyde says. "The passion around the donations for our employees is significant. It feels energizing to take those opportunities."