Hood Guyz operates on a strict code of ethics and prides itself on setting the industry standard when it comes to the maintenance of hood exhaust systems.
Restaurant kitchen exhaust hood systems send about a quart of grease to the collector every month, and without proper cleaning, that grease can build for years and increase the risk of a grease fire. Improperly cleaned hood exhaust systems in restaurants contribute to the estimated 7,000 grease fires reported annually.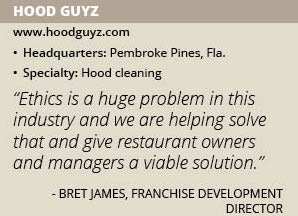 The Pembroke Pines, Fla.-based Hood Guyz specializes in thoroughly cleaning restaurant exhaust hood systems throughout the United States. "It's an underserved industry with 20 to 30 percent of vendors' work being incomplete," says Bret James, franchise development director. "The hood exhaust system cleaning industry is a quirky one. The work is done at night when the restaurant closes down and it is kind of an honor system because no one is around to see if vendors are cleaning the whole system in its entirety. Often, only what can be seen is cleaned."
Hood Guyz performs courtesy inspections for commercial kitchens. The company inspects an entire system from top to bottom, taking pictures of every inch of the system to ensure it has been maintained correctly. It generates a report to deliver its findings to the restaurant owner or manager and determines whether the current vendor is cleaning the whole system.
"The system is not easy to clean," James admits. "The ductwork goes vertical from the hood and then it has to go horizontal because of the building structure and then vertical to the roof. Grease builds up in that horizontal stretch and presents a hazard because some of the independent guys take these shortcuts and don't have business ethics. The sad part is they can get away with it for years. We have found hundreds of pounds of grease in systems."
Quality Standards
Hood Guyz recommends hood exhaust systems be cleaned on a monthly and quarterly basis to avoid buildup, but there are a number of different factors to consider when determining how often a particular system needs to be cleaned. Each hood exhaust system is different and a variety of cooking oils can impact the frequency.
The company takes a consultative approach to each potential customer. "We start by finding out if everything is fine with their hood system," James explains. "If we unearth that the current vendor is only cleaning what can be seen, we bring it to their attention. Typically, they won't call their vendor to come back because they discover it has been months or years of intentional neglect. The salt in the wound is that they are putting the establishment at risk of fire. They will take us on and our whole system is based on gaining and keeping their trust."
Hood Guyz cleans the entire hood exhaust system, which can often take longer than routine cleanings if it has been neglected. "Every time we go to a job, the restaurant gets a professional report with images left behind with their work order," James says. "We document everything so they know what's happening with the system and if there are any areas for concern."
Experiential Training
Hood Guyz requires each new franchisee to become certified, which is a self-paced e-training program with more than 20 different training videos. A master exam is required before the franchisee can be certified. Once the website training is complete, a week of field software training is required.
"We give them experiential training to apply the craft in the field because it's not all based on theory," James says. "You have to have real-world training. Experiential training is the most important and we prepare our franchisees by giving them a solid foundation with hands-on and online training."
One of the requirements for a new franchisee is to undergo an ethics exam. The company is only looking to add new franchisees who are like-minded. "Ethics is a huge problem in this industry and we are helping solve that and give restaurant owners and managers a viable solution," James notes. "Franchisees who come in and are right-minded set the bar according to our standards. It all starts with bringing in the right people."
Hood Guyz is preparing for the next generation of hood exhaust systems, which include pollution control units (PCUs). "These PCUs are going to be more mainstream and cutting-edge," James says. "The reason they have these things integrated into the hood exhaust system is that with a regular system, when the fumes go out the roof, you smell the hamburger or Chinese food being cooked.
"With a greater influx of people into cities, people are living in areas that are zoned both residential and commercial, and people don't want to go out on their balcony and smell all that food," he continues. "These systems reduce or help eliminate that."
In preparation for when PCU systems become mainstream, Hood Guyz has developed a standard of cleaning to maintain them, and has already begun to train its franchisees. "It's gaining momentum and we will be prepared when it happens," James says.
Moving forward, Hood Guyz plans to continue to expand throughout the country and educate restaurant owners and managers. "The main thing for us is, my heart goes out to those who have restaurants and are paying a vendor who is not doing the right thing," James adds. "We want to flush those vendors out and bring this to people's attention."