"The very beginning of 2006 is the last time we sold product to them and we had to change our focus from retail to do a lot more industrial," explains Owner and CEO David Ryan. "We have been able to increase on the industrial ingredient sales, as well as maintain some of our retail to grow to a $40 million business."
With the knowledge that its apple juice could do far more than meets the eye, Hood River Juice expanded beyond making juice for retail only and began working with food manufacturers that use apple juice as an ingredient in their own products, such as large beverage companies. Its garnered the new business while still maintaining a retail presence with its in-house Ryan's apple cider in Northwest markets near its Oregon home.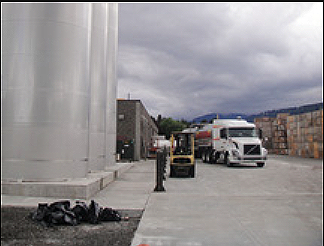 "We've been able to play strategically in both markets – ingredient sales, as well as retail for our own brand – but we market our brand in a way that doesn't create conflict," Ryan says. "It's business 101. We try to be wise about how we place our brand. For instance, if I sell product to a hard cider company, I'm not going to go and create competition against that hard cider company."
Far from it, in fact. Hood River Juice's strategy is to be a silent partner, sharing in the success of its customers. One of those growing customer bases does happen to be in the hard cider industry, which Marketing and Product Development Manager Julie Ueland says is becoming a beverage of choice for the millennial generation. "Unlike big brother's microbrews, hard cider is this generation's baby," she says. Seeing the wave of popularity in hard cider, Hood River Juice has worked closely with young entrepreneurs in its area to help them develop unique products.
"These young entrepreneurs have an emphasis on quality," Ueland says. "It's a perfect fit for us because we are not from concentrate, we're meticulous about the quality of our product and we try to be as accommodating as possible when looking for different apple blends. We're willing to go the extra yard to find the apple blend they are looking for because we see the future. Some of these guys will raise right to the top and we want to help them become as big as they want to be."
Quality Process and Products
The can-do spirit found among this hard cider generation is reminiscent of Ryan's own start in the business. Orphaned at 17, Ryan and his younger siblings worked to keep their family's fruit packing and apple juice business running after their parents' deaths. In 1989, Ryan purchased the business from his siblings and focused on the cider market.
The company does deal with some pear, but apple remains the king in the Hood River operation. Over the past couple of decades, the company has mastered its mixology with a combination of brix and acid that has become synonymous with the brand. Ryan tastes each batch to make sure it lives up to the company's quality standard. Right now, Hood River Juice is focused on making sure that the process to get the end-product is high quality, as well.
"We are in the throes of constructing a new addition to the facility we moved into three years ago," Ueland says. "We have a little over six acres right along the Columbia River in Hood River. It's a beautiful environment and the view of the river is pretty incredible. In being part of this beautiful environment, we have been conscious about our footprint."
With the facility expansion, Hood River Juice is looking at new ways of doing old things, such as operating battery-powered forklifts versus fuel-based forklifts. The company is also looking into using solar energy to help power the plant. At the same time, it is working to receive FSSC 22000 certification within the next nine months to ensure food safety.
The expansion will also allow the company to double its current yearly production to 30 million gallons by 2015, which Ryan says is a win not only for Hood River Juice, but also for the farmers it buys from and the producers it sells to.
The Middle Man
"The farmers need to be able to process the fruit that can't make it to market because of visual quality," Ryan says. "They either have a choice of throwing it away or being able to process it in a timely manner. We try our best to create a good balance between the farmer and the processor and retailer. We are creating a market where we can say, 'We will take a certain amount of your fruit every day, without question, and that we will have a market for that.' We're trying to match everything up so it works for both parties."
By playing the medium between both parties, Hood River Juice is ensuring that farmers have a demand for their apples and food and beverage producers have a supply for their products. Right now, the company's base of farmers and customers resides mainly in the Northwest. It sources local apples all within a 130-mile radius. Its juice is available in Oregon and Washington and its customers that use its cider as an ingredient fall within that same spectrum. Because of the nature of its product – fresh and not from concentrate – reaching beyond its region takes greater planning. On the other hand, Ryan knows that a fresh, not-from-concentrate product is appealing to customers around the globe.
"We have a fresh product and that can keep us from reaching customers outside our realm," Ryan says. "We are working on our shelf-life to go further and further out. With this new building, for instance, we are adding a state-of-the-art bottling facility to help us increase the product's shelf-life."
As Hood River Juice continues to grow the markets it's currently in – both by region and customers – it's also looking to enter new markets. For every gallon of cider it makes, Hood River Juice creates a substantial amount of apple pulp – which is waste to its eyes but could be a treasure to others. The pulp is ripe with nutrients such as fiber, pectin and antioxidants. The company is able to ship it off as cattle feed when a need arises, but feels that the pulp could be used for value-added products.
Hood River Juice is working with students at Oregon State University to define exactly what is inside the pulp, develop ways to extract the nutrients and identify alternative markets for them. It's still in the planning process, but Ryan says he is pleased with the results thus far.
"This fits in with the sustainable stewardship of our company, but it's also in our benefit to stabilize the company in other markets," Ryan explains. "If juice takes a dive, we will have pectin or other antioxidant ingredients to sell as a supplement or other uses. We will have other legs to support us.
"Our goal is to set roots so deep in this location and community that all the winds and storms aren't going to be able to rock it."