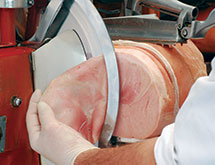 Horizon Bradco is nearing its 30-year anniversary, and it is well known in the foodservice and baking industries as a quality food equipment solutions and service provider. The company has earned this reputation by remaining true to its mission, set forth by founder Brian Donovan in 1987: to provide the best equipment service to the industry. This focus has made Horizon Bradco a leading distributor and solutions provider to the supermarket, meat processing, bakery and food commissary markets.
"The Horizon Bradco team has more than a century of combined experience in supermarket, bakery, foodservice and commissary equipment sales, operation and service," the company says. "We specialize in providing and maintaining the highest-quality commercial and industrial food preparation equipment. Our approach includes understanding clients' goals and recommending the best solution for the application and budget allowed."
Horizon Bradco is based in Schenectady, N.Y., and has additional offices in Massachusetts, North Carolina and Florida. In addition to its distribution business, the company also markets automation-focused bakery equipment solutions to the retail, wholesale and industrial baking segments under its Bake-Rite International brand. In recent years, Horizon Bradco has not only been recognized for its sales by Biro, but also awarded the Distributor of the Year awards by MIWE and LBC Bakery Equipment.
The company also is known for its service, which helps it maintain strong partnerships with its clients. Horizon Bradco employs service technicians in 17 states along the East Coast and in the Southeast who are available to work with customers all day, every day of the year. It also operates fully stocked warehouses and multiple satellite warehouses with barcoded inventory, ensuring the company can readily stock service vans and provide same-day parts to its customers.
"Horizon Bradco's service department provides the highest-quality service in the industry," the company says. "Our highly trained technicians have years of experience working on a broad range of equipment and participate in continuous training programs as new equipment becomes available."
Its technicians also are skilled and equipped to install and remove equipment for clients. The company boasts having "one of the most experienced equipment installation and removal teams" in the industry.
"Our technicians are factory trained and experienced problem-solvers familiar with supermarket, bakery, meat and food-preparation equipment," the company says. "We are available for design, planning and consulting on the inception of a new space or remodel of an existing one. We also offer staff training to get our clients up and running in less time.
"We offer preventative maintenance programs with a technician scheduled to perform routine maintenance on selected equipment as specified by our customers," it adds. "With this service, customers can achieve better equipment performance, longer equipment life, shorter equipment downtime and less catastrophic damage."
History of Growth
Horizon Bradco started with a passion for quality. Founder and Vice President Brian Donovan founded Horizon Food Equipment in 1987 after having spent several years in the supermarket equipment repair business. In 1994, his wife, Kathryn Donovan, brought her experience in marketing and advertising to the company, and the two worked together to expand the operation's product line to include distribution and maintenance of bakery, weighing, packaging, slicing and food-processing equipment.
In 1995, the Donovans founded Bake-Rite International to offer industry expertise in bakery equipment and solutions, and in the next year Bake-Rite began importing bakery equipment that was not available in the domestic market. Soon after, the company expanded to offering 10 product lines and had to relocate to a new facility – it's current Schenectady headquarters – where it had expanded office, test kitchen and warehouse space.
Long-time business associate Frank Corvino joined the operation in 2002 to help the company acquire competing full-service equipment provider Bradco. The company also opened a New England division around that same time, and within a few years the operation had grown to have 15 product lines and business in eight states.
Operating as Horizon Bradco, the company expanded into Florida in 2009 and into North Carolina in 2011. In 2013, Hamilton Robinson Capital Partners invested in Horizon Bradco and added CEO Mark Panozzo to drive strategic growth. Last year, Horizon Bradco merged with Bake-Rite, making Bake-Rite one of Horizon Bradco's brands. The company also acquired Foley & Wallace Associates, which provided it with an expanded service network, increased service technician density and new product lines.