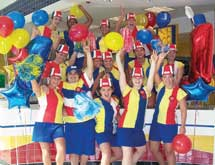 Some concepts are so simple they hardly need any tweaking to be successful. Take, for example, West Coast icon Hot Dog on a Stick, which celebrates its 65th anniversary this year with the same basic concept developed by founder Dave Barham and introduced on the beaches of Santa Monica, Calif. Executive Vice President Laurie Sonia says this consistency has been one of the keys to the company's longevity and status as one of California's most beloved  chains.
"We've been very careful about sticking with what we're good at rather than trying to be all things to all people," Sonia says.
Barham opened his first location in 1946, and originally it was known as Party Puffs. At first, Barham concentrated on selling ice cream and fresh lemonade to beachgoers, but soon used his mother's cornbread recipe to create what is now the company's namesake. Based on the success of the hot dog on a stick in Santa Monica, Barham took the concept on the road and began selling them at county fairs from portable stands.
In 1973, Barham opened the first Hot Dog on a Stick location inside of a shopping mall in Salt Lake City. The unique nature of the concept and its suitability to a shopping center environment helped business take off, and within a decade there were more than 25 Hot Dog on a Stick locations across the country. Today, the company boasts more than 100 locations, including in Alaska, Hawaii, Washington and New Mexico.
As part of the company's 65th anniversary celebration, the company recently opened its first street location since 1946 in Encinitas, Calif. Sonia says the company is excited about this new development, and even though it is a slight change in the company's successful formula, the elements that have made Hot Dog on a Stick a household name will continue to be the source of its success into the future.
Unmistakable Concept
Hot Dog on a Stick stands apart from other quick-service concepts for a number of reasons, but the most eye-catching has to be its uniforms. Designed by Barham and described by him as "red, white and blue with a splash of lemonade," the colorful striped uniforms of Hot Dog on a Stick are instantly recognizable and unmistakable.
"We make quite a first impression," Sonia says. "Once people see those stripes, they know they're going to get that delicious lemonade and those tasty hot dogs on a stick."
The menu has changed minimally over the years, adding fries 15 years ago and introducing frozen lemonade five years ago. This is partially a function of having limited space in its locations, but it is also a core tenet of its strategy. In keeping with the chain's singularly descriptive name, its menu continues to feature hot dogs, lemonade, cheese on a stick French fries and funnel cake sticks. Keeping the menu relatively simple goes a long way to making Hot Dog on a Stick a favorite in shopping centers.
"Especially coming into the mall, people want to look and know quickly what we're offering," Marketing Manager Marnie Purvis says, adding that customers can watch their food prepared fresh right in front of them.
Opportunity to Diversify
The opening of Hot Dog on a Stick's new storefront location is in part a response to the sluggish economy, Sonia says. "People really have been staying home and they're a lot more careful about what they're spending," she says.
However, that's not the only reason the company is making a move out of the shopping center environment for the first time. Sonia says shopping mall locations will always be the core of what Hot Dog on a Stick is, but the company also wants to make its stores a destination for people who wouldn't necessarily be familiar with the concept from shopping malls.
"I think it's really just an opportunity to diversify," Sonia says.
In addition to the new storefront location, Hot Dog on a Stick is marking its 65th anniversary with special prices on its funnel cake sticks on the 15th of every month and special refillable lemonade cups. Internally, the company's managers received commemorative pins in recognition of the occasion.
Ordinarily, Hot Dog on a Stick employees earn pins for their uniforms based on performance, but that's far from the only motivation the chain's employees have. When Barham passed away in 1991, he left the company to his employees, and today Hot Dog on a Stick remains a 100 percent employee-owned company.
Sonia says this contributes to the company's success because every employee has a stake in it. "I think we've created a culture where people love their jobs," she says. "It's win-win all the way around."
New Ideas
Hot Dog on a Stick expects to keep winning in the years to come, as it explores future storefront opportunities and international franchising. The company also is developing a frozen version of its famous hot dogs on a stick for distribution to retail stores, Sonia says. With an expansion plan like the one it is developing, Hot Dog on a Stick looks to remain an icon on the West Coast and eventually become just as well-known elsewhere.
"I would say we have a couple different ideas brewing," Sonia says.