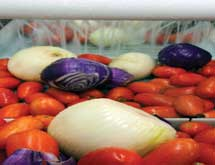 Knowing what's hot before it even hits the market is a key chapter in the 25-year success story of Hot Mama's Foods. The company was established in 1984 as an all-natural vegetable salsa business run out of founder Cheri Martinez's Miller Falls, Mass., home kitchen.
When President Matt Morse caught wind of the up-and-coming business, he immediately saw potential. "She was ahead of her time," he says. "When I bought the company in 1991, she was making all-natural sandwiches sold locally, different flavored hummus and fresh, chunky salsa – mild, medium and hot – that's homey and hardy, almost like a salad. Everything was strictly vegan across the board."
An engineer by trade with a keen interest in the food business, Morse was looking for an opportunity and found it with Hot Mama's Foods. After he acquired the company, he relocated to Amherst, Mass., and added black bean and pinto bean dip to its product portfolio. "I always thought I was a bit of an innovator in that I was getting into the idea of using ingredients like chipotle peppers at a time when nobody knew what they were," he says.
Hummus exploded into a full-swing fad by 1994, but Hot Mama's went in a different direction by offering organic hummus instead of the preservative-packed, mainstream version. In 1999, he acquired the Lazy Chef line of ready-to-use pesto sauces, which are now produced under the Hot Mama's Gourmet line for foodservice clients and the Hot Mama's Natural/Organic line for retailers. The company's growth prompted Morse to relocate once more to Northampton, Mass. In 2002, he established operations in Chicago and started making pizzas, pizza bagels, flavored butters and spreads using fresh, natural and organic ingredients. In 2006, the company moved to Springfield, Mass., where it is still based today.
'Custom Gourmet Solutions'
When private labeling became a popular market in the mid-1990s, Morse took notice. "Right around 1996, I started getting involved in doing private labeling, which was around the time private labeling started getting big, so I jumped on that bandwagon," he recalls. "Now, it makes up about 96 percent of our business."
Hot Mama's runs a full-service operation that includes research and development, food science, product development, food sourcing, packaging and labeling for its private label clients. Through contract packaging, the company signs a confidential agreement to manufacture products its clients have already developed. "But if they're interested, we can always help them to expand their product lines," Morse adds.
"A lot of our energy goes into developing other people's brands," he muses. "It's not a glamorous way to go, but it happens to be a really good niche. I've found that there are so many business owners that really know how to sell their stuff that are looking to partner up with a good manufacturer. Every week, we're developing tons of new products for existing customers and looking for opportunities with new customers."
The Next Big Thing
Hot Mama's strives to keep its products as simple and all-natural as possible, but also understands this is not always achievable if customers request a 60-day shelf life. "I've been in the natural foods business for so long, I think the line between what's really natural and what's conventional has blurred a little bit," Morse admits.
"At the end of the day, we have to take care of our customers, but I won't make something I feel is something I wouldn't want to eat or feed to my kids," he adds.
The company has been looking into new technologies for shelf life extension without the use of preservatives. This can be achieved through a system that removes oxygen from dip, spread and salsa containers. In addition, Hot Mama's is investing into plastic pouches as a way to replace plastic containers because they are more cost-effective and have a smaller plastic footprint, Morse notes.
"We try to keep things as green as we can," he says. "We're looking into buying biodegradable plastic containers, first and foremost, because it's the right thing to do, just from a philosophical point of view.
"It's also a good selling point. A lot of big companies have been looking for ways to be more sustainable or to have a greener image, and when Walmart speaks, people listen."