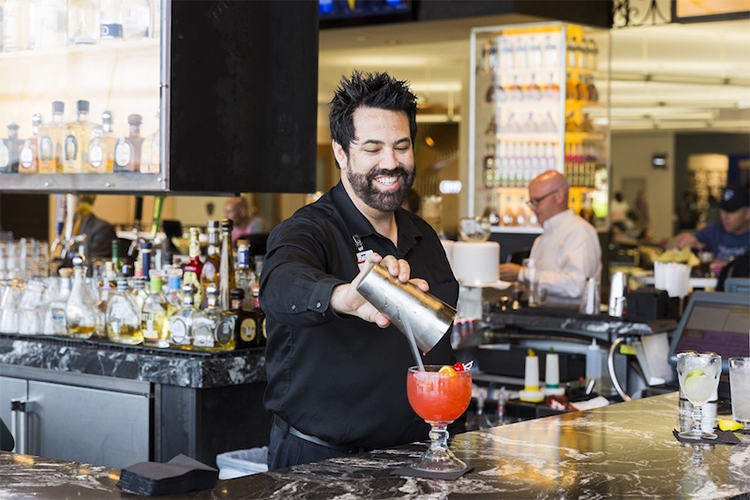 HAS brought the best in global and local brands to George Bush Intercontinental Airport.
When travelers pass through the Houston Airport System (HAS), its restaurants, concessions and retail locations give them a taste of the city of Houston. "This is statistically the most diverse city, population-wise," Director of Concessions Randy Goodman says.
"It has a Texas flavor, but it's not Texas solo," he says. The locations, he explains, "embrace that diversity as well as bring that Texas flavor and attitude to what they do."
Three airports operate under the umbrella of HAS. These include George Bush International Airport (IAH), which is the largest of its commercial airports, Public Information Officer Bill Begley says.
HAS also oversees William P. Hobby Airport (HOU), which recently celebrated its 90th anniversary and had nearly 13 million passengers last year. The third airport, Ellington Airport/Houston Spaceport, supports the U.S. military, NASA and aviation tenants. "They are three totally different kinds of facilities," Begley says.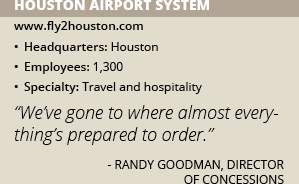 Quite an Undertaking
Today, HAS Concessions manages all of HOU and several terminals at IAH, encompassing more than 140 units and over 156,000 square feet of concessions spread out over the two airports. "HAS Concessions works with 14 different concessionaires to complete this program," Goodman says.
HAS recently completed a multimillion-dollar redevelopment of its concessions program at IAH, he adds. The finished project meets the public's desire for variety, but also for the local flavors of Houston, Goodman says.
The airport opened locations for global brands, including Chanel, Hugo Boss, Hard Rock Cafe and Brooks Brothers, as well as local concepts such as the breakfast klub, Hubcap Grill, and Tony's Wine Cellar & Bistro.
The wide selection of cuisine will meet travelers' needs, Begley says. "This is a big foodie town and there are a lot of restaurant concepts in the city," he says. "Randy did a good job [bringing them here]."
IAH also sought to move away from the traditional concessions model with locations where travelers can sit down and have freshly prepared meals. "We've gone to where almost everything's prepared to order," Goodman says.
But if travelers need to grab something quickly before their flights, IAH has them covered. "We still have the grab-and-go locations for their convenience," Goodman asserts.
"That was quite an undertaking," he continues, noting that the airport remodeled and/or added 43 retail locations, 30 restaurants and nine coffee shops in just 24 months. "We were 99 percent open before [the 2017] Super Bowl."
HAS coped with challenges meeting that deadline. "Build-outs have so many departments involved with approving them," he recalls, noting that the process went more smoothly when HAS took much of it over halfway through.
The hard work has paid off for Goodman and HAS. This May, he and his team received the 2017 ACI-NA Concessions Director of the Year award for their work at IAH as well as additions at HOU.
"This effort started with a disciplined, thoughtful and collaborative planning led by Randy," Houston Aviation Director Mario Diaz said in a statement. "Working with a leading consulting firm, incorporating industry best practices and involving the local business community, Randy structured the new concessions programs to provide customers with increased concept variety and quality."
Now, Goodman says, HAS is preparing for a similar project at HOU, since many of its locations have contracts that expire in 2020. "We'll begin looking at the footprint of that airport and putting together our request for proposal," he says.
HAS plans to grow HOU's international offering, Goodman says. "We're also working with some consultants that are experts in the aviation world and [determine] what the public is looking for," he adds.
A Dining Guide
Begley is proud of HAS' website, www.fly2houston.com, which allows travelers to easily find the kind of dining that they are looking for. Not only can they see the eatery's name and description, but it also tells "if it's local, if it's gluten free and if it has vegetarian options," he says.
"It's a real good tool and it really helps in getting the information out there about this concessions package," he says, noting that the site is passenger-journey focused.
"It focuses on what you are doing, [such as] are you departing or arriving as you hit each one of those options."
"The nice thing there is no app to download, it's mobile phone friendly," Goodman asserts, noting that passengers can easily look at maps on the site to guide them through the airports.
HAS' site, Begley adds, also offers suggestions on restaurants that are close to the user's flight gate. "We're doing what we can to get the word out," he says.
A Great Place
HAS maintains a positive work environment at its airports, particularly for its food, beverage and retail operators, Goodman says. "They're used to working on the street, but in here, you're in a relatively safe environment, because you have to go through security to get to work," he says.
Many clients are in a good mood because they are on vacation, while others are traveling for business. "You get a mix of clientele and it's not the same person all the time," Goodman says. "It's a great place to work."
He sees continued growth for HAS and its airports as they continue to fine-tune their food and beverage offerings. "We're also designing a new international terminal for IAH," he says.
"We've got great airline partners," he adds, noting that United Airlines Inc. and Southwest Airlines Co. have both made investments in its airports. "In the future, Houston continues to grow."
High Scores
This March, travel website RewardExpert.com ranked George Bush Intercontinental Airport (IAH) No. 5 in its 2017 Airport Dining Scorecard. It also placed IAH among the top 20 most trafficked airports for vegetarian and vegan dining options.
RewardExpert also praised IAH for its seafood. "Home to a number of highly rated eateries, the Houston George Bush Intercontinental Airport is a seafood lover's dream," the site said. "Pappadeaux and Landry's are just a few of the locations a traveler can stop to get some quality sea fare."
IAH also won recognition from the SkyTrax World Airport Awards, which are based on an annual, global airport customer satisfaction survey. In 2017, the airport received a three-star rating, was named as the "World's Most Improved Airport" and rated No. 1 for dining in North America.
Skytrax also gave William P. Hobby Airport a four-star rating, making it one of only three airports in the United States to earn such an honor.