With its key partnerships and employees, Houston's aims to continue to exceed the expectations of its customers.
Esther and Jack Houston founded Houston's in 1933 as the House of Vintages wine and spirits store in Portland, Ore. Over the course of the company's 84-year history, Houston's has evolved from its initial wine and spirits business to become a leading sourcing solution for the foodservice industry, specializing in the redistribution of restaurant, bar and coffee supplies as well as specialty foods and beverages, and small equipment.
Today, Houston's is a nationwide redistributor, servicing 33 states directly via its transportation division. HTrans, a wholly-owned subsidiary, delivers to Houston's customers – primarily dealers and distributors in the foodservice industry – across the country on dedicated routes, most of which run multiple times per week.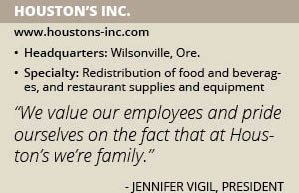 Key Advantages
President Jennifer Vigil attributes the Wilsonville, Ore.-based company's success to its founders' ability to adapt to changes in the market, as well their core values of accountability, professionalism and flexibility. "We're here to provide top-quality service to our customers and vendors," Vigil says.
Marketing Manager Christina Graiff agrees, noting that Houston's provides a variety of benefits to both its vendors and customers, including low order minimums and low stocking requirements. "We deliver on our trucks with no freight charges," Graiff says. "For those we can't reach with our trucks, we have very reasonable pre-paid freight minimums. We deliver weekly, regularly, and on schedule. Whether the trucks are full or not, we are there."
Houston's also prides itself on offering a wide selection of more than 15,000 products from more than 200 vendors. "We give our customers access to products that they typically may not be interested in for fear of having to order so much of it direct from the manufacturer," Vigil explains. "At Houston's we allow them to order what and how much they want, when they want it."
Houston's has two warehouse locations, one in Wilsonville with its corporate offices, and the second in Kansas City, Mo. The company has plans to increase warehouse space in Kansas City by more than 30 percent in 2018.
"As we look to our future, we recognize our largest growth potential will be serviced out of this warehouse," Vigil says, noting the company is taking action now to position itself for that growth.
Ultimately, the goal of Houston's warehouse and distribution services is to eliminate freight costs and reduce lead times for its customers. "Each one of our distribution centers operates two shifts, seven days a week, which allows us to remain flexible and adapt to customer needs," explains Executive Vice President Rebecca Phillips.
"Through automated processes, proven inventory management and control procedures, as well as employee training, Houston's maintains a 99.6 percent order accuracy rate," she continues.
Valuing People
Houston's wouldn't be the company it is today without its employees, Vigil notes. "We value our employees and pride ourselves on the fact that at Houston's we're family," she says. Vigil adds it isn't uncommon for employees to remain with the company for upwards of 10 years.
"We have warehouse team members who have been with us for more than 10 and 15 years, and office staff for just as long," Vigil says proudly. "We operate as a team and, I believe, it is because of the longevity of our employees that we're able to succeed at what we do."
She adds that Houston's has a great company culture, which is an area it continually aims to improve. "Employee engagement is key for us," Vigil says. "We celebrate all of the milestones including birthdays, employee anniversaries, as well as company and departmental accomplishments."
"We celebrate our employees and department accomplishments internally in our company newsletter and weekly team meetings," Phillips adds, "but also on our social media sites so that our customers and vendors can celebrate the individuals they interact with and that contributes to their success."
Vigil notes that Houston's high level of engagement and valued employees are key differentiators between the company and its competition. "We believe that we need to utilize our resources," she says. "At Houston's our employees are our resources and we're always looking at ways to give them the tools that they need to succeed because when they succeed, we succeed."
Cultivating Talent
Houston's believes its people help set it apart. That is why the company takes pride in helping employees grow and learn, and cultivating a culture of promoting from within. Vigil is one of many examples at Houston's, as she started with the company in 2010 – bringing more than 15 years of experience in distribution with her – as the accounting manager and worked her way up.
"When our board of directors decided to transition out of day-to-day operations in 2016, I was afforded the opportunity to become president of Houston's," she explains. "I am honored by the opportunity because it is something to be so proud of. I knew when I started here I never wanted to leave."
Along with Vigil, Phillips and Graiff have also worked their way up within the company. Ultimately, each of them noted that they are proud to be a part of the Houston's team and the opportunities the company provides to its employees. "I think this is something Esther and Jack Houston developed and passed on to their son, John Houston, who then transitioned the company to our current shareholders, and now us," Vigil says.
Graiff agrees. "We are proud to aid in the success of our customers and vendors alike. We are able to help support their successes and, in turn, we succeed as a company." As Houston's looks ahead, it aims to keep its finger on the pulse of the industry and do what it does best: service its customers well and remain a valuable partner to its vendors.
"We're always looking into what we can do better for our customers," Vigil concludes. "We've been doing this for a long time and making small changes, but the core of what we do is the same. We're just looking to stay on top and continue being an industry leader."