How Bareburger is delivering a more sustainable offering without compromising on taste 
There's nothing better than tucking into a fresh, tasty burger. Whether it's beef or chicken, with fries or on its own, or perhaps a delicious plant-based alternative, most of us thoroughly enjoy a burger regardless of our dietary requirements. With a mindful, ethically focused menu, Bareburger is making it possible for all individuals to enjoy burgers more sustainably, without compromising on taste. "We've crafted a menu that's sustainable, health-conscious, and of course, delicious," begins Euripides Pelekanos, CEO and Co-Founder of Bareburger, otherwise known as EP.  
The business has experienced tremendous growth and success since its foundation in 2009; its portfolio includes 30 locations spread across New York, New Jersey, Connecticut, and one site in Ohio. However, this is unsurprising considering its diverse, nourishing menu. 
Something for everyone 
As the leader in America's latest food trend, Bareburger prides itself on its 'better burgers' – food with intentional thought behind every ingredient – while remaining true to its mission to deliver delicious, mouth-watering options. Its beef burgers are made from 100 percent organic, grass-fed beef, for example, and packed with fresh vegetables and house-made sauces.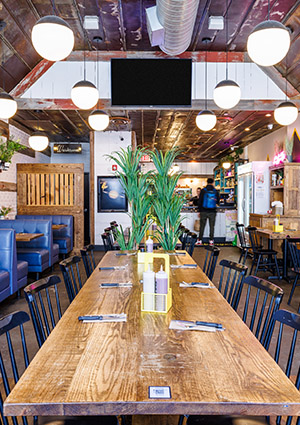 Having gained a reputation in the tri-state area for its vast offering, the menu features gluten-free chicken sandwiches, various salads and bowls, and unusual sides like pickle chips and honey Brussels. Guests can even build their own burger, selecting each step – bun, cheese, protein, vegetables, and sauces – resulting in a truly customized dining experience. 
"It's important to us to be able to offer something for everyone, so we cater to many different dietary restrictions and lifestyles," EP details. "We've recently reengineered our fried and grilled chicken recipes to be gluten-free, making it possible for our guests to order any of our chicken sandwiches and make them entirely gluten-free with the option of our gluten-free bun. 
"We've also very recently started offering plant-based chicken nuggets on top of our multiple vegan options," he says. Aside from vegan nuggets and burgers, Bareburger's menu also includes vegan milkshakes, made using oat milk and vegan ice cream from a local supplier.  
"Whether it's updating current options or adding entirely new products, we're constantly tweaking the menu. We've just added eight-ounce Japanese A5 wagyu beef burgers to our menu, for instance, as well as all-natural bison and grass-fed elk burgers. 
"Whenever I eat a Bareburger, no matter which store, I always order our standard beef burger with a side of fries," EP reveals. "This allows me to get a feel for how consistent our quality is across all our locations. Plus, the burger is just delicious!" 
Quality and sustainability 
Bareburger's history is just as unique as its menu. It began serving burgers from a closet-sized kitchen in a music venue in New York City, and after years of planning, opened its first, 40-seat store in 2009.  
"Our first store was a run-down bakery in the same neighborhood we grew up in, Astoria, Queens, in New York City," recalls EP. "Despite the struggles of starting a business in the middle of a global recession, we pushed through the sleepless nights and maxed-out credit cards because we truly believed in our vision. 
"The motivation for Bareburger stemmed from a commitment to high quality, sustainable food that caters to a diverse range of dietary lifestyles. We've always strived to promote local farmers and environmental responsibilities, with an objective to redefine the burger industry. That's why we provide nourishing options in a community-centered space – to challenge conventional norms. 
"Over the last 14 years, we've expanded to 30 locations, mostly within the tri-state area, and we're just as committed to creating the tastiest burgers possible," he continues. "We've just opened our latest store in New Jersey and we're constantly renovating our restaurants to maintain the welcoming, friendly feel we strive to establish." 
Community commitment 
The business truly cares about the communities in which it resides, completing various fundraising activities and charity work. A new scheme, 'Serve and Save,'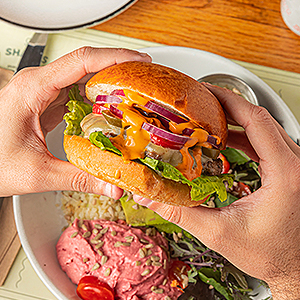 came into force in January, allowing qualifying guests to receive 20 percent off their and a guest's meals. 
"We're really excited about our Serve and Save campaign. It means that various individuals, such as educators, librarians, healthcare workers, law enforcement officers, and those that work in the military or fire and sanitation departments, can receive a 20 percent discount all day, every day – all they have to do is show ID. 
"It even includes veterans or people who have retired from one of the qualifying professions," he adds. "The scheme is appreciated and going well so far; it's our way of saying a small 'thank you' to all our guests who serve our communities." 
Additionally, Bareburger is passionate about sourcing local ingredients, many of which are organic, from trusted suppliers and growers. "When it comes to our partners," says EP, "we research and vet new suppliers extensively to ensure the quality of the produce meets our extremely high standards. We're also continuously working with our longstanding partners to expand our offerings and bring in unique, top-quality items." 
Ethically-driven 
It is evident through its passion and commitment that Bareburger truly appreciates the value of quality ingredients. When we ask EP about how the company constantly ensures the quality of produce, he laughs: "Well, there's a lot of taste testing happening all the time! We must source sustainable, organic, and quality ingredients; it's the core pillar of what makes us so special and unique. 
"By promoting sustainable food choices, we can help reduce the environmental impact of agriculture," states EP. "And our dedication to sustainable practices extends to our own operations. We have a significant waste reduction initiative, for example, including eco-friendly packaging, large-scale recycling projects, and energy efficiency or renewable energy where possible." 
Regarding the future, EP proposes: "In terms of growth, we'll continue to focus on expanding our footprint within the northeast region. Over the next five years, I'd like to see us expand into the greater tri-state area, specifically focusing on the suburban markets.  
"But above all," he concludes, "we will continue to be a driving force in our industry, pushing what it means to be a restaurant that lives and breathes its ethics through all parts of the business."