How Cinnaholic's 2014 Shark Tank pitch became a nationwide bakery business
When Shannon and Florian Radke appeared on ABC's Shark Tank in 2014, people across the US were given the chance to see Cinnaholic's signature plant-based cinnamon rolls, and the Sharks were able to get a taste. It was a resounding success: the couple accepted a deal from Robert Herjavec, which sought to focus on upscaling and shipping products nationwide. However, after much thought and discussion, Shannon and Florian decided to go in a different direction.
The focus going forward shifted towards storefronts and creating a concrete presence for the brand. So far, the move has worked wonders. In fact, just one year after Cinnaholic appeared on Shark Tank, the company opened its first franchise location.
Fast forward to 2022, Cinnaholic, which first began in 2010, now totals 75 units across the US and Canada. Food Chain recently caught up with LeAnne Cavallaro, VP of Operations, and Heather Stennis, VP of Marketing at Cinnaholic, to talk all things cinnamon and more!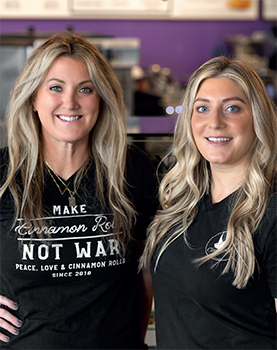 "We are a plant-based gourmet cinnamon roll bakery serving handcrafted and decadent treats," says LeAnne. "These include cinnamon rolls, brownies, cookies, and homemade cookie dough. The brand has been franchising since 2015; two of our myriad locations are corporately owned and the rest are owned and operated by our franchise partners.
"All our recipes are made from scratch, so it is a labor of love for sure!" she goes on. "We are known for our cinnamon rolls – and these are not your average rolls! They are freshly baked throughout the day and can be customized to your liking. The possibilities are endless. Each bakery offers a range of different cinnamon rolls, and each of our franchise partners showcases local flavors plus exciting creations that resonate with their customer base."
Speaking of local, each of Cinnaholic's locations is also partnered with a local coffee roaster as hot coffee is a core menu offering. For many, you cannot have a cinnamon roll without it!
Cookie craving
Other location-specific items include blended drinks and vegan Dole Soft Serve; however, a range of core signature rolls can always be found. For example: the Old Skool, which is a classic cinnamon roll with vanilla frosting; the Campfire S'mores, an indulgent treat crafted with a marshmallow frosting, graham cookies, marshmallows, and chocolate sauce; and Tropical bliss, which features a raspberry frosting, plus blueberries, bananas, and coconut.
"We offer over 20 different frosting flavors and toppings, meaning our guests are able to build the perfect flavor profile that they are currently craving," explains Heather. "Our menu also offers core signature creations, including our most popular roll, the Cookie Monster, which starts with a cream cheese frosting and is then topped with homemade cookie dough, chocolate chips, and chocolate sauce."
More recently, Cinnaholic launched its limited fall menu, featuring a new spin on their Pumpkin Spice Roll (pumpkin spice frosting topped with homemade pumpkin bread bites, 'cinnadoodle' cookie bites and cinnamon sugar), the Carnival Crunch Roll (caramel frosting topped with popcorn, marshmallows and sprinkles), and homemade Pumpkin Bread (freshly baked pumpkin bread with homemade brown sugar and cinnamon mix baked in). However, while cinnamon rolls undoubtedly make up the heart of Cinnaholic's bakeries, the brand also offers many other made-from-scratch treats. These include baby buns, or a bite-size version of its signature cinnamon roll, plus brownies, chocolate chip banana bread, cookie dough, and two different kinds of cookies.
If that is not enough to make tastebuds begin to tingle, let LeAnne paint a picture of the Cinnaholic experience: "When you walk through the doors to any of our bakeries you will be greeted by the smell of warm cinnamon," she details. "We will introduce you to the menu and help you make the perfect selection. Personally, I am a fan of our maple frosting and homemade pie crumble, but another popular selection is classic cream cheese frosting with fresh strawberries.
"You cannot go wrong when it starts with a warm cinnamon roll, so I always say: Just go crazy!" she adds. "But, if it is your first visit, then you have to try a taste of our homemade cookie dough – after a spoonful of that, you will want to get yourself a tub to take home! Our mission is to solve everyone's dessert cravings. We aim to create an experience that our guests crave to indulge in time and time again."
Sustainably sweet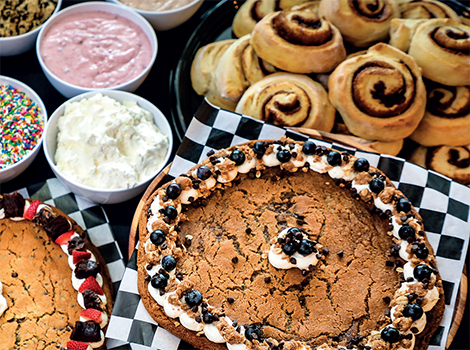 Though Cinnaholic is in the business of sweet treats and tempting people's tastebuds, that does not mean it has to compromise in terms of its ethics. The brand is vegan – and proud of it. "Maintaining a plant-based menu is at our core, so every recipe is carefully curated," says LeAnne. "We take pride in crafting made-from-scratch recipes which we have mastered to taste just as good, but in our opinion, better than traditional versions!
"As mentioned before, our mission is to solve everyone's dessert cravings while supporting animal welfare and sustainable food practices," Heather asserts. "The demand for plant-based desserts is very much alive and well. Fortunately, we are able to fulfill that demand, both for people who eat a vegan diet but also for people who may have dietary restrictions due to allergies. Over the years, we have seen an increase in uptake of veganism and it is great to see new plant-based options from our suppliers."
Talking of suppliers, Cinnaholic takes the personal side of the business just as seriously as baking. As Heather goes on to explain: "We're very team-focused – while each member of the team has their respective deliverables and focuses within the business, we love harboring a collaborative environment. Our corporate team is small but mighty! We work together on everything, whether it be new technology systems or recipes; we value everyone's opinion and work together as a team to grow the brand."
Cinnamon crazy
When it comes to Cinnaholic's franchise partners, moreover, the brand offers a few platforms which help to make them feel heard. For instance, it has an internal group on Facebook, where franchisees can network and bounce ideas off the corporate team and each other. It also has a Franchise Advisory Board, which ultimately acts as a sounding board for owners to express themselves directly to the executive team.
Alongside franchising, Cinnaholic has another string to its impressive commercial bow: catering. "We love to cater all types of events and we are grateful our customer base has found just about any reason to order treats from Cinnaholic," notes Heather. "For our brand, holidays such as Valentine's Day, Mother's Day, Thanksgiving, and Christmas are key catering highlights of the year. Catering with Cinnaholic can be as simple as a Bakers Box purchased for a client or family gathering, which includes a half dozen or dozen rolls each adorned with one frosting and one topping selected by the baker!
"Then, of course, we have lots of options that are fully customizable," she adds. "One of which is the Cinnacake – a cake made from cinnamon rolls! It is available in three sizes and includes one frosting flavor and up to five toppings. Another is Cookie Cakes, which can be single- or double-stacked, and allow buyers to choose a frosting flavor and up to three toppings. Or planning a wedding? We would love to cater that, too! The most popular catering item for such an occasion is the Do-it-Yourself Toppings Bar: select three frosting flavors and three toppings and whatever sweet treat you want – from cookie dough to cinnamon rolls. Your guests will have fun with this one!"
As it looks towards the future, Cinnaholic can see the wheels firmly in motion. For instance, it has 15 locations actively in construction and over 40 more in various stages of their development process. It is safe to say the US is going mad for cinnamon.
"As we continue in this growth phase we will be focusing on people and processes that will help us support our franchise partners," LeAnne concludes. "We have expanded our operations and marketing teams and have initiated new partnerships to roll out a POS conversion and loyalty program upgrade. All of this will work towards our greater goal of making Cinnaholic a household name."
www.cinnaholic.com