How Cone Distributing continues to spread the joy in the Sunshine State
Cone Distributing (Cone) is a beverage distributor founded by Douglas P. Cone, Jr. Built on healthy and mutually profitable relationships by providing the right product, at the right time, in the right place, Cone has experienced exponential growth under the expert guidance of its founder.
"Back in late 1984, I was able to purchase my first distributorship," opens Doug. "It was a small operation in Ocala, Florida. We had 13 employees, two trucks, and a little 24,000-foot warehouse. Following on from the early days, between 1984 and 2016, I purchased an additional 13 distributorships, either as outright acquisitions or purchases of territory, so that our current footprint spans 22 of Florida's 67 counties.
"When I think back to 1984, when I came out of the insurance and investment banking business, and got into the beer business, I knew absolutely nothing about it. So, I had a very steep learning curve. Fortunately, I was surrounded by a small group of people that had probably forgotten more about the business than I knew. Through interactions with trade associations and other distributors, I was able to find some wonderful mentors, who helped me throughout the years."
Doug elaborates: "When I made the leap, I was working for a family business in Tampa, where I was born. My uncle owned the brokerage house and as his children started graduating and coming into the business, I started to look at alternative options, with the idea that I might find something new to which to turn my meagre talents.
"One area that stood out to me was distribution and the other, on a more micro level, was the beverage sector. I was very fortunate to have a cousin who was President of Coca Cola in Florida, and I approached him with my plans to get into bottling Coca Cola. He dissuaded me but suggested I think about beer instead."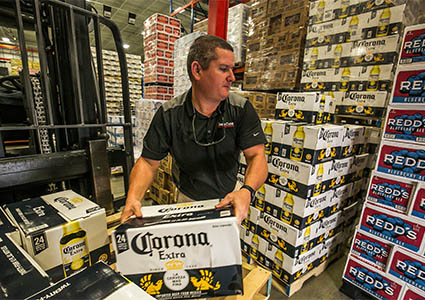 Award-winning culture
From the glorious weather of the Sunshine State to cash-on-delivery and double-digit growth, Doug had found his match. "My cousin thought that the travel and entertainment profile of beer would be a good fit for my personality and so, I put the word out that I was looking for a distributorship, which is how I found myself striking a deal to purchase an operation. There are two steps to buying a beer distributorship; the first is obviously a willing seller and the second, once you strike the third party, arm's length agreement, is to visit the suppliers to get their approval as well. Interestingly, Coors Brewing Company had just come to Florida under this distributorship. While I secured permission from every other supplier, unfortunately, Coors was not keen based on my age and lack of experience."
While many would be dejected, Doug was not to be defeated. He discovered who the best in the business was and approached the Golden Distributing Company in Wichita Falls, Texas, with the request to work for them for a while and learn the tricks of the trade. The move paid off. "I spent eight weeks there," he continues, "and when I left and returned to Tampa, unbeknown to me, Ray Clymer of Golden contacted Coors and based on his recommendation, Coors decided to reconsider my application for appointment. As such, I was awarded the distributorship."
Fast forward to 2023 and Cone is proud to be recognized as one of Florida's top 25 large companies to work for, for the fifth consecutive year. "This is a testament to our culture," Doug enthuses. "Management has no input into these awards; they are driven by employees. It's gratifying to win five years in a row as it demonstrates that we have a great culture and a great workplace. Our teammates believe in that culture, and in our vision and core values."
Overcoming challenges
Reflecting on the past couple of years, Doug explains that Cone remained open as an essential business during the pandemic. "We certainly implemented rigid protocols, but we never closed our doors. From 2020 through to 2023, we experienced record years in the history of the company. They were desperately challenging times though and we unfortunately lost three employees to Covid; navigating that internally was difficult.
"Alongside that, because of our geographical location, our county increasingly became a hub for distribution. In the last few years, numerous well-known brands have built huge facilities in Ocala. The downside of that is the negative effect on the labor pool. Recruitment is extremely competitive. It is tough to hire and retain good people, especially those in delivery. That said, our staff turnover is less than 14 percent, which by industry standards is pretty good going, and again, we attribute that to our culture and our positive working environment.
Charitable outreach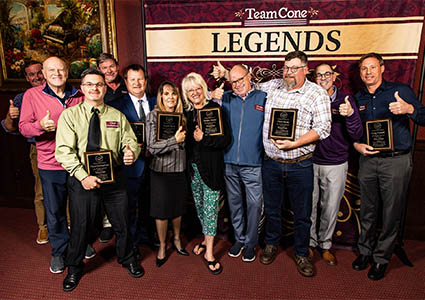 "The most valuable resource in my company is my people," Doug continues. "One of the most rewarding aspects of my job is mentoring others to help them grow within the company." Indeed, this is why Doug doesn't refer to his workforce as employees, but rather as Team Cone.
As part of the organization's drive to recruit and retain its people, Cone hosts job fairs in both Ocala and Tallahassee as well as attending events further afield. "From the perspective of employment, we want to be able to offer people a career, not simply a job. Our internal promotions currently stand at around 94 percent. People who come to work for us can benefit from a clear, upwardly mobile career path," Doug shares.
"In terms of company developments, we are currently in the process of a major internal warehouse expansion which will be approximately a $7 million-dollar-project, involving the expansion and reconfiguring of our warehouse in Ocala, where we centralize all our inventory.
"Additionally, in line with one of our core values, which is giving back to the community with care, we host multiple events throughout the year to raise money for various charities. One of our primary charities is St. Jude's Children's Hospital for children with cancer. That has been an incredibly successful fundraiser. The children of three of our employees have been treated there, so it's a cause close to our hearts. My oldest son is now Head of Internal Engagement and Charitable Contributions, so we are striving to be more strategic in terms of our charitable outreach and the positive outcomes to which we can contribute," he explains.
Big name brands
Looking to the future, Doug shares that the business is continuing at a record pace of growth with 2023 set to be its biggest year yet. "I think our best years are ahead of us," he enthuses. "We're also in the running to win the Molson Coors President's Award, which recognizes the nation's top Molson Coors distributor for exemplary sales and distribution performance. If we do, this will be the 11th time in 38 years. We're getting ready to surpass the eight million case mark, and over $250 million in sales.
Team Cone represents brands from MolsonCoors, Constellation Brands, Boston Beer, Diageo,  Heineken, New Belgium Brewing, Lagunitas, Keurig, Dr. Pepper, Red Bull, Mark Anthony Brands, Nestle Waters, and Talking Rain.
"In five years' time, I would like to see the company hit 12 million cases and just under half a billion dollars a year in sales. I would also like to see continued growth in my leadership team, as by that point, I'll be 75 years old. Right now, though, I have no plans to retire; I'm having too much fun. We are doing extremely well and so, my hope is to continue to steer the company to even greater heights," Doug concludes.