How McDonald's became the multi-million pound launch pad for Aberrant Group 
David Knight hasn't always worked in the informal eating out (IEO) business. In a recent interview with Food Chain, he talks about his career and how he's created a multi-million pound franchising empire. 
"Shortly after leaving school, I joined a prepress company in London," he begins. "Ten years later, I led a buy-in and a set of senior managers, including myself, purchased the company. 
"In time, that became a group of companies with offices in London, China, and India," he adds. "As Managing Director of the IT side of the business, I developed strong leadership skills that benefit me today." 
David recognizes that he practically grew up in the trade, cutting his teeth in the business world and learning on-the-job. "I was fortunate enough to have some very good mentors along the way," he goes on. "But, as time went on, I found myself in my mid-30s asking: What's next for David Knight and his career? 
"Immediately, I took action," he says. "I discussed opportunities in the West Midlands with private equity businesses, looking at new investments – and then, by sheer chance, I found myself entering the McDonald's franchising model."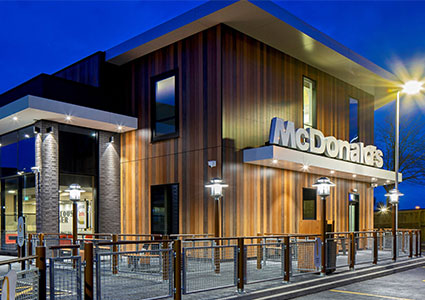 So the story goes, David was attending a social event and got speaking to someone that happened to work in finance at McDonald's. When asked what he knew about franchising, David spoke plainly. He said that his only experience of franchising was being involved in building out an IT system that enabled Costa Coffee to roll out their franchising program across emerging markets. 
The next question was much simpler. What did he think about McDonald's? "Obviously, I said I loved it from a customer's point of view, especially enjoying visits with my young children," David recalls. 
"Little did I know in the moment, but that was the start of my progression towards becoming a fully-fledged McDonald's franchisee." 
World-class progress 
As he remembers, the process was not plain sailing. "It was  a rigorous selection process," says David. "I learned a lot about myself during that time. Ultimately, I was delighted to be accepted by McDonald's and enrolled on its renowned franchise training program, which would last nine months. 
"For any readers or entrepreneurs out there considering a career in franchising, my advice would be to thoroughly research all the opportunities available. Personally, when I first considered changing my career, and certainly once I'd spoken to McDonald's, I knew I needed to assess my transferable skillset and find out which franchise best fitted with my values and ethos. 
"I thought long and hard about it and did my due diligence," he adds. "It's important that you don't rush; you have to have a real openness and keenness to understand the model and how you could fit into it." 
When considering which brand to partner with, David's top tips can be summarized as follows: look out for companies with great brand values, a proven track record, a robust training process, and those that understand the value of good brand-employee relations. 
Obviously, for David, the company that ticked all those boxes was McDonald's. "After doing all my research and homework, I knew it was the right choice," he reveals.  
"I've really enjoyed my engagement and partnership with McDonald's thus far. The company is really well-regarded for having a world-class franchisee training program and business model, and because of that, I knew I could really lean into its well-trodden and optimized operating processes, utilizing my external experience and insights to lead a great team, develop a progressive culture and ultimately run great restaurants that delight our customers and deliver strong sales growth." 
And the proof is out there. Aberrant Group has been franchising McDonald's restaurants since 2017 and now owns and operates eight drive-thru restaurants in three markets: Cannock, Stafford, and Wolverhampton. To maintain its portfolio of eight restaurants, the business employs around 1150 people, with a leadership and management team in excess of 80. 
Data driven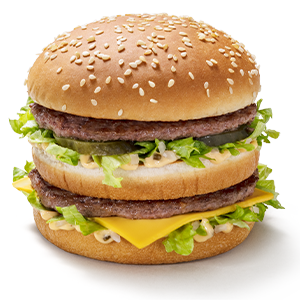 David offers us some behind-the-scenes insights: "We've set up a clear operating structure: each restaurant is headed up by a Restaurant Business Consultant, who will in turn have a senior leadership team at hand to help, as well as a shift leadership team and, of course, crew trainers and the crew themselves. 
"We employ between 120 and 200 people at each restaurant, with a mixture of part- and full-time staff, and have a very strong business management process," he explains. "This allows us to utilize technology and valuable insights to assess trends in our data and metrics. 
"Data is really important," David adds. "Our team uses it very cleverly, enabling us to make direct and educated business decisions as we move forward on our growth trajectory. This is reinforced by regular engagements to ensure that we're operating as efficiently as possible as a leadership team. 
"I'm often asked what gets me up in the morning and it's quite simple: doing the right thing by our people, each and every day, to create a great culture where everyone feels valued, can be themselves and has the opportunity to grow to their full potential." 
Community commitment 
Being part of McDonald's, moreover, Aberrant Group has access to the franchise's proprietary reporting and management systems. It also has massive links with grassroots football organizations, particularly with a focus on sponsorships. 
As David informs us, Aberrant Group has just launched a new sponsorship program for an under-tens girls football team in Stafford. It also supports other football sponsorship in the other communities in which it operates. 
"We're connected to our communities in so many different ways," he reveals. "For instance, we have a long-standing relationship with The Trussell Trust, which is a food bank charity. We also carry out a range of initiatives, such as quarterly litter picks and charity car washes. It's super important to all at the group that we are good neighbors and are part of the communities that represent our team and our customers!" 
David's energy for the group has shined throughout our conversation. Going forward, he intends to funnel it into an ambitious expansion plan for the Aberrant Group. He says that continued investment in the customer experience, automation, digital and drive-thru technologies are key to the Aberrant Group's future growth and success. 
He is ambitious and, in the next ten years, wants to continue to expand his group's size. "I see significant opportunities for us in the future," he concludes. "As long as we continue to do the right thing for my people, customers and the communities we operate in, lead and run great restaurant operations and continue to add value and champion the McDonald's system."