How Palermo's elevates frozen pizza to new heights of taste and quality  
Legends in the frozen pizza and manufacturing industry for nearly six decades, Palermo Villa, Inc. (Palermo's Pizza), is committed to delivering excellent quality at a good price. The key to Palermo's continued success is its serious research and development process. Indeed, the family-owned business takes pride in constantly trying new products to reach a wider audience. Behind the brand's innovative strategy is Chief Product and Innovation Officer, Nicholas Fallucca, grandson of company creator Gaspare Fallucca. Nicholas talks us through the brand's rich history.
"My grandparents came from Italy in the 1950s. In 1964, they opened a bakery on Milwaukee's East Side. After specializing in baked goods, they switched course and ventured into a thriving Italian restaurant in 1969. Later, in 1979, they introduced frozen pizzas as an integral part of their establishment's offering. After three years, my grandfather stepped down as the company's leader, acknowledging his limited retail expertise and a more old school approach to customers.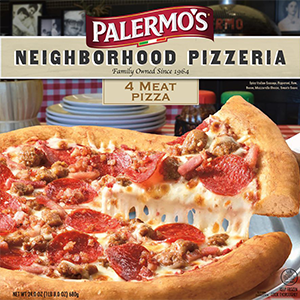 "Subsequently, my father assumed the role of Palermo's CEO in 1982. From 1982 to 1989, we sold to local grocery stores, bars, and taverns – anywhere we could. Our breakthrough came when we secured a partnership with Safeway, enabling us to produce frozen pizzas for the renowned retail chain. This partnership marked the invention of our first rising crust pizza and ignited our knack for innovation and customer understanding. In 2003, we introduced Palermo's Primo Thin, which was the first ultra-thin frozen pizza to hit the marketplace.
"Thanks to that new star-product, our Primo Thin Pizza was distributed nationwide through Costco. We subsequently launched the first ever frozen craft pizza in 2014. This range of pizzas is manufactured using our best crust and the finest combination of toppings. It quickly became our best product, so we decided to give it a bold name. In homage to my grandfather's spirited nature, we aptly named it Screamin' Sicilian, as he was known for his boisterous conversation," he elaborates.
Fresh flavor ideas
Following the success of the Screamin' Sicilian, Palermo's has introduced additional brands, namely Connie's and Urban Pie. Nicholas explains how the company was compelled to create new products within the Urban Pie lineup due to the impact of the pandemic. "In 2017, we introduced Urban Pie, featuring a range of frozen pizzas that combine exceptional flavors such as pesto, chicken sausage, and sun-dried tomato sauce. Our aim was to revolutionize the concept of frozen pizza. During and after the pandemic, there was a growing demand for diverse, tastier snack options. Although the Screamin' Sicilian offered an excellent stromboli, Urban Pie lacked snack choices. Therefore, we developed these bite-sized mini calzones which are available in four fantastic flavors: Chicken Pesto, Pepperoni Rosa, Spinach and Mushroom, and Sausage Ricotta," he continues.
To create such original products, the company has developed a very thorough and insightful research and development process, which Nicholas oversees. "Me and my family travel a lot to gain insight into what people like to eat around the world. As for our marketing and research and development teams, they are always scouring the internet and grocery stores for fresh ideas. Thus, our innovative ideas come from all corners of the company. To ensure these new ideas will work, we test them across different consumer groups based on their demographics. This allows us to develop food options that are tailored to each specific audience. For instance, we have developed a cauliflower crust and mini calzones specifically for our consumers who prefer more natural foods. All the same, we make relatable products with crowd-pleasing flavors like pepperoni," he enlightens.
As a family-owned enterprise, Palermo's has undergone significant transformations since its inception, and Nicholas has been involved in this journey since his
early years. Starting from serving pizza at festivals and preparing dough, to overseeing the research and development process, he has played a substantial role in driving the company's achievements. But his contribution does not stop here. "In addition, I am responsible for overseeing a dedicated quality group that ensures strict adherence to food safety protocols within the business. This aspect holds immense significance for the company, and we have been fortunate enough to recruit individuals who possess extensive knowledge of food safety procedures. We are subject to regulation by the BRC global food safety initiative, and in the past, they would typically notify us before conducting inspections. However, this year the Quality and Operations team specifically requested unannounced visits from them. Consequently, they did conduct surprise inspections, and we were awarded an A+ rating, which is the highest attainable rating for food safety. None of these accomplishments would have been possible without the exceptional skills and expertise of our talented team."
Award-winning employer
"Furthermore, I supervise our Human Resources Department, where our constant endeavor is to improve. For instance, we used to conduct employee surveys exclusively for our office staff. However, we recognized that working in the office and working in the manufacturing plant are distinctly different environments, with the latter being more demanding. Each environment requires a different skill set. Consequently, we made the decision to assess employee engagement in both the manufacturing facility and the office, which was challenging given that we needed to conduct the survey in several different languages. Last year, we conducted our inaugural employee survey, which resulted in us being Great Place to Work certified through Great Place to Work. We've also been named a Best & Brightest Company. These achievements underscore our commitment to pushing boundaries and highlight that our endeavors extend beyond creating exceptional pizza. It is our employees who truly shape and define our quality system today," he affirms.
Additionally, Palermo's is opening a new production facility in Jefferson, Wisconsin. The plant is 32,000 square feet and will include a brand-new design and machinery. "Amidst the pandemic, we came to the realization that our capacity would soon be exceeded. An opportunity arose when several manufacturers halted shipments to retailers, which allowed us to put our products onto their shelves instead. As a result, we experienced significant distribution growth and forged partnerships with numerous retailers, allowing us to thrive during and after the pandemic. This success prompted us to invest in additional manufacturing equipment to meet the growing demand, as well as to search for a new manufacturing location. Eventually, we settled on establishing two manufacturing lines in Jefferson, Wisconsin, which will create approximately 200 job opportunities. Once fully operational, we anticipate that this facility will produce around 50 million pizzas per year. We are incredibly excited about the surplus capacity this will provide, enabling us to better cater to our customers nationwide," he concludes.
By prioritizing research and development, quality assurance, and workforce engagement, Palermo's is primed to sustain growth and service, changing to meet consumer demands through additional manufacturing facilities.