HuHot Mongolian Grill provides customers with complete customization and unique flavor profiles while the company focuses on internal growth.
Head inside any HuHot Mongolian Grill with a palate prepared to sample many different flavor profiles. Grab a bowl, fill it up with a selection of meats, seafood, noodles and vegetables, ladle on a choice of sauces and hand it over to the grill warriors as they cook your stir-fry masterpiece concoction right before your eyes.
For one price, customers can create as many stir-fry bowls as they want, sampling the variety of options to mix and match. HuHot offers more than 20 vegetables, eight to 10 proteins, 13 signature sauces and a dozen create-your-own sauces.
"What we do better than anyone is provide customization and consumer control," COO Jeff Martin says. "In today's marketplace, that's highly desirable and unique to us. When you talk about control, you're not only in charge of the flavor profiles you're building in your bowl, but the ability to dictate your diet and any allergens – there's full transparency on the health side. The food never leaves your sight. Plus, we're an all-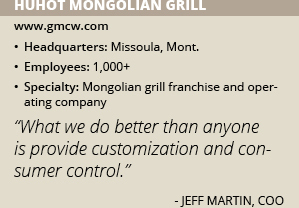 you-can-eat format; it's hard to discount the importance of our value in today's market. We are praised and applauded by folks on a daily basis for how seriously we take allergies at the grill."
HuHot appeals to a broad customer base – from toddlers to baby boomers – which makes it a great place to go for a business lunch, a family gathering, on a date or even on-the-go. Some customers want to get in and out quickly, so the ability to create their own bowl is very appealing.
"That adventurous eater; that's who we see," Vice President of Marketing Stephanie Krause says. "Someone excited to create their own meal with creativity to do that and try new things, as well as people with dietary requirements or preferences. We're able to make them comfortable in our restaurants. Being comfortable and welcomed into our restaurant is a big part of the experience. The display cooking adds a bit of flair to the experience but we want to be a place where people have the freedom to create their own meal."
"Our diners enjoy the ethnicity of our foods being Asian-focused and the ability to try new things. They are fun-seekers, if you will," Martin adds. "There's a theatrical element – people always enjoy seeing food cooked in front of them. It's delightful to watch kids' eyes light up with the flames coming off the grill."
HuHot operates 60 locations, mainly across the Midwest, with a few in other states like South Carolina, Washington, Colorado, South Dakota and Texas. The company prefers to grow by ensuring that only qualified and committed franchisees will be part of the system. But in a busy year, HuHot can open as many as 12 new locations. It just depends on what feels right.
"We believe a balanced approach is OK and favorable," Martin explains. "We work on the franchise development side and invite future prospects to join our team and growth, which opens a world of new markets for us. We're absolutely going to continue being aggressive on the company-owned locations – we're invested, committed and believe in the brand. We become a stronger, better franchisor when we are in the trenches running our restaurants along with the franchise owners.
"We are, however, not an organization that allows growth to dictate how we develop. We live by a simple mantra: grow right. We want to grow right. It's about steady growth the right way, not a numbers game."
Loyal Customers
HuHot sticks to its core message of complete meal customization and that message has been resonating in the current market. The company offers a revolving door of new items for its customers to try in their bowls, including offering a quarterly "sauce of the season" and developing new on-trend sauces.
"The need to continuously change the offerings on our food line is something we absolutely are dedicated to – it's the core of the operating model," Martin says. "We're committed and disciplined to the core of the operating model while introducing new, on-trend optional varieties."
For its variety of food item offerings, HuHot remains completely transparent about ingredients and nutrition facts. "We're fortunate because we offer all these fresh ingredients, and there's nothing to hide," Krause notes. "People will ask, 'What's in your veggies?' And we say: veggies. People are suspicious because they're not used to it being so transparent, but it is a trend that continues to grow."
To help spread this message, HuHot has partnered with a new advertising agency to work with its marketing department to home in on its brand and create a strong voice, despite being in a challenging, competitive industry. "I'm proud to say we have a talented marketing team that develops and creates promotions that elicit excitement in our marketplace," Martin says. "For any dynamic brand, you can point to the marketing efforts that helps brand them in the communities. People understand the personality of the restaurant, and they find ways to encourage greater frequency and trial."
One of the ways it encourages frequent visits is through HuHot Rewards, the company's loyalty program. The program offers incentives for return visits, while also offering "surprise-and-delight" rewards – such as money off of a meal or a free appetizer or dessert – that are periodically loaded to their accounts.
"Getting new guests in is always a challenge; that focus on variety and customization will hopefully inspire guests who may not know what a Mongolian grill really is," Krause says. "Once people come in and try, they enjoy the concept. As long as they have a great experience the first time and we get them signed up for the loyalty offers, we can stay in contact and reward them for their visits."
Investment in People
The restaurant industry can be challenging, but HuHot's focus remains on its people. If its people are proud of their work and engaged with the company, that will trickle down to the guest experience. "It comes down to the fundamentals: finding the right people that have natural hospitality," Martin explains. "If you do that, you exhibit sincere concern for the experience of every guest. We're both making sure we are attracting and retaining the right people and investing in them from a retention perspective. When you do that, you can operate at a much higher level.
"We don't take ourselves too seriously but we're serious about results," he continues. "If there's ever a day or period of time we're not having fun, then we're doing something wrong. We have a passion and joy for our brand, and our ability to introduce it into new markets, to entertain and feed new guests, gives us great joy every day."
As HuHot looks to the future, it is excited about growing its existing franchise groups and looking for new ones that will be the right fit for the company. But in the last six years, HuHot has doubled its growth and the company wants to continue that upward trajectory. Martin says the company doesn't set ironclad targets for where it wants to be at, but he sees at least 100 locations will be open not too far down the road.
"I'm super excited about growth creating opportunities for my team and our people," he says. "We just have a wonderful group of people that are passionate about the company and oversee it on a daily basis. We want to carve out opportunities for them as we grow. I am personally and professionally proud of the team and the talent we have here, including the restaurants out in the field and of the products and services we offer to guests."
"I'm really excited to see where that dedication, deliberate effort and focus can grow our brand, while promoting our customization and variety in a few key ways," Krause adds. "Our food is really good and it can be as healthy as you want it to be. It is arguably one of the hottest food trends in our country today and we are becoming part of America's palate with exciting new flavors on a regular basis."
A Warm Culture
HuHot is a family owned company that focuses on its people and wants to show care for them. The company invests in a number of initiatives to help its staff develop professionally and grow. The company is in the process of launching a new online training and certification system that will give them the tools, as well as developing better communication tools company-wide.
"We have a warm culture with a lot of support and encouragement to try new things and suggest ideas," Vice President of Marketing Stephanie Krause says. "Everyone in the company is involved in the business. We look for ideas at every level and department. It's a great way to collaborate and make decisions based on what people really think will move the needle; what will make them happy in the workplace. We're responsive to those needs."