HW Holdings/Le Peep Restaurants
The first Le Peep restaurant opened in Aspen, Colo., in 1963, with what was then a unique concept – operating from 6:30 a.m. to 2 p.m. and specializing in breakfast and brunch offerings. In the more than 50 years since, Le Peep has expanded beyond its origins and seen growing competition within its niche.
"When we got started, there were just a few restaurants doing this, now it seems like there's hundreds," says Kevin Wessel, CEO and president of HW Holdings, the Littleton, Colo.-headquartered company that licenses the Le Peep brand. "Our competition in the breakfast and lunch category is getting stiffer, so it's important that we do it faster, fresher, better and at a competitive price point."
One of Le Peep's main advantages in the marketplace is its ownership structure. Each of the restaurant's 54 locations in 13 states is locally owned and operated by proprietors who license the name, recipes and concept as opposed to a franchise structure.
"We're looking for independent operators who don't need a lot of handholding and want to own their own business," Wessel says. "We believe in giving owners a proven system to adopt instead of requiring them to paint their locations certain colors, purchase from a certain vendor or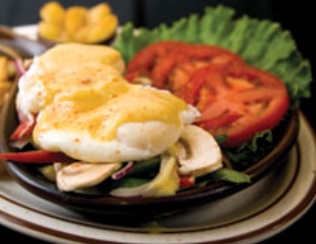 other things that a franchise would do. We allow them options, and allow them to make the decisions that are best for them."
Le Peep owners are typically entrepreneurs with previous experience in restaurant management. "We have great systems and methods of doing things already in place – we want someone who can take those methods and duplicate them successfully," he adds.
Owners also live in and are closely involved in the communities they serve. Le Peep restaurants support local schools, community organizations and charities. "We are entrenched in each community we serve," Wessel says.
The Right Systems
Although Le Peep owners are responsible for developing, staffing and promoting their own locations, HW Holdings offers  training, systems and support to owners. Le Peep's operations are all built around quality, speed and service.
"We teach them how to run Le Peep and let them take it from there," Wessel says. "If they need our help or support, we're definitely there for them. We like to provide guidance, rather than rigid requirements."
The company outlines the responsibilities of each specific position within a Le Peep location in its operations manual. Le Peep's systems allow it to serve as many as 900 people over seven hours – even in locations as small as 2,600 square feet.
"We have a system for everything," Wessel says. "We succeed in being able to produce high volumes at high speed with high quality; we've been around for a long time, and believe we're the best at what we do."
All food is cooked on site. "We want to do as much as possible fresh and in-store," he adds. "Nothing we serve is from a commissary."
HW Holdings continues to refine its processes and operations. The company reviews its menus every 18 months, removing and replacing underselling items.  "We develop and run four special menues per year, and top performers are added to the permanent menu," Wessel says. "We like to stay abreast of trends in both taste and health, including items such as gluten-free hummus and turkey sausage."
Steady Growth
HW Holdings typically licenses between five and 10 new Le Peep locations a year. Locations will open this year in Boise, Idaho; Arvada, Colo.; and Albuquerque, N.M.A location in St. Louis is in site selection. Future markets include Spokane, Wash., and Florida.
"I see us growing in a slow but steady manner that allows us to continue to be particular in who we choose to do business with in order to accomplish the highest standards of food and service possible," Wessel says.