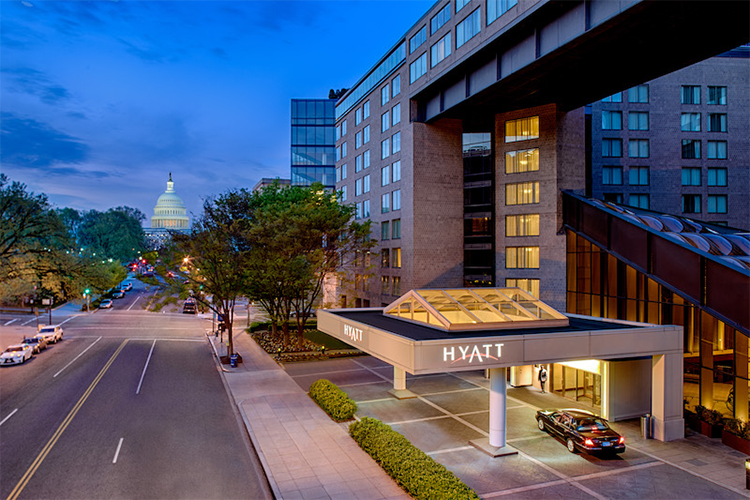 Hyatt Regency Washington on Capitol Hill
Hyatt Regency Washington on Capitol Hill gives guests experiences that keep them coming back.
When guests stay at Hyatt Regency Washington on Capitol Hill, they experience its philosophy of "authentic customer service" first hand. "The Hyatt Regency experience is designed around one objective: to connect today's always-on traveler to who and what matters most to them," Gail Smith-Howard says.
"Each space at Hyatt Regency is designed to be multifunctional and to interconnect physically, visually and digitally, so our guests can easily choose the space they need, and how they want to use it — no matter the occasion," she continues. "So whether they're working, socializing or relaxing, we offer a one-stop experience that surprises and energizes guests and makes our hotel a place they look forward to returning."
Smith-Howard is the general manager for Hyatt Regency Washington on Capitol Hill, which has stood on a full city block 1,287 steps from the U.S. Capitol for 42 years. Over its history, the hotel has hosted several U.S. presidents, including Barack Obama and Donald Trump, as well as leaders such as Speakers of the House Paul Ryan and Nancy Pelosi.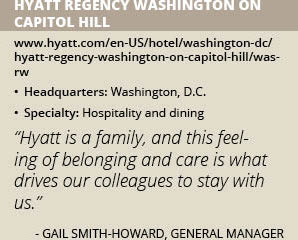 Hyatt Regency Washington on Capitol Hill also offers guests features that include the largest ballroom on Capitol Hill (up to 1,500 guests can be hosted there) and the Thornton Room. "Named for one of the original architects of the U.S. Capitol, Thornton Room is located on the top floor of the hotel and features floor-to-ceiling windows with striking views of the U.S. Capitol Building's West Lawn," she says. This space, along with the ballroom itself, is the most popular to host galas, conferences and various trainings.
But another important feature of the hotel is its experienced team. Its seasoned members help ensure customers receive consistent service every day. "Hyatt is a family, and this feeling of belonging and care is what drives our colleagues to stay with us," she says.
"When you have colleagues who have been with you a long time, some for over 30 and 40 years, they know what to do and they do it consistently," she says. "This has a positive effect on service, yet the most important component to our success is that our colleagues believe in our values and purpose, 'To care for people so they can be their best.'
"Care comes from a place of empathy and authentic human connections," she says. "We do this by truly seeing people and getting to know them as unique individuals, so we can design and deliver personal experiences."
Fresh Takes
Hyatt Regency Washington on Capitol Hill has focused on refreshing its experience for guests. It recently completed the first phase of a multi-phase renovation that included its lobby, bar and restaurant – Article One – American Grill. "It will be followed by our meeting space and room upgrades in future years," Smith-Howard states.
The restaurant and lobby refresh, she notes, brought in design elements of the historical neighborhood surrounding the hotel, and a clean aesthetic. "My favorite part of the restaurant renovation is the three-dimensional sculptures made from books that are shaped into the Lincoln Memorial and the U.S. Capitol Dome. These pieces take a new approach to outlining familiar buildings, while referencing the educated, business driven clientele through the medium of books," she adds.
Both, Smith-Howard notes, welcome guests into the private dining room. Modern design also meets timeless design with a large media wall above the bar, "featuring live sporting events on the largest screen on Capitol Hill and inviting locals to join visitors from around the world," she says.
Hyatt Regency Washington on Capitol Hill already has made some changes to its guest rooms, which include keyless/mobile entry.
Making it Better
Hyatt Regency Washington on Capitol Hill also has benefited from the use of its Colleague Experience Survey, which measures how employees feel about working at the hotel and for the company. "When the vast majority of your colleagues tell you that they are having a good experience, you know you are focused on what matters to them," Smith-Howard says.
But one of the survey's values, she notes, is that it makes the hotel aware of where it needs to improve. "Working together to continue to make our environment better every day is a priority, " she states. "Our goal is to ensure everyone can be themselves and brings their best self to work; to be a place where inclusion is part of who we are, and people have a chance to learn, grow and belong."
Smith-Howard, who has 38 years with Hyatt, sees a strong future for Hyatt Regency Washington on Capitol Hill. "We will continue to invest in our colleagues, as well as create memorable experiences and exceed guests' expectations," she predicts.