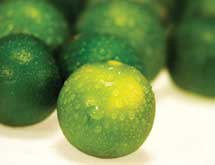 Kunik Co. has come a long way since Russian immigrant Irving Kunik started selling grapes in the streets of Chicago in the mid-1940s. In 1947, he left the Windy City as the owner of two small grocery stores and moved to south Texas to pack and ship Texas citrus fruits. His son-in-law, Leonard Kroman, joined him in 1950. The duo packed mixed greens and carrots in the 1950s and 1960s, and they eventually imported tangerines and oranges from Mexico.
The McAllen, Texas-based company ventured into farming its own carrots, cabbage and melons, and in the 1980s, I. Kunik peaked with more than 1,500 acres in cultivation. Today, as the third generation owner leads the company, its operations have once again shifted into importing limes, citrus, cabbage and carrots from Mexico.
Even though I. Kunik's products change from time to time, the company says it continues to strive for the same standards of quality, service and honesty that its founder handed down to its current leaders. For more than 60 years, I. Kunik has been setting itself apart through its rich history. "Our longevity means that my family has worked so hard for the last 60 years to be at the forefront of the produce industry," President Lawrence Kroman explains. Kroman, who has been with the company since 1985, says honesty and integrity are two things he has learned so far.
"We are honest with our suppliers and customers," he continues. "We try to do our best quality job – not only with the quality of products but the quality of our service."
Serving Quality Produce
I. Kunik serves customers such as Walmart, Safeway and C&S Wholesale Grocers all over the United States. Ninety-five percent of its products come from Mexico, and the remaining percent comes from Texas.
However, the biggest challenge facing the company today is food safety and traceability. "Traceability is a huge a challenge that the whole industry is facing," Kroman says. "There is an industry-wide produce traceability initiative we are following and we are moving toward that.
"Also, part of our food safety effort is that we are third-party certified," Kroman continues. "We keep on maintaining that high level of [dedication to safety] to make sure our produce is safe for people to eat."
Ensuring that products are of high quality and delivered on time is a constant challenge, but one that doesn't affect I. Kunik that much.
"We deliver produce the way our customers want it," Kroman stresses. "Day in and day out, we have the best quality limes available. We perform according to what our customers ask us – be it logistics or packaging."
I. Kunik maintains a facility that houses six coolers for various temperatures, depending on the products. Cold storage capacity is 50 loads.
Meeting Consumer Demands
The volatile pricing of produce is a challenge I Kunik faces every day, Kroman says. "Limes have been very high in terms of prices due to the cold and rain that we had in December and January," he states. "February and March have also been tight and the prices have been high. I don't think we'll see them way down until some time in June. Usually the prices come down in mid-May, but this year we will probably see an extra few weeks of high pricing."
Another market trend is the popularity of bagged products. "We got new bagging machines this year to keep up with this customer demand," Kroman says, noting that customers today prefer limes packed in bags vs. limes on stands. "Mesh bags are more popular. Customers like how they look on the stands. It not only allows products to breathe, but they also look great."
Leading the Pack
In the future, Kroman says he wants to continue to maintain what the company's founder established. "I want to continue to lead the pack in the lime industry," he notes. "Lime will always be a major part of our company. "
Although Kroman says the future of the next generation of leaders is still up in the air, his advice to them is simple. "Maintain the same standards of quality, honesty and service that has [brought] us where we are today," he concludes.