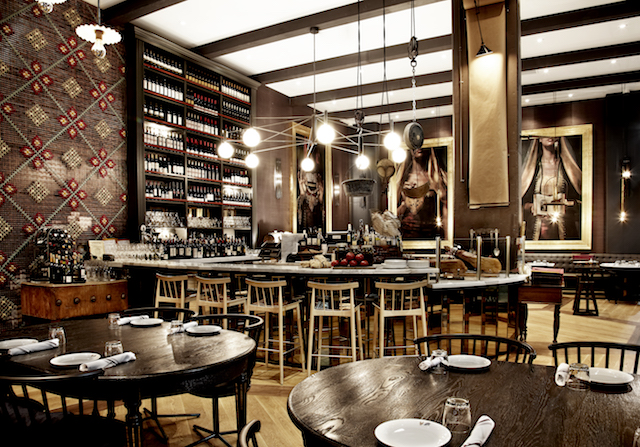 Iconink Hospitality delivers exceptional dining experiences and tastes of cultures with its concepts.
When guests eat at an Iconink Hospitality restaurant, they are confident they will have an exceptional dining experience. "We have a very loyal clientele that believes in our creativity," Hanif Harji says. "They know that our service standards are always going to be consistent."
Harji is the founder and CEO and a partner of the Toronto-based hospitality and lifestyle brand, which has a portfolio of properties. A longtime veteran of the industry, he began operating his own eateries 17 years ago.
"I realized there is definitely a career in hospitality," he recalls. "I have this real desire to learn more about food, culture and restaurants in other cities."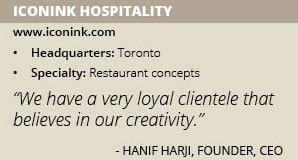 After touring different markets, Harji opened a restaurant on King Street in Toronto. "That's considered one of the best hospitality streets," he notes, adding that he formed a friendship with a restaurateur that had an adjacent location.
The two decided to form Iconink, which initially opened Weslodge, located in the heart of Toronto. "That took the idea of a saloon, modernized it and gave it more of a luxury feel with comfort American food," he recalls.
The company followed it with Patria, which offers traditional Spanish Tapas cuisine. The restaurant, Harji notes, was inspired by the six weeks he spent in Spain, enjoying the local food and learning about the culture.
Today, Iconink owns and operates 20 restaurants in the United States, Canada and the Middle East. In addition, "We do a lot of consulting," he says, noting that its clients have included The restaurant Louix Louis at the St. Regis hotel in Toronto's financial district.
Diving Deep
Iconink takes inspiration for its concepts from regions and their cultures. "We take our time to dive deep into the culinary regions," Harji says, adding that it can take 12 to 18 months for the company to open a restaurant.
Not only do he and Chef Ben Heaton travel and taste the food in different regions, "We think about what we appreciate about the cuisine," Harji says, adding that he develops a concept brief for each restaurant.
"[We look at] where the energy levels are coming from and how we are going to outwardly communicate the core values of the brand," he continues. "We really take the time to understand it."
This finds Harji and his team focusing beyond the food and looking at other aspects that can leave a lasting impression, such as the music and lighting in the restaurant. "We're focusing on a 100 percent curated experiences that makes people feel good," he says.
Spreading Its Wings
Now is a good time for Iconink to be in business, but the industry is not without its challenges.
"From a human resources point of view, there are more restaurants opening than there are hospitality professionals available to them," Harji admits.
But he praises the team that Iconink has assembled. "We've been able to find a lot of  hospitality professionals who have the same level of commitment to quality," he says. "I have some really great partners that help support me through this process."
Harji sees a strong future for Iconink, which has its sights set on global expansion. Recently, the company opened a Weslodge location in Dubai as well as Byblos, an Eastern Mediterranean concept in Miami.
Dubai and Miami "are two markets where you get a very sophisticated traveler who understands food and beverage," Harji says.
This makes Iconink an ideal fit for such markets. "We always felt what we did was world class," Harji continues. "We've solidified ourselves as a very diverse, innovative, quality-driven organization."Currently, the company has the ambitious goal of expanding into more major cities in the United States while it becomes a global hospitality leader.
"There are so many incredible chefs with incredible restaurants," Harji says. "After eight years of becoming a solid organization, it's time for us to expand our wings outside of Canada."