Illes Seasonings and Flavors formulates unique custom blends for the commercial food industry through worldwide research, tasting and testing.
When spices first came into wide use in food preparation, the difficulty of obtaining them along lengthy land routes or dangerous sea voyages made them exotic and rare. Even though most spices are obtained much more easily today, some of that exotic cache still attaches to them – they still retain a scent of mystery because of the secrets of their proprietary blending.
Illes Seasonings and Flavors has been offering its foodservice clients custom and proprietary blends of dry seasonings or liquid since 1927. The company – which is in its third and fourth generations of family ownership and management – creates seasoning blends, rubs, marinades, injects, sauces, syrups, glazes and flavor systems from processed – not raw – spices and ingredients that it receives from its suppliers.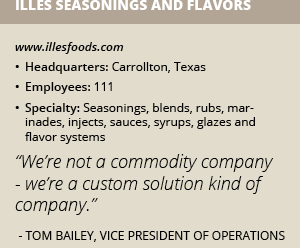 "Our suppliers are importing the base agricultural product and then process it to meet our specifications," Vice President of Operations Tom Bailey explains. "There may be some treatment of the spice to take care of the many microbiological concerns. We are receiving finished spices that are at the grade and within specification that we require for our particular product."
Spices have different granulations. Some might be an agricultural product, such as an herb. For example, there are many different types of rosemary, some dried, some individually quick-frozen. Illes Seasonings and Flavors uses approximately 1,800 different raw materials in its 400 to 500 active products.
Consumer tastes literally change over time, so Illes Seasonings and Flavors has to constantly anticipate these shifts. "We try to stay ahead of those trends in flavors so that we're prepared to help our customers meet the needs of the changing palate, and not just in the United States but outside of it," Bailey says. The company's products are distributed primarily domestically but also to Asia, Canada, Europe and the Middle East.
DineAround
The research Illes Seasonings and Flavors does requires travel to locales in Europe, Middle East, Asia, India and Central and South America. "We make an investment in studying trends by going out in the field," Bailey says. "When I say 'field,' I don't mean an agricultural field – we go out to different regions of the globe in what we call our DineAround program. We have chefs and food scientists that will go and visit a region of the globe and experience cuisine from that region, from white tablecloth restaurants all the way down to street carts with handheld food and everything in between."
The goal is to be the first to discover an upcoming trend or even to create a trend. "What they try to do is experience those foods, those flavors, and learn how those flavors are put together and what the experience is like," Bailey continues. "Then we see how that knowledge can be shared with our customers and leveraged into products that give our customers the food flavor and taste experience they're looking for in their products."
Bailey emphasizes that the company's products are custom formulations. "That's one of the things that makes us unique," he stresses. "We're not a commodity company – we're a custom solution kind of company. We work directly with the chef, the technologist, the marketing group, the quality team, and purchasing people of the customer."
The same formulation might be used at several different companies manufacturing the same product around the globe for a single customer. Or several companies might be manufacturing the same product for a single customer because the quantity required exceeds the production capacity of a single company.
Cling to the Wing
What Illes Seasonings and Flavors does is not just blend spices, but create functional flavor systems for its products. A marinade has to not only flavor meat, but also tenderize it. A finished product might require not just the marinade – it also might have to be cooked a certain way to be effective.
For example, a glaze for chicken wings requires more than just spices – it needs gums, starches and other functional ingredients, and it might have to be cooked a certain way to get it to cling to the chicken wings in an enticing fashion.
"There's some technology behind it so the product performs in its application for our customer," Bailey points out. "We determine those requirements upfront by really spending time with the customer to understand the application – what they need and how they need it to perform – so that we can design that into the system and the finished product so it performs to specifications."
That means not only that the correct ingredients must be gathered, but they also must be in the correct ratio and sequence under the correct conditions in terms of time, temperature and other factors.
Service and R&D
A key competitive advantage of Illes Seasonings and Flavors is its focus on service. "From the beginning to the end – from inception of a project to delivery of the product against an order – the organization is singularly focused on and prides itself on being nimble and servicing the customer with speed, accuracy and integrity," Bailey declares. "We're very focused on delivering to the customer what they want when they want it. And because we're a smaller company, we can be pretty nimble, maybe more nimble that some of our larger competitors."
Another advantage is the company's investment in its research and development. "For a company of our size to have classically trained chefs, culinologists and Ph.D. food scientists – we're really quite deep in our capability," Bailey notes. "We have just over 100 employees, but the years of experience and capabilities of our technical group is really unique." He estimates that approximately 15 percent of the company's employees are involved in R&D.
Ideas for new seasonings and flavors originate both with customers and Illes. Sometimes, customers will ask Illes to formulate ideas for 10 new flavors or sauces and present the ideas to them.
"In that process, we're able to put ideas in front of the customers that they haven't thought of themselves," Bailey says. "Some of those turn into projects and into products that get commercialized. That's part of where the DineAround comes in, where we're challenging ourselves to be aware of what's happening in trends and maybe even before it's a trend. We do that by understanding the evolving trends in the United States and by going out of the country."
Two Plants
Illes Seasonings and Flavors has approximately 100,000 square feet of manufacturing space in two facilities in Carrollton, Texas. One facility manufactures dry products, such as spice blends and rubs, and the other produces liquid ones, such as sauces and marinades.
"The second facility is primarily a liquid facility, but then we also have a bit of a redundant dry capability in the second facility that allows us to handle more sensitive products," Bailey says. "It allows us to run clean flavor-type products that might have a tendency to absorb a strong spice odor. There's certain ingredients that will absorb odors. Any ingredients that have a fat component to them would be prime candidates to pick up a background odor. So we're able to store some of those raw materials and blend those finished products at the second facility."
Illes Seasonings and Flavors has equipment for blending, mixing, milling, bottling, pouching and kettle and continuous cooking. The company will celebrate its 90th anniversary next year. Bailey attributes the company's longevity to its service to customers.
"The company is very focused on serving the customer, but doing it in a transparent way with integrity," Bailey says. "We are not always the lowest cost producer, but we're not going to lose a customer's business because we didn't do the right thing. I think that's why we have loyal customers – we have had some customers for decades. They appreciate our technology, but they also appreciate that we are very focused on being nimble and responsive and taking care of their needs."