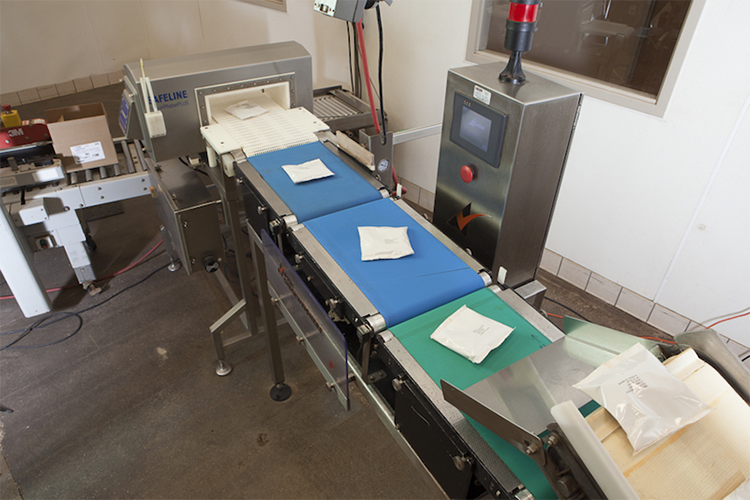 Illes Seasonings & Flavors
Illes Seasonings & Flavors is expanding its manufacturing plant and preparing for growth.
A growing number of consumers are demanding products with a clean label. They want transparent food labels with recognizable ingredients that aren't a mouthful to pronounce. That means no preservatives, artificial additives and synthetic chemicals.
The consumer-driven movement is changing the way many companies do business. Illes Seasonings & Flavors is among those responding to the trend. The company, which makes seasoning and flavors for a smorgasbord of food industry customers, is in the process of enhancing its production capabilities to help meet some of the clean label demands.
"We have a lot of customers who want clean label products right now," says Carrie Carlton, vice president of sales and marketing. "So we are enhancing our capabilities and our new facility will be partially dedicated to that."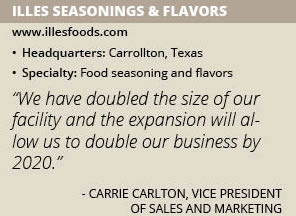 Illes has manufacturing space in two facilities in Carrollton, Texas, where the company is based. One facility manufactures dry products, such as spice blends and rubs, and the other produces liquid products, such as sauces, marinades and beverage syrups.
The company has invested in an addition to its existing 80,000-square-foot liquid manufacturing plant. The new addition, another 82,000 square feet, is expected to be operational in April. "We have doubled the size of our facility and the expansion will allow us to double our business by 2020," Carlton says.
Illes' products include seasoning blends, rubs, marinades, injects, sauces, syrups, glazes and other flavor systems. Historically, the majority of its sales have been in the dry market, the liquid market is the fastest growing.
The company, which celebrated its 90th anniversary last year, has equipment for blending, mixing, milling, bottling, pouching, and kettle and continuous cooking.
The Right Package
When it comes to packaging, Illes offers many options. Its clients can choose from a variety of options that include bags, pouches, drums, pails, packets and recyclable bottles. They can also choose their size.
Whether it is 2,000 pounds of liquid for a processing line, barbecue sauce by the gallon or four ounces of glaze, Illes promises to find the right package. "And we're in the process of expanding our packaging capabilities," Carlton says. "We're hearing from our customers that they would like us to supply additional packaging options."
One customer may want to order barbecue sauce in gallon jugs while another prefers small packets that it can hand out to its customers, she adds. Illes prides itself on its flexibility to develop custom solutions to keep its customers satisfied. "We pride ourselves on our customer service," Carlton says.
Custom-Made
Illes – which is in its third and fourth generations of family ownership and management – has offered custom and proprietary blends of dry seasonings and liquids since 1927. It emphasizes that its products are custom formulations.
"Everything we do is customized for specific customers," Carlton says. "We're developing new items every day." Ideas for new seasonings and flavors originate both with customers and Illes. Sometimes, customers will ask for ideas for new flavors or sauces.
"We'll develop items for show and tell," she adds. "But we also support them with trend information. For example, if we show them a new bourbon barbecue sauce, we'll back it up with statistics and marketing data that bourbon is trending on menus."
Its customers like to be notified of current trends when they are in the process of developing a new food product. Currently, whiskey flavors are trending on menus, Carlton says, quoting Mintel Menu Insights data. Compared to last year, scotch experienced a growth of 34 percent, unspecified whiskey by 71 percent and Irish whiskey by 95 percent.
Tasting the World
Illes goes out of its way to stay ahead of flavor trends to help its customers meet the needs of consumers' changing palates, and not just in the United States but outside of it. The company's products are distributed primarily domestically but also to Asia, Canada, Europe and the Middle East.
Some of Illes' research to create new flavor profiles requires travel to locales in Europe, the Middle East, Asia, India and Central and South America. The company's DineAround program takes its chefs and food scientists to various regions of the globe to experience local cuisine. Their research ranges from visiting white tablecloth restaurants to buying handheld food from street carts.
"I think our Illes DineAround program makes us unique," Carlton says. "Our chefs do a lot of research, immerse themselves in the culture and the food. Then they apply it to new products we are developing and we'll do presentations for our customers, share that knowledge with them."
The last trip focused on India, Indonesia and Dubai. Some of the flavor profiles Illes Seasonings' research team brought back from India involved curry. "We found that people are afraid of curry," Carlton says. "So we have tried to educate our customers on what curry is because the flavor is outstanding. But when some consumers hear the name, they shut down. But if you give them a sample, and don't tell them what it is, they say, 'Oh, this is really good.'"
What's Trending?
The company expects rich and bold flavors to trend this year. But Carlton adds that they are generally mixed with a comforting flavor. "Consumers want to try new and different flavor profiles but they also like familiar flavors," she says. "So we're matching the new flavors with flavors that they are familiar with, like honey or bourbon."
In 2016, Illes launched a quarterly TasteLab newsletter that is designed to inform its customers about food trends. "We've received a lot of requests from our customers," Carlton adds. "So as our chefs do research into what flavors are trending, they'll put together new product ideas. We'll also feature seasonal ideas. We have a lot of customers that run limited-time offers and our season flavor profiles can go with what the customers is promoting."
Illes is certified to make kosher, halal and Non-GMO Project verified products. It can also create allergen-free, clean-label and no-preservative formulations.
"Clean label is a big one," Carlton says. "Customers want to be able to pronounce the names of the ingredients. But every customer defines 'clean label' a little differently. One may be OK with a certain ingredient, while another is not. There's not one solution for everyone."