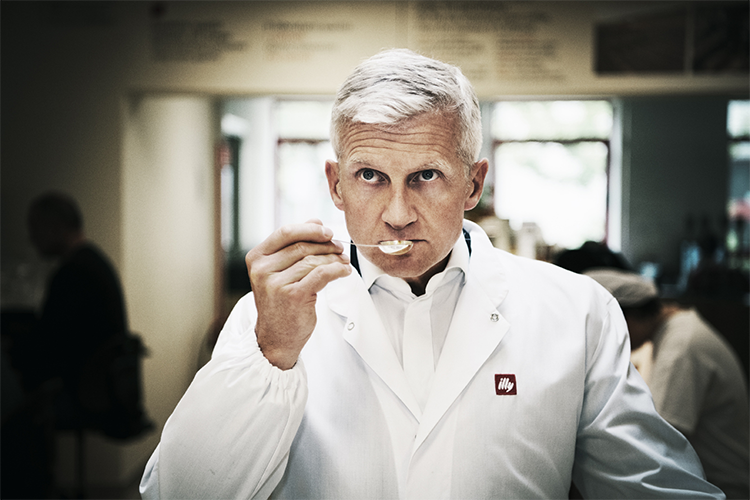 illycaffé hires its first CEO who is not a member of the Illy family while focusing on a number of new initiatives that celebrate quality and talent.
illycaffé will celebrate its 85th anniversary next year of offering people the greatest coffee in the world, just as Francisco Illy dreamed when he founded the company in 1933 in Trieste, Italy. "Every year is important and there is a great effort in place to make sure that our growth falls along with continuous quality improvement," Chairman and President Andrea Illy says. "We put great effort to make sure our growth is triggered by quality and not the other way around."
A third-generation company, illy is available today in more than 145 countries and in more than 100,000 of the world's finest restaurants, cafés, hotels and retail outlets that serve more than seven million cups of illy per day. "I grew up hearing about coffee," Illy says. "It's my life, and I didn't see any reasonable alternative. The company was shaped around the dream to offer the very best coffee in the world – a very romantic dream in a sense because offering is better than selling or distributing or serving."
illy directly sources the very best-quality Arabica coffee beans from farmers in 20 growing regions in nine countries on four continents. Every second of every day, 20,000 illy beans are sorted in a sustainable and certified supply chain with quality ensured in each bean through 10 different criteria. There are nine distinct Arabica beans in the illy blend.
In the United States, illy is sold at major retailers including William Sonoma, Bed, Bath and Beyond, Amazon and Sur La Table. It is also sold through partnerships with JW Marriott and Le Meridian hotels and can be found in major grocery stores, including Public, Kroger, Wegmans, Shoprite, Ralphs and Whole Foods Market.
"We have made a few organizational changes last year in order to have better execution in the marketplace," Illy says. "We hired a new CEO, Massimiliano Pogliani, in May 2016. I decided to only be the chairman and not CEO. Pogliani is external to the family and will be fine-tuning the organization, salesforce and marketing to position us to be even better in terms of quality of product. It's an evolution of the company to prepare ourselves for bigger things. He is an expert in coffee and an expert in super premium brands."
Best of the Best
illycaffé in 2016 established the first-ever Ernesto Illy International Coffee Award, hosted at the United Nations and dedicated to recognizing the best of the best coffee growers in the world. After rounds of blind tastings by an international independent jury of top culinary and coffee experts, illy announced that coffee beans grown by Honduras's José Abelardo Diaz Enamorado were named "Best of the Best" in the 2017 program.
"It's quite an interesting event because it allows us to not only motivate growers and seek the best quality beans, but put them in touch directly with their consumers and vice versa," Illy says. "It's the dream of consumers to meet the grower and eventually visit the plantation. They want to see the face behind a cup of coffee."
In 1996, Diaz Enamorado and his wife, Daysi Clemencia Reyes, began planting coffee in the village of El Chimizal on three-and-a-half acres in the region of Erandique. "It's an honor and a pleasure to recognize Mr. Diaz Enamorado for his achievement, and that of all of our finalists, which is nothing less than producing the highest-quality coffee in the world through sustainable methods," Illy says.
The Ernesto Illy International Coffee Award, named for illy's visionary, second-generation leader, recognizes excellence in raising coffee of the highest quality through sustainable means. The award celebrates his company's hand-in-hand work with famers to realize its dream of offering the best coffee to the world.
"The coffee market is in as positive a trend as it has ever been," Illy says. "It's clear that coffee is a source of pleasure and happiness, but also a source of health, which has been confirmed by several studies that coffee helps you live better and longer."
Quality Performance
illy launched a new advertising campaign this year that is centered on the idea of living happy – LIVE HAPPilly, as the campaign has it – through perfecting who we are, which Illy says is a never-ending story. The company highlights talent in the latest iteration of its campaign: ambassadors perfecting their art, song, performance or food, all representative of illy's focus on delivering the greatest coffee experience.
The company is rolling out its latest innovation, the Personal Blender, to select marquee chefs throughout the world, including chefs in San Francisco who will use it to develop their own signature coffee blend using the same nine Arabica bean ingredients found in the illy blend. "Thanks to an app you can compose the recipe of your blend based upon your desired tastes," Illy explains. "The system is very reliable and offers so many combinations that you can literally create your own personal blend."
Moving forward, illy will continue to deliver its unique coffee blend while seeking ever-higher quality and focusing on sustainability. Gradually, illy is becoming a retailer with 240 coffee bars and retail shops around the world operating under the illycaffé name. In San Francisco, the company has seven company-owned illycaffé locations, each with a retail shop within.
In keeping with its mission, illy plans to open about 40 locations throughout the world per year. "Our mission, passion and obsession is to delight all those who cherish the quality of life through our search for the best coffee nature can provide, enhanced by the best available technologies and by our search for beauty in everything we do," the company says.