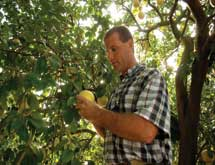 We're not the typical citrus company," says Michel Sallin, CEO of Vero Beach, Fla.-based IMG Citrus. Situated among multi-generations of conservative Florida grove families who have "always produced citrus a certain way," IMG Citrus takes a unique approach, he says. "We've been very aggressive in trying to differentiate ourselves by identifying new market trends and finding new ways of doing business," Sallin contends. "And I think that's been our strengths."
Sallin and his wife, Veronique, are originally from France, but came to the United States for a job opportunity in New York City. Sallin's successful career with an international steel company led the couple to invest in citrus groves in Florida in partnership with their parents, who ran an apple company in France. "At first it was just an investment, but we fell in love with the product," Sallin says. "We decided to stay and began a business brokering grapefruits." They established IMG Citrus in 1979.
The business model quickly evolved, and he started buying citrus groves in the early 1980s. Shortly thereafter, the Florida freeze of 1983 caused about $2 billion in damages to the citrus industry and destroyed many groves, including those belonging to IMG Citrus. "Very early on in the company history, we were facing a lot of adversity," Sallin says. "It nearly destroyed the company. That's when the focus of the organization became diversification."
New Approach
Following the freeze, the Sallins established Cherry Lake Tree Farm in 1985, which is now one of the largest containerized ornamental tree nurseries in the United States. The success of its sister company enabled IMG Citrus to slowly build its business back up and invest in additional groves. Today, the company has more than 4,000 acres of orange, grapefruit and tangerine groves.
In 2000, the Sallins purchased a packinghouse from Dole Citrus, which transformed IMG Citrus into a vertically integrated business that could produce, pack and market grapefruits, oranges and tangerines, and export grapefruits. The company packed approximately 1.7 million cartons of citrus last year and is one of the top-three citrus packinghouses in the state. "Our core competency in citrus has always been around international marketing," Sallin states, adding that the company has a leading market share in a number of European and Asian countries.
IMG Citrus' strength grew from its export experience. With its own office in Europe, IMG Citrus was able to work directly with some of Europe's major chain stores.
"We decided to distribute directly to the supermarket chains so that we could provide fresher, better tasting fruit, which is a radical shift from the traditional importer model," Sallin says. "That allowed us to be very close to the consumer and understand what their needs are."
IMG Citrus discovered that chain stores were concerned about food safety and sustainability, and wanted to do business with a company that could address those concerns. It became the first grapefruit producer in the world to obtain Tesco's Nature's Choice Gold certification, and it is certified with several other food safety and quality regulatory boards such as Global Gap, Primus Lab and Global Food Safety.
"We're ahead of the curve as far as [tracing our products and implementing] sustainable agricultural practices focusing on water conservation, worker safety and wildlife protection," Sallin maintains. "These certifications are a must to market to the most progressive chain stores in the U.S. and overseas. Along with food safety, offering superior-tasting citrus is our other strong point of differentiation, as we live by our mission to delight consumers worldwide with citrus grown responsibly."
New Horizons
Regardless of what direction IMG Citrus takes, it is committed to citrus and will remain a family business focused on innovation, Sallin assures. "The reason why we stayed in Florida and built the business was because we really love the product," he emphasizes. "We're a family business and an innovative company focused on diversification and differentiation."