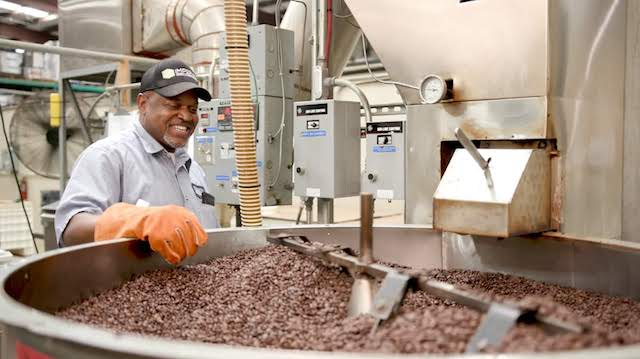 Imperial Company is expanding into new territories and seeing its micro markets grow.
Known as a full-service vending and coffee provider, Imperial Company is expanding into new territories and seeing its innovative micro markets grow.
The Tulsa, Okla.-based company has experienced tremendous growth in the past few years in its traditional vending, micro markets, catering, corporate and campus dining and coffee services.
"It comes down to product, innovation and how we impact the consumer," President Lance Whorton says.
On the innovation side, Imperial's micro-markets are one of the company's fastest growing solutions. Out of its $100 million in annual revenue, roughly $20 million comes from micro markets.
Known as "The Market by Imperial," the micro market is Imperial's newest breakroom solution. "It's our most innovative project," Whorton says. "We bring a convenience store to our customer's breakroom."
The Market offers hundreds of products and a variety of healthy food options purchased at an advanced self-checkout kiosk system. Customers simply select their food, snack or beverage choices scan the items and pay. In addition, the company recently launched a new Loyalty Club program for its The Market customers who regularly receive loyalty points, product promotions and coupons.
"We use technology from the kiosk to give our customers the most up-to-date data, which allows us to deliver a better experience to their consumers," Whorton says. "It gives us a better understanding of what happens at each of our stores."
For example, Imperial collects data about what consumers are buying and uses this information, to stock its stores with more similar items. It also uses it to identify high volume users and sends them product promotions and coupons.
"We are able to do things that our competitors can't," Whorton says. "We can even track wellness. Many of our clients want it tracked. They want healthy programs and better-for-you options."
Imperial introduced its micro markets about five years ago. Today, it has roughly 350 operational micro markets, with the majority of its customers being at-work clients.
Fresh And Healthy
What started as a small vending company has grown into a $100 million company that employs more than 700 people. It currently operates in Oklahoma, Arkansas, Texas, Missouri, Iowa and Illinois. The company expanded into Iowa and Illinois last year.
Imperial prides itself on providing its clients with fresh quality products and world class service. One of its most notable features is its fresh food commissary, which produces more than 20,000 fresh sandwiches, salads, entrees and other specialty items on a daily basis.
Most vending companies have gotten out of manufacturing their own food, but Imperial continues to operate its on-site commissary to give its customers more variety, better quality and better value.
"No matter how good our products are, our clients get tired of seeing the same thing," Whorton says. "That's why we always keep things fresh. Our commissary produces an average of 50 to 70 different menu items per day. Those are the items that go into our vending machines and micro markets."
Imperial operates roughly 13,000 vending machines, a business it started in 1992. Unlike some of its competitors, Imperial machines are connected via cloud to the company's home office through a technology called telemetry.
"It's communicating in real time sales 24-7," Whorton says. "With a wired network of machines, we can do cashless payments as well as loyalty programs. It also allows us to schedule our machines so they are kept full with a variety of products, and assist in evaluating product changes."
Although the largest chunk of Imperial's business comes from vending, between 5 percent and 10 percent comes from its corporate dining or campus dining programs.
"We're trying to take the technology from our micro markets and apply it to our corporate and dining programs," Whorton says. "One of the major costs associated with running on- site food preparation a cafeteria is labor. So, we have integrated the self-checkout and ordering kiosks. It allows certain clients, who otherwise would not be able to have a cafeteria, to have one."
Founded in 1979, Imperial is also known for its coffee service program, which is about 10 percent of its business.