INNOVATING OLD-SCHOOL
When walking into our bakeries you are greeted by our staff into a clean, bright and modern interior, that still has a classic feel," opens Chad Kilpatrick, Chief Financial Officer. "We are very transparent about our process and always strive to make the best-quality products possible. We enclose all of our kitchens in glass so you can see our team members baking and combine this with the highest level of service across the counter."
SusieCakes was founded in 2007 by Susan Sarich, in Brentwood California. For its creation, Susan added a sprinkling of her academia, having studied hospitality management at Cornell Business school, to a base of her fond childhood memories, with a large pinch of personal ambition. The final outcome is a spectacular blend of old yet new, modern yet traditional and familiarity doused with intrigue.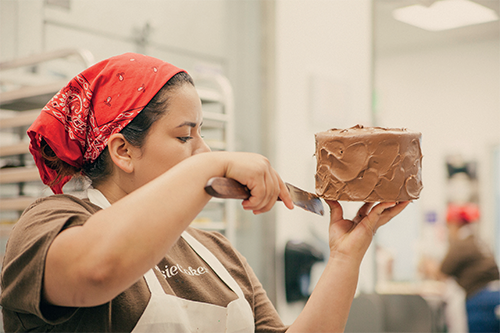 Celebratory essentials
Following her graduation, Susan worked for a number of different hospitality concepts, but wasn't satisfied by the opportunities available to women within the industry. "She saw a need for a better opening for women to be able to build a career path for themselves in the hospitality sector, without having to make significant sacrifices in their personal lives," Chad highlights. "One of the reasons she chose to develop a bakery business, is that a lot of the work is completed earlier on in the day. Meaning that, if you are a woman who is interested in professional pastry arts, it can create an opportunity for you to manage an exciting, professional career with SusieCakes and still be finished by four pm to pick up your kids from school. That was one of the main objectives that Susan had."
SusieCakes prides itself on being a "classic American scratch bakery concept." Its products are made fresh every day, at every location. It sources the finest ingredients from European butter to Madagascan vanilla and refuses to use preservatives or stabilizers in any of its products. However, beyond this concept, Chad explains that: "SusieCakes is in the celebration business. We take celebration seriously. In building our relationship with the local community, we try to gain trust by helping whenever there is a special occasion. So, whenever someone thinks about doing something special for a loved one, they think of us first – as we're the best that you can get."
This commitment to celebrating with its customers, or 'guests' as Chad refers to them, extends further than simply offering a range of different celebratory-themed styles of cakes. "We have a 'Celebration Specialist' role in the company, which requires someone who is well-versed in our approach, excellent at communicating and loves to connect with people," he continues. "Their day-to-day involves meeting up with prospective clients and taking the time to sit down and learn about their special day: what kind of wedding it is, when and where it's going to be, how many guests will be attending and what they are like. At SusieCakes, we take this really seriously. We want to provide all our happy couples with the best possible addition to their day. It's so much more than just a cake tasting."
In 2020, the ability to celebrate was brought to a halt by the Covid-19 pandemic – meaning the likes of SusieCakes had to find new and inventive ways of being there for its faithful customer base. Times of great change require adaptation and SusieCakes rose to the challenge of still providing celebratory essentials during such unprecedented times. "It was non-negotiable, we did a couple of major things after Covid hit," Chad recalls. "We started the process of building an entirely new website, with the aim of making the online ordering process a far more seamless and enjoyable experience for our customers. We saw a lot more people wanting to order our cakes online and, although they could beforehand, we understood that it needed to be a bigger part of our business, which required further investment in our e-commerce systems.
Crafted with care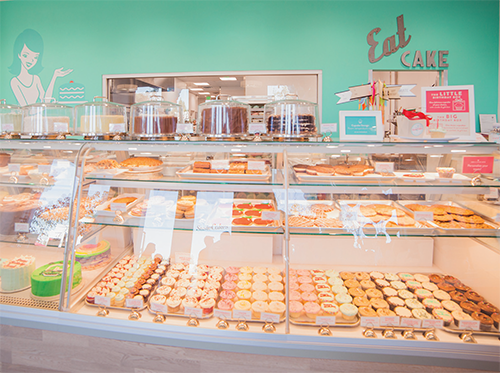 "We have worked very closely with our point-of-sale provider, Toast, which has been hugely successful, and we have a number of ongoing developments including a brand-new app, which will be rolling out next year. Alongside this, we worked hard to improve and expand the delivery of SusieCakes products. We wanted to figure out how to ship our signature cakes anywhere in the country without compromising any of the recipes, which is not an easy thing to do, due to our lack of preservatives and stabilizers and use of genuine buttercream frosting.
"We believe in providing the highest and freshest quality for our customers. So, we spent around 18 months researching and developing the most appropriate type of packaging, to ensure that when one of our cakes arrives at your front door, it's a comparable experience to walking into one of our bakeries – from every standpoint you can think of: the branding, the beauty and quality of the packaging, the 100 percent recyclable packaging. We partnered with BigCommerce, on account of the functionality aligning with our e-commerce business perfectly. For example, let's say your mom's birthday is six weeks away from now and you want to preorder a cake for her, to be delivered in time for her big day – our advanced ordering system hosts the necessary features to allow you to do so," he concludes.
SusieCakes provides a wonderful example of how a contemporary business can utilize today's technology to enhance its traditional values of yesterday, instead of simply replacing them. In doing so, it manages to carry forward a delicious slice of the past into the modern food and beverage industry – a company that cares about people, its produce and proper celebratory service.
www.susiecakes.com