Inaba Produce is in its fourth generation of growing fresh fruits and vegetables for stores and distributors throughout the Pacific Northwest and Canada.
For nearly 110 years, Inaba Produce has been supplying stores throughout the Pacific Northwest and Canada with fresh fruits and vegetables. The farming company grows about 1,200 acres conventionally and about 600 acres organically. Inaba Produce never limits itself to what it grows; it can grow nearly 25 different things in a harvest season that it packs and ships to major chain stores, organic distributors and smaller chains.
"Our specialty is being diversified and having multiple products to sell," Co-owner Lon Inaba says. "Our diversity is key to our success. We have many long-term, loyal customers, just like we have long-term, loyal workers."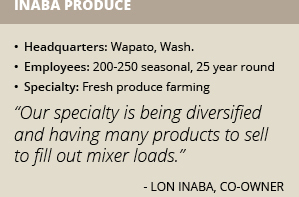 In general, Inaba considers the company to be pretty flexible. "If our good customers ask us to grow something special and if there's something that will fill a production gap or market need, we'll do it," he says. "It's interesting for us and interesting for our employees because you don't have to do the same thing over and over." For example, Inaba Produce is currently trying to grow organic, late-season blackberries for Driscoll's Berries. If that works out in everyone's favor, the farm will expand further into that crop.
Quality remains the most important piece of Inaba Produce and ties into the company's reputation in the marketplace. "As soon as we harvest, we get it cooled and try to ship it out fresh to our local customers on the day of harvest," Inaba says. "To me, that's when you're going to have the best tasting, highest-quality stuff.
"We do what we say we're going to do and we give our customers good stuff," he continues. "If you do what you say you're going to do, that's half the battle right there. We don't take orders we can't fill and do the best to give our customers something they can do well on. If you give people good stuff, usually they come back."
Farming is still labor-intensive work, so Inaba Produce employs about 200 to 250 people during peak harvest season, which occurs from April to November every year. Every February, the company begins starting its seven million plants of varying types of fruits and vegetables in its greenhouse operation, and then they're transplanted into the growing fields to prepare for harvest.
The work is nearly around the clock, so Inaba Produce even provides on-site housing for about 80 people to stay and live during the harvest season. During the off-season, the company employs about 25 year-round people to keep operations running smoothly as it prepares for the next harvest. "We couldn't do it without our people," Inaba notes.
Long History
Inaba's grandfather, Shukichi Inaba, came to the United States from Japan in 1907 and after several years of struggle, started farming on his own on the Yakima Indian Reservation in Washington. He broke ground out of sagebrush using teams of horses and helped to dig early irrigation canals in the area. However, the Alien Land Laws that prohibited "aliens ineligible for citizenship" from owning agricultural land were now changed to now prohibit them from even leasing lands. This affected Japanese, Korean, Indian and Chinese immigrant farmers. Thus, Shukichi became a sharecropper and had native and non-Japanese friends who subleased the land to him under the table.
"My grandmother Shigeko said it was farming like a mole under the ground," Inaba recalls. "They weren't supposed to do it but they needed to survive and with the help of their friends and former landlords, they made a living until his children, who were U.S. citizens, were old enough to sign for the leases. When you grow up in it, it kind of weighs pretty heavy on your heart."
Eventually, his father, Ken Inaba, took over the farm from his grandfather. And in 1982, when Inaba was working at the Hanford Nuclear Site, his father needed help building a cooling facility in a warehouse for some of the crops. Inaba took a six-month leave of absence and stayed on.
"My brother Wayne is our salesman, my brother Norm does our payroll and my mom, Shiz, is 86 and still does the books," Inaba says. "My little sister, Diane, is a dietician and will probably take over for my mom. My brother-in-law, Troy, is a food scientist and has worked on our equipment since junior high school. He helps keep stuff running. We have a lot of great employees who are just like family, who have been with us for 15 to 30 years. That's what makes the whole thing go."
Family Business
Inaba Produce is nearing its 110-year anniversary and continues its third generation as a family business, but Inaba says there aren't big plans for a celebration. "We've been here for a long time and we have our little harvest parties for our guys to celebrate each successful harvest," he says.
Inaba emphasizes the fact that his parents and grandparents overcame many struggles to make Inaba Produce a successful business. "Nothing we have to do will ever be nearly as challenging as what they went through because they endured a lot of animosity," he says. "We're just thankful to still be around and have good customers and employees. I love the area and wouldn't want to farm anywhere else. We have such a great community and it's great place to do business."