Inderbitzin Distributors Inc.
Convenience stores are called convenience stores for a reason, because they provide customers with a fast and easy way to pick up the items they want. To do that, c-stores need to be able to have the right products on their shelves at the right time, which means they need a distribution partner that can deliver product quickly and reliably. That's the reason why Inderbitzin Distributors Inc. has thrived in the Pacific Northwest for 35 years, and it's why President John Inderbitzin says the company stands poised to carry that success well into the future.
Inderbitzin's father, Dick Inderbitzin, started the company in 1979, and John Inderbitzin joined in 1982 as a truck driver. Although it originally operated out of the Inderbitzin home, it quickly grew, and today Inderbitzin Distributors has routes throughout Oregon and Washington. The company's primary focus is on serving customers up and down the I-5 corridor, which primarily consist of convenience stores but also include chain stores, school stores, espresso stands and golf courses.
The one element that has distinguished Inderbitzin Distributors more than anything is the level of service it provides. Inderbitzin says being a direct store delivery (DSD) distributor means customers work directly with the company, and the company's leadership remains personally involved in all of its operations.
Personal Touch
Being a DSD distributor means Inderbitzin Distributors provides a higher degree of service to convenience stores than wholesalers. Inderbitzin says the company specializes in stocking customers' shelves in addition to delivering products. Not only does this mean the company can guarantee the quality of the products on its customers' shelves, but it allows customers to concentrate on serving consumers. "That means a lot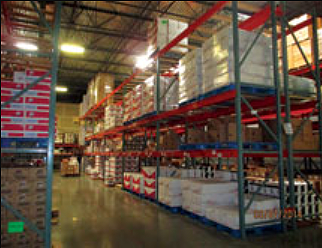 for the stores," Inderbitzin says. "That's what keeps us different from our competition."
As an example of the company's dedication to its customers, Inderbitzin says Oregon recently experienced heavy snowfall that kept many distributors from reaching customers. On the other hand, Inderbitzin Distributors made sure its deliveries made it to customers despite the challenging conditions. Inderbitzin says doing anything less is not an option for the company.
The company's guarantee to customers means Inderbitzin Distributors will monitor products and replace ones that don't sell with faster-turning products. It also leverages its years of experience to maximize sales through effective display management. Inderbitzin says the company strives to create displays that work for each individual customer, instead of a one-size-fits-all approach. "I would say we can make racks or have racks made for stores that will fit their needs and not just have a generic rack," he says.
Inderbitzin Distributors can guarantee this level of service because the company's leadership remains heavily involved in its day-to-day operations. Along with his brothers Glen and Paul, Inderbitzin says the family atmosphere contributes greatly to its customer service. "We have three owners that are involved in the company, and a lot of times if there's a problem, Paul or one of the owners will go out and talk to the stores," he says.
Surviving the Recession
Inderbitzin says the rising cost of fuel has made the company's operations more difficult, putting more pressure on the company to provide the same level of service to customers without passing along the added costs to them. "It's not like you can just raise your prices because fuel costs go up," he says, adding that the company's relatively low debt has helped it avoid many of the financial problems created by the recession.
Lately, however, the economic downturn has also created some small benefits for the company. Because many smaller DSD distributors were unable to compete in this economic climate, Inderbitzin Distributors has been able to buy up their equipment at discounted rates. This provides the company with a stronger fleet without the usual capital outlay, Inderbitzin says.
Bright Future
Inderbitzin says the future looks good for the company, due in large part to its focus on its own private-label products. "The company's private-label sandwiches – Mom's Premium Sandwiches – have experienced substantial growth in the last few years and should continue that trend in 2014," he says. Inderbitzin also says novelty toys have been a growth category for the company.
"We can get it out of the stores that are not moving it, move it into a store that's really selling it well and wants a lot of it, and we're keeping all stores happy," he says. "We're forecasting a great 2014 for us."