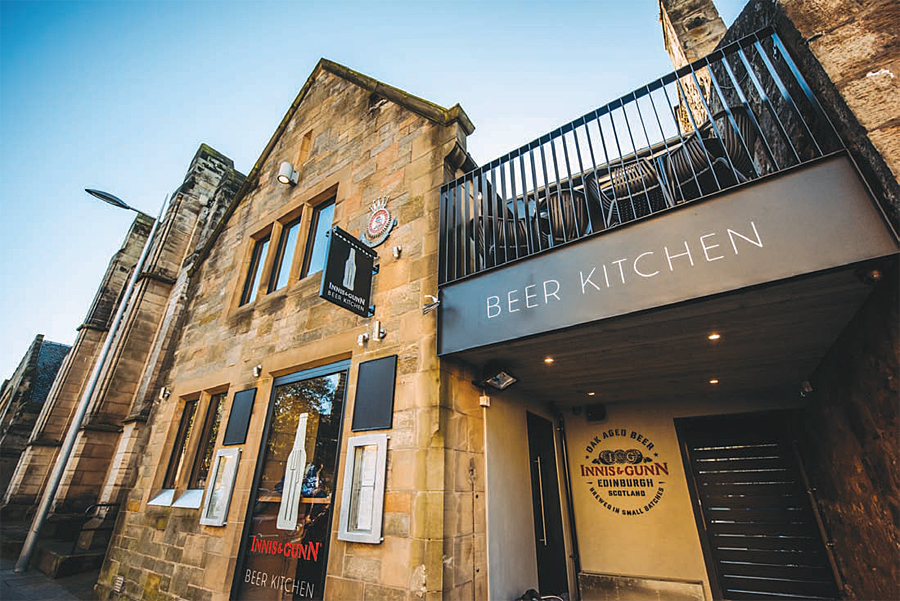 Experiencing something new
Embodying close to 15 years of brewing excellence, Innis & Gunn represents an innovative and ambitious brand that is rapidly developing a new and exciting restaurant bar concept
While the Innis & Gunn brand was officially launched in 2003, when the first bottles of its original brew went on sale, the history of business actually begins with a serendipitous discovery that
would lead to the creation of an exciting new beer and a lively, innovative brand. During 2002 a famous whisky distiller approached the company to assist it in seasoning some its oak casks with the sweet, malty character of a full-flavoured beer where all previous attempts had failed. Innis & Gunn eagerly responded by brewing a custom-made recipe, which was subsequently put to bed in the distiller's barrels.
After 30 days the beer was removed from the barrels and whisky was duly added. Over the course of its maturation the Scotch acquired several pleasing additional qualities from the beerinfused wood, resulting in a greatly appreciated dram and several further repeats of the successful experiment. Some months later the Innis & Gunn Founder and Master Brewer, Dougal Sharp, received what would be a defining phone call. Inquisitive souls at the whisky distillery had sampled the beer after its time in the casks and once the company did the same, Innis & Gunn realised that it had stumbled upon a remarkable beer that had been transformed by the oak into an unusually refined brew. This would become the basis of the launch of the company's unique range of oak aged beers, which continues to be enjoyed by casual drinkers and beer enthusiasts to this very day.
Today, Innis & Gunn represents the UK's second largest craft brewer, with a tempting range of 12 different beers on tap and a variety of accessible bottled and canned beers. These include its year-round 'favourite' Innis & Gunn Original, Rum Finish and IPA beers and its seasonal Irish Whisky Finish, and its Bourbon Pale Ale brews. The company even offers an alcohol free pale ale, with its Innis & None brew that arrived on the market in January 2017.
The company has continued to enjoy great success with its constantly developing line of beers, which have enabled Innis & Gunn to generate a turnover of £12.5 million during 2015, however the firm's story of innovation does not stop there. In 2015 the company launched its Innis & Gunn retail initiative, representing a new restaurant bar concept. This lead to the development of the Beer Kitchen brand and the company's first restaurant bar opening on Lothian Road in Edinburgh.
Flavour and quality
"Beer Kitchen represents our first move into restaurant and bar operations and we now have three units, with a fourth set to open in Glasgow during 2017. We aim to have six Beer Kitchen sites in
operation by the end of the year and a further four opening in 2018. We remain a beer company, but one that is moving into the restaurant and bar arena with the unique Beer Kitchen brand that we have created," reveals Innis & Gunn Retail Managing Director, David Hall. "The Beer Kitchen Brand is the realisation of the restaurant bar concept. The food style is centred on casual dining, with a menu that is strongly inspired by our range of beer's reputation for flavour and quality. In terms of the design of the restaurants we are working with Morgan Mcdonnell, which is an award winning architecture and design company. Each Beer Kitchen site that we open will have the same palette and feel and although all of the buildings themselves are slightly different, they will all have the same furniture, flooring and finishings so that the identity of the brand really shines through."
Haggis donut
The feel of the brand has been identified by visitors as being almost 'Scottish/Scandinavian' in design, with a casual atmosphere and a professional level of service. Beer Kitchen offers a selection of 18 beers on tap, which are constantly changing to ensure that there is always something new for customers to experience. "Around half of the beers that we serve at any one time are our own brews, while the others are comprised of great brands from Scotland, the rest of the UK and internationally as well. We are also really passionate about cocktails, wines and spirits, meaning that clients are able to visit us at our Beer Kitchen locations and enjoy a glass or wine, spirit or soft drink – it is something that is accessible to everyone."
Further to offering a refreshing selection of beers, wines and spirits, Beer Kitchen also offers a hearty menu of food that mirrors the Innis & Gunn tradition of quality and flavour. This includes its unique haggis donut, which is just one example of tempting and innovative menu coming out of the brand as it continues to grow. "The haggis donut is a savoury donut with haggis and garlic aioli, which is currently one of our most popular dishes. One of the company's managers mentioned the idea of developing a savoury donut and we all got together to discuss ideas and making something that could really work – its about sitting around a table and sharing ideas that we have seen elsewhere or that something new altogether. The haggis donut is a great example of this that tastes fantastic works really well," David concludes. "In terms of developing the brand, we are currently looking for our next site while maintaining a quality product within the bar and restaurant space."