InnovaSea is poised to help aquaculture meet the growing demand for seafood protein.
Aquaculture, or fish farming, is really nothing new. Some studies have found early evidence of fish farming in China as far back as 3500 B.C. But, looking at today's worldwide population trends, it is easy to see why a company like InnovaSea Systems could have a very bright future.
The world's population is expected to rise dramatically this century. According to projections from the U.S. Census Bureau, the earth's population could go from 7.3 billion people in 2015 to 9.4 billion in 2050.
Adding to that trend, the demand per-person for protein is also rising as people become more affluent throughout the world. David Kelly, chief executive officer and chief technology officer of InnovaSea Systems Inc., a company that specializes in aquaculture products, is very aware of these trends. "The middle class keeps growing, particularly in the Third World," Kelly says. "This results in increased demand for protein, and with it, fish."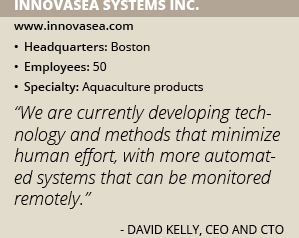 Equally important, Kelly notes that this increased demand is being met more often by aquaculture. As technology has evolved, less seafood demand is being met by wildlife capture. "If you look at the growth in seafood consumption over the last 20 years," Kelly notes, "you see that it really has been steadily met by an increase in aquaculture. Around 2015, we finally reached 50 percent of consumption being met by aquaculture."
Needless to say, there has been a significant increase in aquaculture companies to meet growing demand in recent years. To serve the needs of those companies, Cuna del Mar, an investment fund focused on open ocean aquaculture, recently invested $15 million in Boston-based InnovaSea, which develops all-inclusive systems for open ocean fish farming.
Strong Start
InnovaSea itself was created in 2015 from the merger of two companies already in Cuna del Mar's portfolio: Maine's Ocean Farm Technologies Inc. and Seattle-based OceanSpar. The company is dedicated to developing the next generation of technology for open ocean aquaculture.
While InnovaSea's predecessor companies focused on underwater pens for fish farms, the company is now developing fully integrated solution systems that will enable farmers to grow fish in open ocean environments typically two to six miles from shore. In 2016 InnovaSea established its headquarters and R&D center in Boston. Drawing upon the area's marine and high technology industries, the company has built an engineering and science R&D team that is advancing its technology and products.
As the company has started to take shape in what is still an industry in its infancy, it has focused primarily on two products. One is the Aquapod, which is a containment system for marine aquaculture suited for open ocean conditions and diverse species. The Aquapod is constructed of individual triangle net panels fastened together in a spheroid shape.
The second primary product is SeaStation. This is a fish pen that helps farmers reduce the total cost of operating on medium- to high-volume aquaculture sites. SeaStation is a secure and long-lasting pen that allows the farmer's capital costs to be spread across many years and harvesting seasons.
"If you look at a typical SeaStation pen," Kelly says, "you see an average life of seven to 10 years. With our technology, we can help farmers build a complete system, capable of working in a variety of environments, where a balance can be struck between the life of the pen and the cost of it." InnovaSea has installed more than 160 pens around the globe.
Ultimately, InnovaSea is a technology and engineering company, which becomes vital as more aquaculture companies look to build operations further off shore, so as not to disturb communities or areas with oceanfront views.
Though much of the industry today is "near shore" aquaculture, Kelly foresees a shift to more offshore sites. "If we can open up more areas offshore, studies have shown there is more effort involved in a more exposed environment," Kelly says. "We are currently developing technology and methods that minimize human effort, with more automated systems that can be monitored remotely."
Offshore aquaculture operations are subject to considerable regulatory scrutiny. However, "With our open ocean pens, we are looking at a minimal environmental impact," Kelly explains. "If our technology isn't environmentally safe, it won't be adopted."
Early Returns
Kelly says he has enjoyed the challenges of growing InnovaSea from its early stages. Kelly himself comes from an ocean technology background, working for companies that focused on marine robotics or unmanned underwater vehicles.
At InnovaSea, his biggest challenge is finding the right mix of people to grow and expand on the company's technology and product platforms. He has a fairly small pool to choose from because there are not many people with direct aquaculture engineering experience in this relatively new industry.
Fortunately, Kelly already has an experienced team in place as a result of the Ocean Farm/OceanSpar merger. "There is a very small population of people who have worked in the industry," Kelly notes. "We have tried to draw engineers from a variety of industries, including of offshore oil and gas and defense industries."
InnovaSea has three primary customers:
* Open Blue, which specializes in Cobia fish;
* Earth Ocean Farms, which specializes in Totoaba and Pacific red snapper; and
* Blue Ocean Mariculture, which focuses on Hawaiian Kanpachi off Kona, Hawaii.
InnovaSea continues to grow along with a promising industry. As the saying goes, if you teach a man to fish, you feed him for a lifetime.