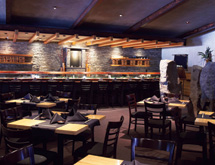 If the United States is a melting pot, then Southern California is in the center of the burner. The region is one of the most ethnically diverse in the world and its dining options reflect it. That is why restaurant developer Innovative Dining Group (IDG) has fully embraced the varying tastes within the City of Angels and its neighbors.
IDG, which began in 1997 with a contemporary sushi bar concept, Sushi Roku, has turned into a company with seven restaurant concepts and 13 locations. Sushi Roku, though different from its other concepts, is the epitome of what IDG strives for with each development. The company describes Sushi Roku as a "unique culinary experience that bridges past and present [and] is the result of an eagerness to embrace new ideas and a profound respect for tradition."
IDG says it is mastering the juxtaposition of traditional and fresh – striving for not just a balance of the two, but a complete integration to make a whole and authentic experience. Whether it's a take on Japan with Sushi Roku, or Robata Bar, which is designed with the Tokyo pub in mind, or Katana, which features the country's comfort cuisine, IDG partners with best-in-class chefs to deliver an authentic experience.
But Japanese cuisine isn't its only specialty. IDG's portfolio includes classic American fare with BOA Steakhouse as well as restaurants located in The W Hotel Hollywood –Delphine Eatery & Bar serves guests contemporary California cuisine, while Station Hollywood & The Living Room has become one of Hollywood's most popular dining and entertainment haunts since it opened in 2010. IDG also orchestrates the W's room service and catering.
True to its Name
Besides its multiple locations in Southern California, IDG also operates two Sushi Rokus in Las Vegas and Scottsdale, Ariz. Today, the company is in the midst of a three-way expansion plan as it diversifies its areas of operation, replicates current concepts and develops new ones.
"There are two main reasons we continue to develop new concepts," CEO Lee Maen explains. "The first is that we are kind of real estate-centric. We like to find a great piece of real estate and figure out what to do.
"The second reason is that though it may be strategically smart to roll out the same concept over and over, we like creativity and innovation," Maen continues. "It's something in us that likes to keep it interesting. It's exciting to develop new things."
The company is constructing a Chinese restaurant in Hollywood that will open this spring. Last year, IDG opened Soleto Trattoria and Pizza Bar, an Italian restaurant in downtown Los Angeles. Featuring an exhibition pizza bar, an outdoor patio and a large bar, Soleto offers Southern Italian cooking paired with complementary wines and cocktails. IDG followed this with RivaBella in West Hollywood, in partnership with acclaimed Los Angeles chef Gino Angelini.
"RivaBella is across the street from BOA on Sunset, and because Italian is one of the most desired foods and everyone has their favorite Italian restaurants, we knew we had to do something special," Maen says. "So we did a couple of unique things. Two-thirds of the restaurant is outdoors, completely covered with a retractable roof because people love eating outside, even in winter. The other thing is that we are partnering with Gino. We could have developed the menu ourselves, but he is one of the most beloved chefs in L.A. He had a No.1 restaurant on Zagats for five years. He brings a credibility and attracts people who already love him into a new, exciting location."
From West to East
IDG is also opening itself to new and exciting locations. Traditional standalone restaurants are the company's mainstay, but it is diversifying with two new restaurants in Los Angeles International Airport. IDG's B Grill, a cafe version of BOA Steakhouse, is under construction and it recently signed another deal with LAX to open a sushi bar in one of its terminals.
As IDG continues to engrain itself in the Los Angeles dining scene with its international tastes, the company is making steps to actually go international. It is taking BOA Steakhouse abroad and will open its first international restaurant in 2013 in the United Arab Emirates. It is also doing its due diligence to open other restaurants in Abu Dhabi and Dubai, as well as in Hong Kong and London. Back in the United States, Maen sees the company opening restaurants in cities with large urban populations.
These soon-to-open and future-planned restaurants will cater to discerning tastes, some that even share the same background as the restaurant. To keep itself in favor with an eclectic and savvy consumer base, IDG will continue to focus on delivering authenticity.
"Good food and good service go a long way," Maen says. "But we also try to provide an experience that feels real. Our restaurants are not just thrown together; they are well thought out. We try to transport you so when you walk into our Japanese restaurants you really feel like you're in the streets or pubs of Tokyo. With our Italian restaurants we want you to feel you are outside of a Tuscan home. We want to take people out of their day-to-day lives and have them experience something legitimate."