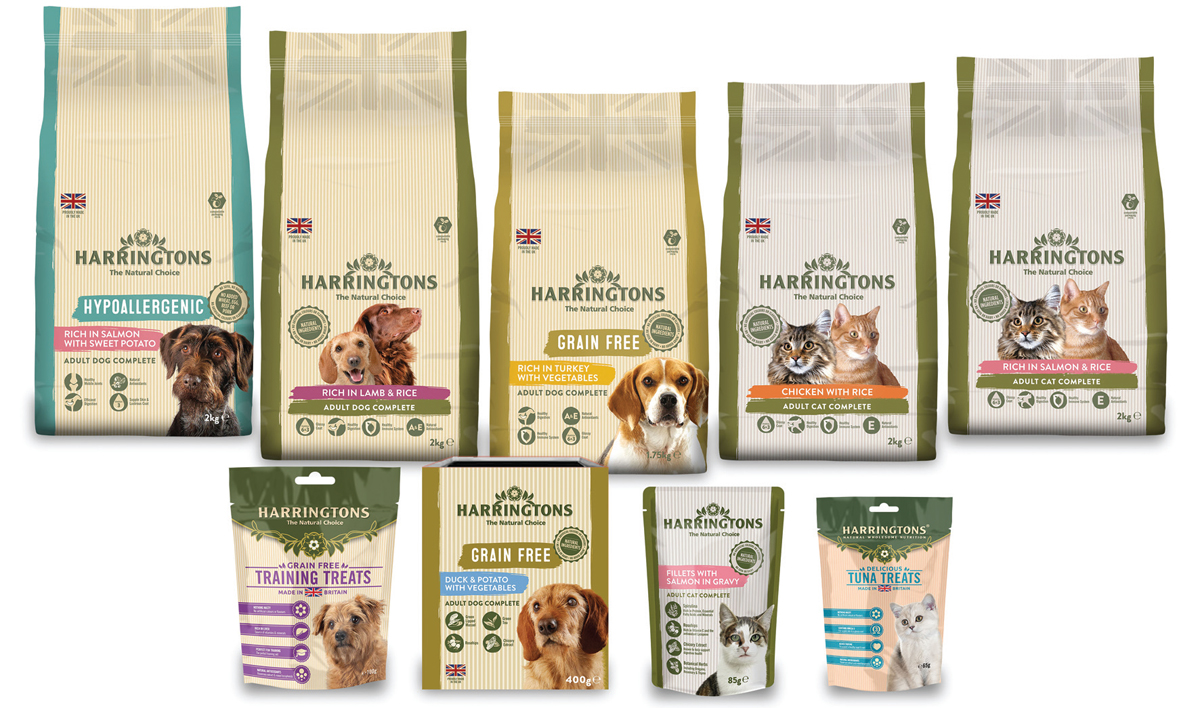 An inspired choice
A multi-award winning FMCG pet food manufacturer, Inspired Pet Nutrition is the company behind some of the best-known brands in the market, including Wagg and Harringtons
The story of Inspired Pet Nutrition (IPN) goes back almost a century and has its roots in the wheat trading business that was founded in North Yorkshire in 1923. It wasn't until the 1960s that the
company, then known as Page Feeds, turned its hands to animal feed, supplying the farming community through four feed mills that were strategically located across the county.
"It was under my father that the company, as it was then, recognised the significant benefits that could be gained from transforming from being a supplier of animal feed into a value-added pet food business which was driven by brand values rather than by the price of wheat," begins IPN Managing Director, Richard Page. Having launched its first complete dry dog food range in 1985, the company would change its name to Wagg in 1990, moving into its purpose-built site at Topcliffe, near Thirsk, that same year. Over the course of the next decade it successfully expanded its dry dog food range, moved into small animal foods and doubled the capacity of its original factory site.
"In 2002, we raised a loan of around £4 million, which we used to build and open our first dog food extrusion factory, kitted out with the latest production equipment, which was capable of producing in excess of 40,000 tonnes of extruded product per year and helped add 12 per cent to our bottom line," Richard continues. "In the years that followed we continued to expand, adding addition extruders to increase our company-wide annual capacity to in excess of 180,000 tonnes per year, which represents almost half of all the dry dog food made in the UK."
The evolution of the company ultimately resulted in it adopting its existing name in 2016, however, as Richard goes on to highlight, the values and principles at its heart have long remained unchanged. "We have always had a fundamental philosophy of investing whatever we have made as capital back into three main areas of the business; machinery, our brands and our people. From a machinery perspective, automation has become a hugely important component of our operations, with the first robot going into service in 2007, which was used for stacking large bags on pallets for transportation. Fast forward to today and every line within our facilities is automated."
Natural & nutritious
Automation will also be central to the success of the company's 100,000 square foot distribution centre, which was opened in May 2016. The site, which has a capacity to store around 17,000 pallets, incorporates a technique called one shot loading, where full pallets are automatically loaded on to a specially commissioned truck, which delivers them to the new centre where they are then automatically unloaded, racked and sorted into individual SKUs ready for order-picking.
Having achieved success with its Wagg brand, it was only naturally that IPN would branch out into other ranges and categories of dog and pet foods. In 2008, it launched its Harringtons dog food range with the aim of making an affordable premium pet food that did not compromise on quality, before going on to include oven baked semi-moist dog treats two years later. Then, in October 2017, IPN launched Nineteen 87, a premium range of baked dog food and treats, with natural and nutritious ingredients.
"The development of our Wagg and Harringtons brands ultimately led to the creation of our Wagg cat and Harringtons dry cat food ranges, as well as a line of premium rabbit and guinea pig foods, which we sell under the name Harringtons 'Optimum'. The evolution of our product range continues in 2018, with installation almost complete on a new wet food factory in Wales, from which we will produce a premium wet tray product, which is something that our customers have been asking for."
Positive additives
Of course, having the best machines and brands is all well and good, but you need the right people in place to interlock these elements together. "In recent years, we have definitely become even more focused on the people side of our operations," Richard states. "In the process, we have worked hard to bring on-board some of the best nutritionists in the UK, if not Europe, and this has allowed us to get a better understanding of the nutrient profile of the products we make, ensure that we have the best premixes and that we can incorporate positive additives that help with issues such as digestive complaints and joint pain in animals."
IPN has also recently recruited the former Managing Director of GA Pet Foods, James Lawson, who will be taking the reins of its new plant in Wales and bringing with him his considerable knowledge of the export market. It is this that the company intends to focus on increasingly in the coming years, as it looks to build a credible export business that extends the work it has achieved in delivering its products to customers in countries such as Germany, Norway, New Zealand and Singapore.
"Driving top line growth is something we have always been really good at, and we have coupled this with strong investment in brand awareness in recent times," Richard adds. "We know, however, that with the challenges that exist within today's industry we have to ensure we remain flexible, adaptive and always focused on the consumer. I wholeheartedly believe if you look after the consumer, and give them a great product at a fair price, that they will keep coming back to you, and IPN will never stop working to achieve this philosophy each and every day."