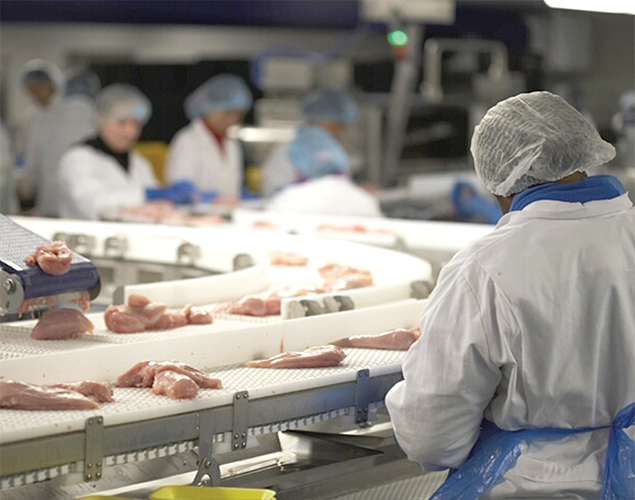 Chicken run
Since 2006 InterChicken has explored neighbouring countries such as Belgium and Germany with the aim of increasing export
As one of the leading suppliers of chicken to the retail and wholesale sectors, InterChicken is currently developing some of the tastiest chicken dishes available on the Dutch market. Founded in September 2000, the company, never afraid to take a risk, is looking to grow by expanding its export market.
Based in a 10,000 sq m facility in Bodegraven since 2003, InterChicken has doubled its capacity in less than four years, becoming an envied and respected company in the process. Such expansion speaks volumes of the company's energy, ambition, productivity and continuing success.
'We are known across the Netherlands for our creativity in product development,' says Edward Windhorst, the company's managing director. 'We have developed some of the most innovative products available in the market and are now a leading supplier of a complete range of chicken and poultry products. Our main objective is to convert the needs of the consumer into concepts for retailers, wholesalers and institutional markets. We are continuously engaged in marketing research and turn the gained knowledge into an innovative brand. As a result, we are renowned for being a progressive organisation and the ideal partner to do business with in the field of chicken and poultry products.'
Since its formation, the company has built up an extensive portfolio, which now includes some of the very best chicken products available to the Dutch retail sector, such as an innovative range of ready-made meals branded as EasyCuisine. These dishes are mostly delivered in aluminium plates for easy cooking.
In November 2006, InterChicken once again broke the mould and introduced poultry meat with a good balance between omega 3 and 6 fatty acids. The revolutionary product is branded under the name Balanskip and is available at Dutch Vomar supermarkets. The new meat is produced in co-operation with broiler producers, a feed company (de Hoop) and a poultry slaughter plant (Storteboom). 'The chickens used in the production of this products are being fed a special diet that optimises the balance of omega 3 and 6 in the meat. We have high hopes for this product and it perfectly illustrates our ability to think outside the box,' Edward enthused.
With a multi-cultural, driven and dynamic workforce, InterChicken generates the majority of its sales in the Netherlands. Since 2006 however the company has explored neighbouring countries such as Belgium and Germany with the aim of increasing export in the coming years. The UK, where InterChicken recently exhibited at the IFE in London, is another extremely appealing market, so the company is naturally excited about the future. Edward explains: 'Since our formation in 2000, we have enjoyed tremendous growth, doubling our size. We have grown to become a strong player in the Dutch market, yet we are still ambitious and hope to grow even further. However, given the rate at which we have already grown, the domestic market has become very competitive, so the opportunity to achieve further growth here is fairly limited. As a result, we have opted to increase export. We have outstanding products, which are suitable for foreign markets, we believe in those products and we hope to offer consumers in other countries greater choice, as well as breathtaking poultry. I believe, and we have already seen proof of this at many of our exhibitions, that because of innovative flair and great tasting poultry we will be a real hit with consumers outside the Netherlands.'
Innovation is the company's forte and InterChicken regularly commissions market surveys to keep abreast of contemporary tastes. Results are then implemented in its product development department. 'You have to be innovative,' says Edward. 'You have to be aware of what the consumer needs and develop products, tastes and flavours that cater to them. As a result, we keep our finger on the pulse, research the market and implement our findings in the development of new products.'
He continues: 'In any consumer market you have to be quick. You need to be able to adapt to changes in taste almost instantly. I think we are good at that. I also believe that our speed when it comes to developing new and great tasting poultry gives us a competitive advantage and is perhaps the reason why we have been a great success. InterChicken is a wellknown name in the Netherlands and we are associated with flexibility, customer orientation and innovation.'
Optimistic about InterChicken's potential, as well as the future of chicken, an excited Edward concludes: 'Poultry is very popular with today's modern healthconscious consumer. It has many of the qualities they are looking for – it is low in fat, easy to digest and can be prepared in a variety of ways. I believe this will reflect well on sales and we will be able to explore new markets and dishes in the future.'