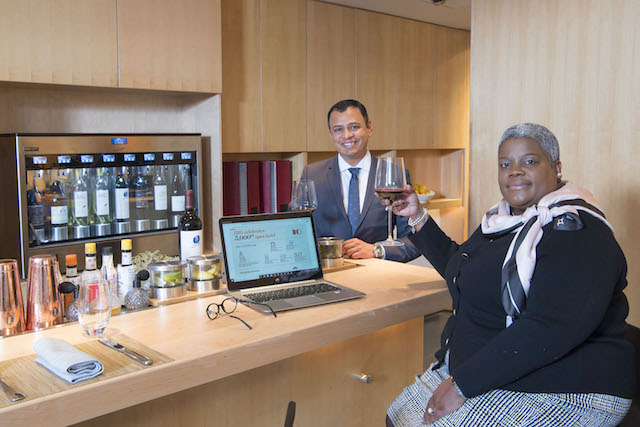 InterContinental Hotel & Conference Center Cleveland
InterContinental Hotel & Conference Center Cleveland prides itself on catering to the varying needs of its guests, including its food and beverage offerings.
When it comes to providing a luxurious guest experience, InterContinental Hotel & Conference Center Cleveland is in a class all its own. Located on the Cleveland Clinic campus, the hotel specializes in catering to doctors, business travelers and patients. "Cleveland Clinic is a world-renowned hospital catering to heart patients and ranked by U.S. News & World Report as the No. 2 Hospital in the United States," Area Director of Human Resources Flo Hunt says. "You feel a higher level of guest service, one that is more empathetic, warm and caring because we are taking care of patients and their families as well as guest from a broad global spectrum."
InterContinental Hotel Cleveland features 299 guest rooms, two restaurants, one bar and 35,000 square feet of conference space. The hotel's conferencing facilities are some of the most technologically advanced in the country, specifically designed to create an optimal environment for meetings and seminars. "Our meeting space features stadium-style seating and more than $1 million in technology," Hunt adds. "It's pretty unique and we are proud of it because it sets us apart from the competition."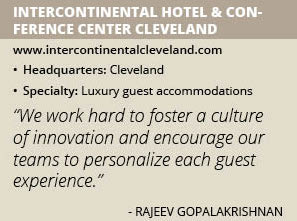 Upon entering the InterContinental Hotel Cleveland, a striking Roman map of the world is made out of marble. The lobby offers plentiful seating, live music and artwork on loan from the Cleveland Clinic. Guests are greeted with a welcome beverage and escorted to their room where they are given a tour of the room and services. "We are very cognizant of the comfort level of our guests," Cluster Director of Food and Beverage Rajeev Gopalakrishnan says. "We work hard to be sensitive to global etiquette and preserve the InterContinental life, while ensuring that we demonstrate empathy to all of guest."
Feeding the Soul
InterContinental Hotel Cleveland's Table 45, a Zack Bruell restaurant, offers a new take on modern American cuisine. Inspired by international flavors of prominent culinary destinations, Table 45's menu features a collection of unique and notable pairings complemented by the casual elegance of the restaurant's modern design.
Cleveland's own chef Zack Bruell reimagines classic cuisine through a contemporary lens that elevates ingredients to their purest form. His trademark style of layering powerful, yet distinctive flavors defines everything he does – from French to Asian and Italian to seafood. "Zack Burrell has inspired Table 45 to be a premier independent restaurant in Cleveland," Gopalakrishnan says.
Table 45 employees are encouraged to showcase their own unique personalities and that same autonomy is expressed in the menu design. As consumer trends or lifestyle choices continue to reign supreme in the industry, Table 45 has taken a step forward in vegan, gluten- free and allergen awareness. "We crafted a vegan risotto with a tasty blend of barley, mushrooms and cashew cheese." Gopalakrishnan says, "Everyone likes cheese in their risotto, so we soak cashews overnight then blend, grind and season them to make it behave as a cheese and guest love what we did with this dish and its one of our top sellers".
The restaurant also partnered with James Beard Foundation to offer a blended burger made of mushrooms. The Blended Burger Project combines meat and mushrooms in the same patty to address increasing pressure to serve healthier meals and become more sustainable.
Innovative Spirit
Table 45 features an amazing wine cellar that can hold 2,000 bottles of wine. "We knew there is a demand for high-end wine, so we wanted to find a way to capitalize on this by not just selling bottles but by the glass," Gopalakrishnan says. "We invested in the Enomatic wine serving system and became the only upscale restaurant in Cleveland, offering wine you can't typically find by the glass. We started this program in March and the response has been great – guests are in love with this. At first, I thought it would just be doctors or business travelers, but we are noticing that a broader cross-section of guest are embracing this option as well."
In addition to its wine program, Table 45 is also raising the bar when it comes to events. "People want interactive, live stations rather than a carving or display station," Gopalakrishnan notes. "For a unique customer event our banquet team build a speakeasy wall with a hidden door and little window to use as a backdrop for a bar option. Our innovations are driven by the customer because they don't want banquet events to feel stuffy with chefs in white coats carving meat – they want it personalized."
Table 45 also prides itself on its sustainability efforts, which include removing straws from the dining experience. "We removed 100 percent of the straws from our employee dining areas and used posters explaining why we are doing it," Gopalakrishnan says. "In all our hotel restaurants, straws are only available upon request. The customers have aligned with this and we've seen zero pushback because they understand it's a great step toward conservation."
Moving forward, InterContinental Hotel Cleveland plans to continue delivering personalized experiences for its guests. "Luxury food and beverage is not one size fits all," Gopalakrishnan says. "Every part of our food and beverage presentation is important because it's a visual treat for the customer before they make a choice to come to our restaurant. Our offerings have to speak to them through social channels and websites before they even step foot inside and then it becomes a journey from the visual to the palate."