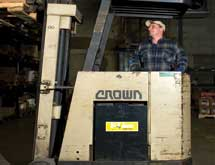 International Food Concepts Inc.
Communication is the key to any partnership, be it business or professional. When asked what advice she would offer couples who work together after spending 15 years running International Food Concepts with her husband, CFO Marilyn Albano says, "You need a good sense of humor."
"And you need to listen well," President John Albano adds.
Located in Atlanta, International Food Concepts is a small, upscale niche food distributor serving hotels, upscale restaurants, country clubs and gourmet retail stores. "We carry 4,000 to 5,000 different items," John Albano says. This includes specialty items, such as olive oil, fine chocolate for baking, domestic and imported cheeses, hormone-free beef, pork and veal.
In the early years, the Albanos and their business partner, Greg Seitz, found a mentor in Seitz's father, Harry, who worked in the food distribution industry for many years. "He's the one who really drove home [the importance of] quality and that being the biggest isn't always the best," Marilyn Albano recalls.
Seitz isn't the only partner with a background in the food industry. John Albano is the fifth generation of a foodservice family – he even helped make deliveries on his bicycle as a child. Although Marilyn Albano does not have a food background, she brings to the company her accounting and finance experience from her previous career with the U.S. Treasury Department. "It's a good synergy," she notes.
Small Wonder
"As a food distributor, we're considered a small company," Marilyn Albano says. "We're small, but our niche in the market is being extremely customer-focused."
If a customer has a special need for a short-term item, other distributors would require those customers to order a certain volume. But because of International Food Concepts' smaller size, Marilyn Albano says it is easier to bring in new items. "If our customer needs an item for just a week or two, we'll stock it for them," she says. "We can do small-quantity [orders]."
Unlike competitors who require $500 to $1,000 minimum orders, International Food Concepts has a delivery minimum of $300 for orders and no minimum order on Wednesdays. Sometimes the company also delivers to customers more than once a day. "We're very flexible because we realize our service is our advantage," Marilyn Albano says.
"Our service sets us apart from our competition," she continues. "When our customers call us, they don't get an answering machine; they get a person. All of our customers have a dedicated salesperson who is very familiar with their account."
International Food Concepts has a delivery area of Georgia, Alabama, Tennessee and North Carolina.  While this is a comparatively small distribution network, "the fact we are able to offer exceptional service and quality is worth putting up with that limitation," Marilyn Albano says. "It's the price we're willing to pay to be who we are."
Being Green
Sometimes working with customers to fulfill their needs may necessitate changing where those products come from and what ingredients they contain. "A lot of customers are looking to become more environmentally friendly or green," Marilyn Albano says.
International Food Concepts is constantly looking for ways to incorporate all-natural and organic products into its lines. "Going green for restaurants means also using more local sources for products," she says.
Along with being good for the environment, this commitment on the part of the restaurateurs is also great for the consumer. The product does not have as far to travel and tends to be fresher. "The product goes out fresh and gets to our customers fresh," John Albano adds.
Looking Ahead
Although retirement for the Albanos is at least a decade away, they have begun the process to transfer the reins of International Food Concepts. The Albanos' daughter, Meagan Brown, works for the company and is being mentored by Marilyn to take over her responsibilities. The couple's son-in-law, Jason Brown, joined the company as a salesman in 2005. John is mentoring him to one day share the leadership of the company with their younger business partner, Greg.
Nick Albano (17), Sam Seitz (13), and Abbigail Seitz (11) are potential additions to this close-knit family business. It is still too early to tell if they will share the passion for this industry.  "It is a family business; I don't see us retiring anytime soon," Marilyn Albano says.