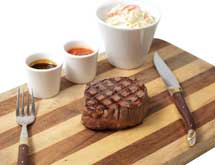 It didn't take long for Chris Maselka to become fed up earlier in his career, when he was asked to sell inferior brands of steak at high-end prices. "I'd worked at other companies in the same exact field and they were insistent on selling inferior products," Maselka says. "I always knew that if I could get good, choice beef, I could sell for years and years and years."
After several years with other distributors, Maselka set out to do things the right way and launched Iowa Steak Co. in West Des Moines, Iowa. Founded in 1999 with a single location and just four delivery trucks, the company today boasts 15 locations in eight states and a fleet of 200 trucks, catering to families, charity events and fundraisers.
Along with steak and other beef items, Iowa Steak Co. has branched out into chicken, pork and seafood products, as well as cheesecakes and other periphery foods. "We're always working on new products and are always looking for new, innovative products," Maselka adds.
Pending Growth
Like many in the food business, Iowa Steak Co. is feeling the pain of the recession. Maselka says the price of beef is at its highest in about two decades, which makes it difficult to maintain price points for quality products. The recession combined with rising feed prices and demands from exports are creating higher costs in general.
"It is a challenge because we want to carry a superior product and pass the savings to the customers," Maselka says. "This is challenging because it is getting very pricey in the beef industry."
Fortunately for Iowa Steak Co., Maselka says his company offers a better price per pound than his competitors. As a result, the customers continue to return to Iowa Steak for their meat needs.
"We offer the best and most volume, and we try to cut costs internally," he says. "We've had the best weeks ever lately, and our volume is definitely up, which is a good thing. The thing we're most proud of is keeping customers happy so we can have repeat business for years and years and years."
Maselka cites the continued success of its small-market locations as examples of customer loyalty. "Even in small markets like Des Moines, Iowa, and Peoria, Ill., people continue to buy," he adds. "That's a feather in our caps. If we didn't do good business in Des Moines, we would dry up."
Despite the economy, Iowa Steak Co. has plans to expand online and new geographic markets in the near future. The company already has three items for sale on The Showcase Series on IMC, a syndicated shopping network. Also, it is researching expansion with physical locations in the Baltimore area, as well as in Oregon and California.
Grade A Employees
Along with the quality of its products, Maselka credits his work force for the ongoing success of Iowa Steak Co. The company has staunch hiring standards and is always on the lookout for people who are driven to succeed.
Iowa Steak Co. has an extensive training program for its salespeople. New employees receive classroom and field training until the company feels they are ready to enter the field on their own.
"We have a fantastic staff and a probably the best sales force in the industry," Maselka says. "It's hard to get a job at Iowa Steak. These guys are the driving force behind what we wanted to do, and everything goes forward from there."
High Expectations
For Iowa Steak Co., customer service goes beyond consumers satisfaction. Maselka says he holds his 200 employees to a higher responsibility than other distributors. This includes maintaining clean uniforms and trucks to make a lasting impression.
Iowa Steak also partners with the Judge Mathis Community Center in Detroit, a city that has been hit especially hard by the economy. The company gives away steaks, turkeys and prime rib during the holiday season.
All of this is part of Maselka's plan to take the meat industry by storm the way Howard Schultz revolutionized the coffee business.
"In meetings, I say I would love to be the Starbucks of the meat business," he says. "It would be nice to have stores throughout the United States and Canada, and that's our goal."