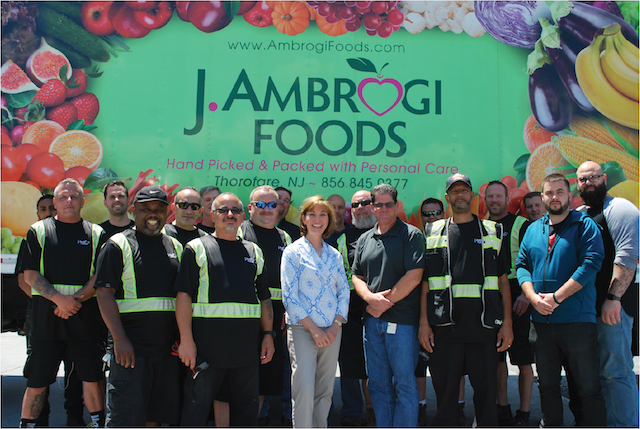 J. Ambrogi Foods supports local farmers and helps clients save through Kristy's Kuts.
When J. Ambrogi Foods delivers produce to its restaurant and foodservice clients, they can be confident in the freshness and quality of the product. "We are undeniably focused on providing the highest level of standards for our customers and their individual needs," President Kristy Ambrogi declares.
The Thorofare, N.J.-based company distributes fruits and vegetables from local farms and around the world. The Ambrogi family's roots in the industry go back to 1884, when Narcissa Ambrogi sold produce from a horse drawn cart in Center City, Pa.
The family later pioneered the sale of fancy fruit baskets and used ribbons instead of tape in each one. "For decades, they were known for quality product at a reasonable price," Kristy Ambrogi says, adding that her late husband, Jerry Ambrogi, joined his father in the wholesale produce delivery business in 1981.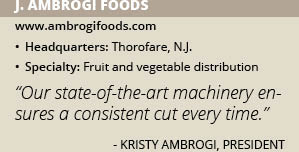 In 1987, Jerry and Kristy Ambrogi leased warehouse space and incorporated J. Ambrogi Foods. The couple's son, Michael, represented the fifth generation of his family in the produce business when he joined the company in 2015.
When Jerry Ambrogi passed away in 2016, Kristy Ambrogi stepped into the role as president. Although she had always been part of the company, "I never aspired to be its leader," she admits. "I've really had to step in and take over a lot of responsibility, and I continue to learn from it."
Relationship Focused
Today, J. Ambrogi Foods is Women's Business Enterprise-certified and one of the largest distributors on the East Coast. "We have over 7,000 items in our system," Ambrogi says, adding that every SKU is managed in its 68,000-square-foot warehouse at its optimal temperature.
She credits its success to her late husband, who many consider an innovator in fresh food distribution. "[He] invested a tremendous amount of time and energy in the early years when building his company to creating valuable and long-lasting relationships with individuals in all aspects of the industry," Ambrogi says.
These included growers, shippers, logistics managers, purchasing directors, restaurant chefs and other distributors. "He created friendships and business relationships that continue today," Kristy Ambrogi says. "Jerry was honest, loyal and treated everyone with respect and integrity."
One way that J. Ambrogi Foods extends this philosophy is by supporting local farms that focus on taste and freshness as opposed to economies of scale. "We are also supplying an industry-wide demand for local sustainability and a desire to know where our food comes from," she says.
"That is why we have expanded our local program to include more variety than ever before," Ambrogi says. "We are passionate about the growing seasons and are excited to offer new seasonal, local items."
A Cut Above
Ambrogi also is proud of Kristy's Kuts, the company's precutting operation that grew out of its relationships with chefs and foodservice directors. "It started when Jerry had an emergency request from an important customer for snipped green beans," she recalls.
Ambrogi personally cut them at her kitchen table and they were delivered the next day. When J. Ambrogi Foods decided to focus on precut produce, it dedicated a small corner of its warehouse to the operation. "Now, Kristy's Kuts has its own 22,000-square-foot facility with shifts working around the clock," she reports.
Kristy's Kuts can produce to its customers' exact specifications, saving them prep time and reducing workplace injuries. "Our state-of-the-art machinery ensures a consistent cut every time," Ambrogi says. "For specialty cuts, we rely on over 50 expertly trained employees who personally cut and contour any product or blend."
Constant Evolution
J. Ambrogi Foods regularly invests in technology, which recently included its new Alchemy learning management system. This has helped the company focus on elements such as workplace safety and SQF certification training.
The company also focuses on sustainability with its "Go Greener" initiative, which drove the installation of solar panels on its warehouse as well as paperless invoicing and a campaign with its partners focused on fewer trips and second deliveries. "Reducing the number of trips reduces our combined carbon footprint," Kristy Ambrogi says.
She predicts that J. Ambrogi Foods will continue to evolve. "All companies need to do that," she says. "We also are constantly trying to partner with growers and shippers so we can get the best product at the best price."