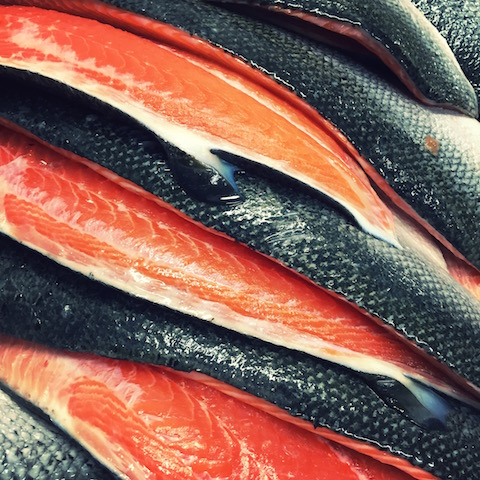 J.J. McDonnell reinvests in its company and the industry by bulding a new facility for further growth and developing a new program to offer more products.
J.J. McDonnell prepares for future growth as it constructs a new 60,000-square-foot facility in its hometown of Elkridge, Md., while continuing to focus on being the regions first choice for quality seafood. "When you move into a new facility and invest valuable resources for future growth, you have to think differently in order to be successful," owner George McManus says. "You just can't do the same thing you did yesterday or the day before."
The company was founded in 1945 and was located in the Baltimore Seafood Market. In 1984, J.J. McDonnell relocated its operations to the Maryland Seafood Market in Jessup where it has resided ever since. The company has remained a leader in the industry for more than 70 years because of its core values and dedication to the customer and the industry.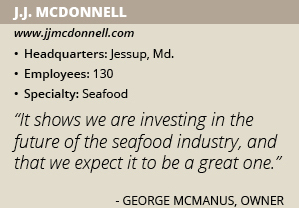 J.J. McDonnell offers a large and diverse portfolio of fresh and frozen seafood, supplying retailers and the foodservice industry. "Our customers expect perfection," McManus adds. "In this region – Maryland, Virginia, Washington, D.C., and Pennsylvania – there are some of the finest chefs, and they are very demanding. There is also a ton of good competition, so you have to be on your game every day to meet demands, from variety of selection to exactness of specifications chefs and purchasers demand for a certain species, as well as timeliness, packaging, customer service and information."
J.J. McDonnell meets its customers' demands because of its 130 employees who are dedicated and passionate about the company and the industry. "We have dedicated people who search for fish every day of the week, whether it's a Saturday or Sunday," McManus says. "We have experienced operational people who fulfill orders and package properly and great communication through our sales and customer service professionals. We stay in constant communication with our customers."
Information is Vital
Every product J.J. McDonnell buys is put into its purchase order system that has several layers of documentation, including whether it is fresh, frozen, what type of species it is and any other specifications. "We can trace it back to the region or as far as the fisherman and time of day," McManus says. "A lot of the information we are collecting is what customers use when they sell it to the end-user. They tell the story in their restaurant or store, and want to have that whole lineage of the seafood. The grocery stores led this movement and restaurants are following suit."
Providing detailed information on its products is not new for J.J. McDonnell as the company started documenting 15 years ago, but customers were not as interested at the time. "I believe traceability is critical," McManus adds. "I look at it as running a responsible business and giving the customer what they want. We are transparent and give them that information freely. This industry – more in the history than currently – has had a lot of mistrust. It has to do with the consumer side not knowing whether the product is safe, how to cook it or, if you ordered scallops, are they really scallops?"
Trust between the customer and the vendor is key and a major focus in the industry today. J.J. McDonnell has become a trusted source by employing high traceability standards for each of its products to know what is happening in the supply chain and providing that information to its customers. The company uses Trace Register, a web-based, on-demand application to which product source and traceability information is entered, secured and shared among companies throughout the supply chain. Customers can also access this data through their Trace Register account.
Quality Assurance
J.J. McDonnell has always had food safety and cleanliness at the forefront of its operations. It developed and maintains a stringent HACCP plan and continuously monitors its critical control points. The company is BRC Food certified and plans to meet and exceed the criteria for certification in its new facility. "The organization requires us to be in the facility for three months before we can be certified," Director of Marketing Steve Vilnit says.
To ensure the company continues to maintain high-quality standards, J.J. McDonnell employs a full-time quality assurance director. "He is here not just to make sure we are clean and safe, but to train," McManus says. "We spend a great deal of time training our employees about safety, cleanliness and not just to be safe and clean, but to teach them about the cleaning agents we are using, temperature control and filling out paperwork. It's a constant challenge to educate your staff. Five years ago, this was not a big issue within the seafood industry, so in order to be pro-active we had to change the culture within the company. We, as a company, need to do this to remain cutting-edge."
Changing the culture takes about two to three years, McManus says, and J.J. McDonnell's quality culture is now entrenched in all of its staff. "I don't know a competitor in the region that does what we do with training for food safety and cleanliness," he adds. "We hope that in the future we can bring this training to the customers to make an impact on their business, as well."
Expanding for Growth
J.J. McDonnell's new 60,000-square-foot facility is designed to be efficient in flow, has a high sense of urgency when it comes to temperature control, and is equipped with technology features that will help make it the premier seafood company in the region. The new location is a mile-and-a-half from its previous location that the company called home for more than 30 years and will open in September.
"We want to grow," McManus says. "I'm really excited about this new facility because it will bring an injection of energy and excitement into the company. It shows we are investing in the future of the seafood industry, and that we expect it to be a great one."
In addition to its new facility, J.J. McDonnell launched the Bycatch Program last year that focuses on underutilized fish that fishermen may be catching. "Often times with seafood, fish are unintentionally caught and thrown back into the water," Vilnit explains. "Mortality rate is high, so we wanted to make use out of those fish to provide additional income to fishermen and offer new and different fish to chefs who are always looking something different and interesting."