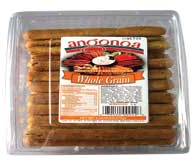 JAG Specialty Foods: Angonoa's
As "The Original Bakers of Breadsticks" per its slogan, the Angonoa's brand name is synonymous with high-quality breadsticks, according to Andrew Zampieri, vice president of operations, sales and R&D for College Point, N.Y.-based JAG Specialty Foods, which owns and operates the breadstick manufacturer.
Having been in production since 1897, Angonoa's is one of the oldest breadstick bakers in the business. "We invented the North American style of breadsticks," Zampieri maintains.
Most people are familiar with the long, thin, olive oil-infused breadsticks imported from Europe, but Angonoa's thicker, heartier and slightly more stout version makes its breadsticks uniquely American and, in Zampieri's opinion, better for dipping. "That's the style we pioneered and are probably the leading manufacturers of it still left in the country," he attests.
Angonoa's was established in 1897 by the Angonoa family and operated as a family owned business until the 1950s, when there were no heirs to take over the company. Nevertheless, the owners wanted to preserve the Angonoa name, so they sold the business to Almo Zampieri, Andrew Zampieri's grandfather, who ran a successful bakery alongside his brothers in Manhattan.
Almo Zampieri retired in the 1970s and handed the reins to his son, Peter, who ran the company until his retirement in 2008. Peter Zampieri sold the business to JAG Specialty Foods in 2009, which is led by his son, Andrew Zampieri, and partners Gregg Desantis, John Ferrante and Eileen Rapp.
Dedicated Breadstick Baker
The new owners of Angonoa's have been working hard to streamline the company's operations and elicit better pricing from vendors, Zampieri says. They also have embarked on an aggressive marketing campaign to strengthen the brand through promotional deals with its customer base. "We want to make sure everybody knows who we are, what we do and why we feel our breadstick is the best available," he explains.
Angonoa's argument for being the best is centered on its unwavering commitment to breadsticks. "Other people who manufacture breadsticks also manufacture other things such as cookies, flatbreads or tortillas, so it's almost an afterthought for them," Zampieri remarks. "We are a company that specializes in breadsticks and only breadsticks, and we've been doing it longer than everybody else."
In addition to classic flavors commonly associated with breadsticks such as plain, garlic, onion and sesame, Angonoa's fancies itself one of the more creative breadstick bakers. The company has created a number of specialty flavors for its private label customers as well as for its own brand; examples include rosemary garlic, sun-dried tomato basil, pizza and whole grain and whole wheat.
"We do every application you can with breadsticks," Zampieri says. The company markets to restaurants, foodservice distributors, commissaries and institutions such as universities, nursing homes and camps.
Exploring New Avenues
Zampieri says Angonoa's has remained successful despite the economic downturn. "We occupy a pretty good niche," he explains. "We have the kind of product that could be viewed as a specialty item for customers who want to save some money by shopping for themselves but don't want to deny themselves the better things in life – someone who buys high-quality cheese or hummus, our product is a perfect accompaniment to those items.
"At the same time, a breadstick is a relatively common product with not too much of an exotic flavor profile, so it's an item that appeals to any person," he continues. "We haven't made any formula changes – we've been baking them this way since the 1950s."
Angonoa's intends to up the ante on nutrition and is considering offering breadsticks that are higher in fiber, protein and omega-3 fatty acids. "In addition, we're making a big effort to increase our volume and work with our vendors to ensure we're working with the best vendors and getting the best pricing we can," Zampieri continues. "We're also exploring the idea of adding new topical applications to our breadsticks to achieve different flavor profiles, be it Thai, buffalo spice or cinnamon sugar. There are so many different things that we can do."