Vertically integrated Jaindl Turkey Farms sells everything connected with the popular poultry but the gobble. It breeds and hatches turkeys from its own eggs, grows their feed on 11,000 acres of farmland and processes the products, all in its own facilities. Among the advantages of this approach is full accountability.
"We not only produce it, we raise, grow, harvest, store and produce it at our feed mill," owner David Jaindl points out. "It's a built-in hedge to minimize any price spiking and input costs." Grain prices have spiked recently, Jaindl notes, and the cost of fertilizer has been increasing.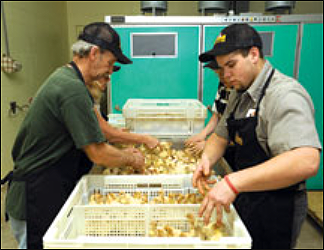 Jaindl Turkey Farms formulates a proprietary all-vegetable diet for its turkeys and uses no meat by-products in its feed. "Turkeys are vegetarians at this farm," Jaindl declares. "They're pretty much vegetarian in the wild. Nuts, berries – things like that are more their natural diet." Jaindl Farms does not use a "least cost" diet – this provides a consistent taste to every turkey.
The feed grown on Jaindl Turkey Farm's 300 farms is mainly corn and soybeans. The diets produced on the farm also include a balanced blend of vitamins and minerals. When the company mills its grain, it extrudes the whole soybean and converts it into 36 percent protein. The oil expelled by in-line presses from the extruded beans is converted into an environmentally friendly bio-fuel that heats the farm buildings and runs the farm equipment.
Jaindl maintains that his turkeys are lean from the breed, not the feed. They have 55 percent less fat and 25 percent fewer calories than other raw turkeys while still remaining juicy and succulent, the company says. "Our birds have more white meat than most birds on the market," Jaindl maintains.
Grand Champion
The breed was created by Jaindl's father, Fred. Associate and General Manager Richard Gildner is credited with many of the innovations during his 50-year tenure with the company.
The fully integrated operation produces and processes the turkey from egg to table. "We select the breeders each year from the previous year's offspring, and we keep about 20,000 breeders each year," Jaindl explains. "They produce the offspring of the following year's turkeys."
Jaindl Turkey Farms has nine farms that produce approximately 750,000 turkeys annually in 219 grow-out buildings. They are all within a one-mile radius of the 75,000-square-foot smoking, cooking and processing facility in Orefield, Pa. Hatching of the eggs is accomplished in a separate 25,000-square-foot building within 100 yards of the processing facility.
Two of the nine turkey farms raise free-range turkeys and one raises organic birds that are fed with feed from an organic certified mill. The free-range turkeys are raised in an open-concept barn that allows them to go outside, whereas turkeys raised conventionally stay inside.
Jaindl Turkey Farms' products are distributed as far west as Detroit, as far south as Florida and into New York, New Jersey and New England. Jaindl estimates approximately 70 percent of the company's products are distributed in the Northeast, but some are sold in Japan, the Dominican Republic and Texas. The company private-labels its premium turkeys for grocery chains such as Whole Foods, Wegmans Food Markets, Stew Leonard's, ShopRite (Wakefern), and Bell and Evans.
Five years ago, Jaindl Farm produced five varieties of turkey products. That number since has increased to 25. "We've really expanded the product line," Jaindl stresses. "Now, because of the healthier living habits of folks, tur-key is really a year-round product."