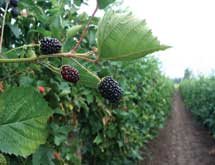 Jake Sterino Inc./George Richter Farm
Puyallup, Wash.-based Sterino Farms began farming fresh berries, beans and vegetables for the local market in 1925 and has overcome the odds to remain a steady success throughout the decades. Today, the company is in its third generation of family ownership and continues to be recognized for its high-quality head lettuce, cabbage, pumpkins, berries and more.
Today, the company is taking advantage of the foodservice trend toward local sourcing and support of independent farming operations. "There's been a big push lately for supporting local produce," President Jake Sterino says. "This is a trend we're taking full advantage of, because there are not too many local farmers left in the area. It puts a lot of pressure on us to have product available, but we're ready to meet this need."
Sterino is well-equipped to help lead the business into the future after virtually growing up in the business. "This business is all we know, because the family was brought up in it," Sterino says. "It's all we've ever done, and we've been able to gain a lot of hands-on experience while growing up."
The company has developed ongoing relationships with a number of supermarkets throughout the Pacific Northwest, such as Fred Meyer, QFC, Metropolitan Market and Safeway. Although these strategic relationships have served it well in the past, Sterino faces a number of challenges that are often out of its control.
"The uncertainty of the weather in the Northwest has been a challenge, especially this year," Sterino says. "Right now, we should be planting daily, but haven't been able to for the past two weeks due to weather conditions."
Although weather conditions create an uncertain growing season, Sterino makes up for any lost time by working even harder during stretches of good weather. "We just try to adapt and do what we can do," Sterino says. "Even though it might be tough for us to get everything planted, we have been fortunate to have long falls for the past 10 years or so. We would rather have a long fall to make things easier coming out of the fields."
Strategic Acquisition
Sterino Farms diversified its offerings three years ago, after purchasing George Richter Farms. The company had worked with George Richter Farms in the past, when Sterino developed an interest in growing raspberries. "George Richter had sold berries all over the world, so we started growing our own with him in the early 1990s," Sterino says. "When George was sick about three years ago, we ended up buying his farm and put our own berries in with his. After purchasing his farm, we continued to sell the berries under the George Richter label."
As a result of the acquisition, Sterino gained a number of talented, long-term George Richter farm employees. "We were very fortunate," Sterino says. "When we bought the farm, he had many employees who had been with the company for 30 years or more. They stayed on with us, and we've developed a great group of employees."
Sterino Farms also strives to keep everyone busy during the slow periods. "Our employees enjoy working here," Sterino explains. "They have a great deal of work in the summer time, and can take time off in the winter. We do have quite a bit of year round work as well, to keep our guys employed year-round, if that is what they're looking for."
Commitment to Quality
Sterino Farms places quality at the forefront of its operations and ensures each product is inspected several times. "Our flats of berries are inspected three or four times before they leave our place," Sterino explains. "All of our leaf lettuce is hand-cut and hand-wrapped, and we have vacuum coolers to keep the freshness alive as long as we can."
The company sees great growth potential in its rhubarbs and intends to focus on this area in the future. "They say Pacific Northwest rhubarb is some of the best in the world," Sterino says. "But, many of the old rhubarb farms have closed throughout the years, so we see a lot of possibilities with this market."
Fred Meyer presented Sterino Farms with its vendor of the year award. "We earned this award because we were doing a lot of consolidating of their local produce, and shipping the product directly from our facility," Sterino says.
"We've made it a point to do whatever we can for our customers to meet their needs."