James Skinner Baking is expanding its family's food legacy with artisan goods.
With a legacy in the food industry that spans more than a century, James Skinner Baking Co. follows its family tradition of providing high-quality artisan products. "We really stay true to those roots," Executive Vice President and CFO Shawn Bushouse declares.
Omaha, Neb.-based Skinner Baking specializes in goods baked in the traditional European style, including Danish coffee cakes, Danish rings, cinnamon rolls and sweet rolls. "The Skinner family has been in the food industry for quite a while," Bushouse says.
They first began by producing pasta in the late 1800s. "The Skinner family operated that through 1979, where at the time, they were the third-largest pasta producer in the world," he says.
The family ultimately sold its business, but wanted to get back in the food industry four years later. "Lloyd and James Skinner started James Skinner Baking in 1983 as a commissary, supplying a local retailer in the area," Bushouse says.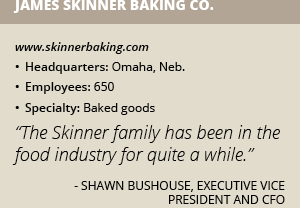 After a few years, the two moved into co-manufacturing. "In 2010, we decided that we had broader ambitions," he continues, noting that Skinner Baking launched its own brand that year. "The rebirth occurred and sent us on an entirely different trajectory."
Today, its top two product lines include its Danishes, which are sold in stores. "We have probably 15 different flavors of them," he says.
"Our second largest platform consists of very high-quality cinnamon rolls," he says, noting that its lines also include muffins, battercakes and cornbread. "Those would be our main platforms."
The company also continues to offer co-manufacturing services. "We … produce high-quality [items] for many of the industry's giants," Bushouse says.
Pipeline of Innovation
Skinner Baking is well positioned as a leader in its industry from a quality standpoint, Bushouse says. "We [take] a consumer packaged goods approach to an industry that did not have a lot of that," he states.
"If you go into the in-store bakery of an average retailer, you're going to see a lot of plastic clamshells and labels," he says. "We like to add a lot of pizzazz to that approach and put character to every product. We're the ones bringing innovative packaging and giving them emotional appeal to the consumer.
"We're bringing the fundamentals of exciting consumer packaged goods into the in-store bakery," he continues. "We bring a solid pipeline of innovation every year. That's something you don't see a lot of other folks doing."
Big Deals
Skinner Baking's recent projects included the purchase of a Sara Lee facility in Paris, Texas. "That's been a lot of fun for us," Bushouse says. "It gave us ability to expand our product portfolio.
"It also was a big deal for Paris," he says, noting that he personally spent much of his time speaking to the residents and officials in the area. The facility has allowed Skinner Baking to introduce such products as its new mini Danishes.
"We just launched those at the International Dairy-Deli-Bakery Association [show in Houston] this year," he says, noting the pastries earned the company a place in the Top Innovations of 2016 category. "That's where other branded manufacturers as ourselves launch new innovations."
Skinner Baking also has become a sponsor of Nebraska Medical Center in Omaha. "We obviously have our roots there," Bushouse says. "We wanted to align ourselves there because we like what they're doing."
Expanding the Brand
Skinner Baking's future will be centered around innovation, Bushouse says. "That's really what got us here," he says. "As we look at the next 33 years, that's what it's going to be about."
He sees more growth ahead for the company. "We have a very wide opportunity for expanding the brand across other platforms," he says. "I see us continuing to win in the future."