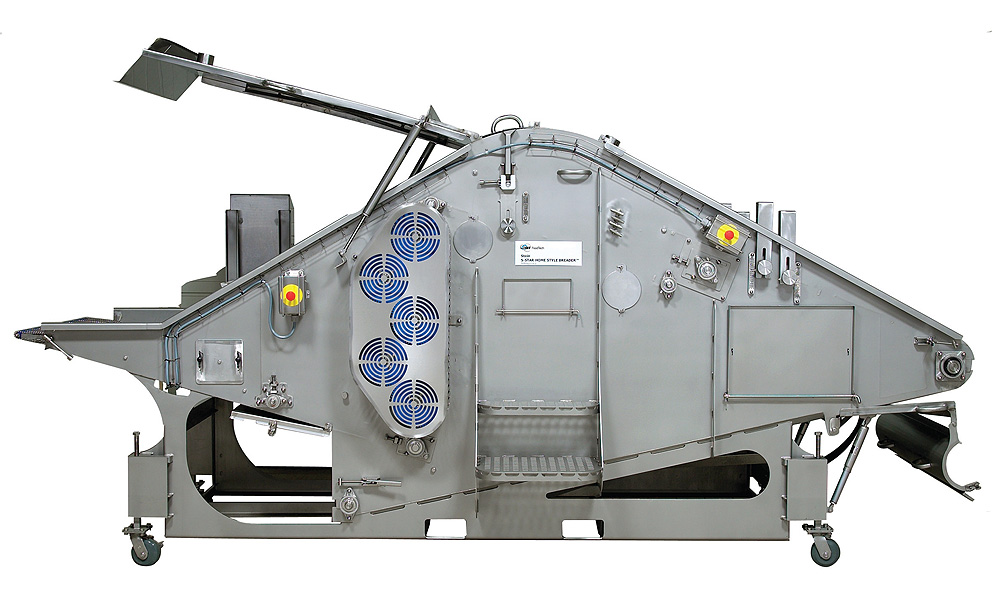 A growing reputation
After recently acquiring Double D Engineering in Broxburn, Scotland, JBT FoodTech is read y to expand upon its reputation as a lead ing global food engineering solutions provider
JBT FoodTech is a division within the JBT Corporation, which was formed in the 1880s and, until 2008, operated as Food Machinery Corporation (FMC). Now with its UK headquarters located at the former Double D Engineering premises in Broxburn, Scotland, the company today is a leading technology solutions provider to high-value segments of the food processing industry.
With multiple subsidiaries throughout Europe, JBT FoodTech itself is divided into two subdivisions – the first of which is the Food Processing Solutions Division (FPSD), which deals with canning and sterilisation services. This department also has a fruit, vegetable and citrus processing division, which is responsible for squeezing 70 per cent of the world's oranges and harvesting more than 60 per cent of the world's tomatoes.


The second division within JBT FoodTech is the Food Solution and Services Division (FSSD), which is made up of a portfolio of brands that includes the globally renowned Frigoscandia brand of chilling and refrigeration equipment. Sales manager for JBT FoodTech's UK operations, Barry Jackson, elaborates:"We are the world's largest industrial freezing equipment manufacturer, with more than 50 per cent of the world's frozen food frozen on our equipment."
Other key brands of JBT FoodTech include Stein, which provides breading, battering, frying and cooking solutions; DSI, which is the company's water jet cutting range; and the SPACE series of aseptic fillers. This portfolio of innovative products has been further expanded as of May 2009, when JBT FoodTech acquired Scotland-based Double D Food Engineering, a key provider of both bakery and further processing ovens and cooking technology.
Barry highlights some of the benefits that this acquisition has brought to the company: "We now have a more complete solution for bakery systems. The Double D brand is already very well known throughout the UK and now our global sales team of more than 60 people can promote this further. Double D Ovens will also be integrated into our further processing lines, which will provide our customers with even more options."
By continually expanding its offerings, JBT FoodTech has been able to further build its status as a flexible provider of high-quality products – and this is a reputation that has been one of its key strengths over the years, according to Barry: "The history of the company and the heritage that we have is very important. We developed our first continuous freezer 50 years ago, and we have been at the forefront of freezing and processing technology ever since.
"In addition, we have steadily developed a dedicated team of experts, and we are continually investing significantly in research and development. All of this is supported by the advanced food technology centre at our European headquarters in Helsingborg, Sweden, and our soon-to-be-expanded test facility within our UK headquarters in Scotland."
With research and development playing such an important part in the company, JBT FoodTech is always looking at potential new applications to add to its portfolio. Barry explains: "We are investing a lot of resources into producing new technology and improving the synergies between the products we already have. One example is our recent dry-fry process where we are looking to replace a fryer in a traditional line with a Double D impingement oven. This way we can remove the fryer from the line and set the coating in an oven rather than a fryer, resulting in a lower fat-product. This provides our customers with a solution that uses cooked products as an alternative to fried, helping them tackle health issues such as obesity."
Practically without exception JBT FoodTech has equipment within the factories of all of the major food manufacturers within the UK and most large groups worldwide. "We prefer to work with our customers as partners which makes life much easier and rewarding for both parties," Barry reveals. "Working closely together enables us to help increase the profitability of our customers and maintain their market advantage. This is achieved in part by our strong aftermarket and customer service, where we provide various preventive maintenance programmes and inspection agreements for all of our equipment.
"In all aspects of our business, we are always looking at new ways to improve and diversify what we have, adapting it for new processes. By remaining flexible in this manner we are able to work closely with all of our major customers to ensure that they stay ahead."
Maintaining such an extensive aftermarket support service also ensures that JBT FoodTech can maintain long-term relationships with its clients. Barry highlights: "Whether it is through increasing running times, throughputs, or improving the traceability of products through our systems, we support our customers throughout the life of their equipment. In addition we are currently working with many of our customers to look at how they are running their lines and figuring out ways that they can be improved, saving time, costs and energy consumption."
With so much activity taking place within JBT FoodTech at the moment, Barry believes that his company has succeeded in navigating the financial crisis relatively unscathed. He discusses how his sector has stayed strong: "The food industry has been fairly well insulated from the recession, and in 2009 we experienced our strongest results in the UK for many years. The previous year saw many companies postponing projects and assessing the situation. We actually benefitted from the churn in the marketplace, as some production was moved between producers and we reacted to assist."
Barry is confident that the future holds a lot of potential for the company, as he concludes: "There are a lot of growth opportunities for JBT FoodTech and we are continuing to look at innovative cooking processes such as infra-red technology and impingement cooking to carry out surface treatment upon the products. We also want to make the food products more visually attractive but also more succulent where possible, and we are evaluating the benefits that microwave technology can add to the cooking process too. Ethnic products are another area that we have seen a rise in interest, and so we are looking to step up our involvement here too. There is certainly a lot happening in the market for us to take advantage of in the coming months."