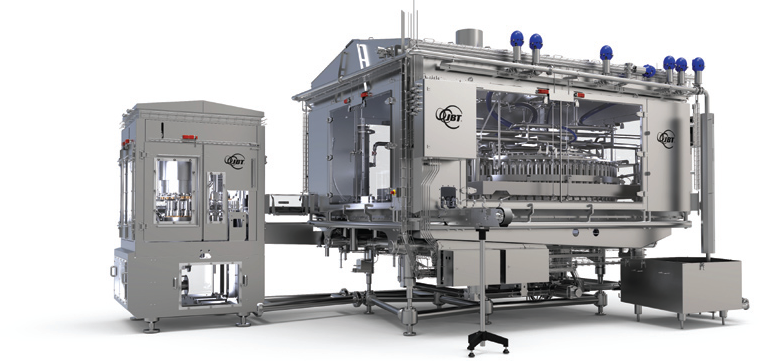 Filling, closing, sealing
Developing customised food processing machinery, JBT is the go-to-partner for many of the most renowned names in the global food industry
Developing new, market-driven solutions has been the catalyst for the immense growth JBT Corporation (JBT) has enjoyed over the last five years. As Jan Windey, Plant Director of JBT's Liquid Foods site in Sint-Niklaas, Belgium, explains, "we have changed our organisation in order to be able to meet the needs of the market on a global scale and develop tailored solutions for our customers, who are some of the biggest players in the food industry."
The two business segments in which JBT is organised, are FoodTech and AeroTech, with Jan's business belonging in the former. As the name suggests, it is specialised in providing machinery for the processing and packaging of a wide variety of different foods and beverages. JBT FoodTech supplies both customised industrial and turnkey solutions and services used in the food and beverage industry, as well as sophisticated food processing systems for the preparation of meat, seafood and poultry products, ready-to-eat meals, shelf stable packaged foods, bakery products, juice and dairy products, and fruit and vegetable products.
In total, the FoodTech business numbers over 4200 employees who are scattered across 25 factories around the world. Based in Sint-Niklaas, in Belgium, Jan has overseen the 72 per cent organic growth experienced by his site from 2012 to 2017, citing the development of new variants of certain types of equipment as the main reason for the expansion. "We have listened well to our customers, which has allowed us to identify the opportunities to bring solutions to the market that customers are looking for and to design equipment that meets all of their needs," he claims. "Our fillers and closers have been popular products in the market place for many years, and our Unifiller is known for being best-in-class when it comes to filling accuracy. In addition, our sterilisation solutions are also incredibly sought-after. Our machines are very reliable and sturdy, allowing customers with machines that 57have been in operation for 30, 40, and sometimes even 50 years to upgrade with recent developments."
Staying on the sterilisation side, Jan adds: "For some of the products, we first do the filling and closing before moving on to sterilisation to ensure longer shelf life. This is called 'in container
sterilisation.' However, for other products, we do the sterilisation first and then fill them aseptically, thus offering another option to our customers. Furthermore, we also provide a high-pressure sterilisation option through our Avure Technologies HPP product line where the goods are stabilised with pressures of up to 6000 bars without heating up the product."
Landmark achievement
In line with emerging market requirements, JBT has manufactured a number of new fillers as of late. The rapid growth in demand coming from Asia has sparked a lot of the company's recent initiatives. Jan details: "We have a lot of customers in the Middle East and the Far East, and we can see that certain products are being heavily embraced in these regions. For example, fruit juices with fruit bits are gaining in popularity and we have developed fillers to strengthen our presence in this particular market.
"Another sector where we are strong is baby food, infant formula in powder, for which our powder fillers and can seamers have become the standard of this rapidly growing industry, especially in Asia.
"A landmark achievement for us was the installation of the world's fastest filling line for sweetened condensed milk (SCM) for another customer in Asia," he continues. "The high-capacity filling line was designed to run sweetened condensed milk (SCM) cans at 1200 cans per minute and includes an 81-station high-speed JBT Unifiller along with a JBT Seamer 1259 for automatic closing of SCM cans in Ø73 x 83mm cans. Due to the fact that once SCM has been filled and closed, there is no post-processing, the filling process itself needs to be extremely accurate and clean to avoid any spills. To ensure that, we developed a very smooth electronic synchronisation between the Unifiller and the Seamer, which has been fine-tuned in such a way that the line stays in perfect sync in cases of acceleration, deceleration and even emergency stops. Admittedly, it was a challenging task that took us quite some time, but it has really allowed us to optimise all can transfers, reduce spillage and reach very high levels of filling a curacy."
Valuable acquisition
One distinguished practice adopted by JBT when the company is looking to grow its capabilities and gain ground in the market, is the active acquisition of other businesses. In 2018, the Corporation finalised the purchase of Netherlands-based food equipment and solutions provider FTNON, with a view to increase its coverage of the fruit and vegetable market. The Dutch company's focus on peeling, steaming, de-coring, washing, slicing, and blanching fits ideally with JBT's concept of getting involved in the supply chain as early as possible and staying in control up until the final stages, as demonstrated by its filling and closing competences.
"We have also acquired another business this year – the UK-headquartered Proseal, which is a leading provider of tray sealing technology for the food industry," Jan reveals. "Proseal's system has application across a broad spectrum of food products, including fresh produce, ready meals, pet food, meat, seafood and poultry, and others. We have discovered many similarities between the two companies and we are currently in the integration process," he states further.
Further improvements
"What we regard as a sound strategy for the next five years, is to drive further improvements to our value proposition in the markets that have traditionally been strong for us, so that we can cement our leadership there," Jan opens up about the company's future aspirations. "Fruit and vegetable processing, in-container sterilisation, and filling and closing promise to remain the core focus for us, but at the same time, we will aim at growing in some product categories that are close to our portfolio. Dairy is one such area and perhaps nutraceuticals, too. While still early days, we are also considering a potential entry in other markets such as pharmaceuticals with our sterilisation services. Wherever we choose to go, however, we will rely on the expertise of our employees. We have 59had a steady workforce over the years and the experience and know-how that our people have gained in that time, is certainly paying off when we serve our customers," he praises his staff in conclusion.