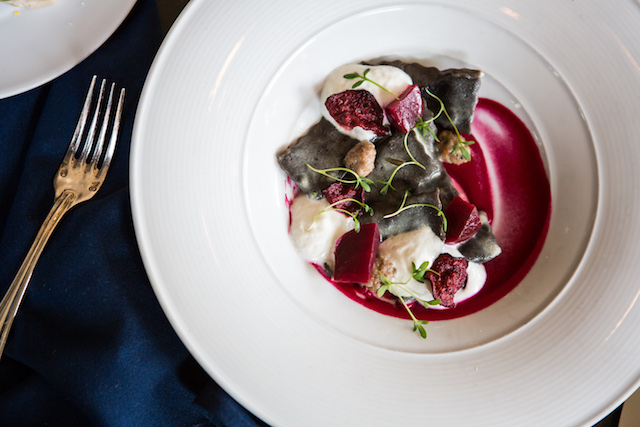 Jester Concepts gears all of its restaurants to their locales.
A successful restaurant not only requires delicious cuisine, but also strong service to keep customers coming back. Jester Concepts has both, co-owner and co-founder Brent Frederick says. Not only does it hire people who are good at what they do, they also have the attitude "to get better at what you do," he says.
Instead of resting on their laurels, "[They're] always trying to get better," he says. "Waking up, knowing that we all want to get better each and every day is a mindset at our company."
Frederick co-founded Jester Concepts in 2008 after working as a restaurant manager and bartender. But when he had dinner with a friend one night, he learned that about an available space for a restaurant that needed a new tenant.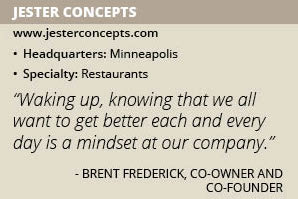 "I immediately said I would do it," Frederick recalls. "It was one of those out-of-body experiences where you recognize the moment and opportunity in front of you."
Tailor Made
Today, Jester Concepts has seven locations, which include its Borough, Parlour, Monello and Constantine restaurants, all located in Minneapolis. It also has a Parlour location in St. Paul, Minn., and its Mercado restaurant in South Minneapolis, Minn.
Borough specializes in contemporary American food with rotating seasonal menus, with items such as octopus, lamb and porkbelly. Constantine and Parlour offer cocktail bars with gourmet burgers, while Monello offers Italian dishes, including its Torchio with braised rabbit. Its Mercado restaurant offers tacos and rice bowls, which include carnitas, garlic butter shrimp and braised chicken, topped with sautéed vegetables.
"We also run a concession in the Target Center, which is the basketball arena for the Timberwolves," Frederick says, noting that its locations make their food from scratch. "This is the only way to do a restaurant in an urban scene."
They also are tailored to their local communities. "That's always been our motto: 'Take a look at the neighborhood and create something that's missing,'" he says, noting that a lot of its competitors will create the concept first. "We focus on neighborhoods that are growing and create a concept for it. It's kind of backwards, but it's always worked out."
For example, before Jester Concepts opened its flagship Borough and Parlour locations in Minneapolis' historic North Loop, it set out to create places that were approachable and welcomed everyone. "There also weren't a lot of restaurants in the neighborhood that were chef driven," Frederick recalls.
But Jester Concepts' hard work paid off. Not only were the restaurants a success, but that year, "We made it on the 'top 50 new restaurants in the nation' [list in] Bon Appétit," he says.
<>Helping Hand
Frederick is proud of Jester Concepts' charitable work, which includes contributing to the University of Minnesota Masonic Children's Hospital's #GIVE16 program, which is funding a new space that will include a broadcast station and theater. This will allow children to enjoy programming in the studio as well as view hockey games in the theater.
"We've been doing what we can to donate to that cause," he says, noting that the company has never turned down a local charity. Frederick also is partnering with a friend on Provision Community Restaurant, a community eatery that will bring the neighborhood and the food insecure to the table to break bread together.
"I'm very proud to be part of that," he says, explaining that the restaurant's guests will pay what they can for their meals. "We're hoping to get donations from food suppliers and restaurants, and money donations from Fortune 500 companies in Minneapolis."
Aiming to Grow
Jester Concepts recently attended the National Restaurant Association show in Chicago. Not only was the company happy to enjoy the local fare at restaurants, "We just like to walk the show and get ideas," Frederick says, noting that the company looked at new equipment and software, as well as dinnerware.
The company plans to keep looking at new ideas as it expands. "We want to grow to $50 million-plus in sales per year," he says, adding that Jester Concepts wants to grow the catering side of its business, as well as open up future concessions at local sports arenas. "There will probably be a food truck in the near future as well."
Frederick sees a strong future for Jester Concepts with the amazing staff that is driving the company forward.