J&G Foods has become a leading meat processing company because of its commitment to doing the right thing: by its people, its customers, and the community.
"Quality, responsibility and integrity. These are the values that matter to us, and they're the values that our customers expect of us," says J&G Foods President and founder, Joe Piperato. Since its inception in 1999, Sutton, Mass.-based J&G Foods has established itself as an industry leader in custom cut, portioned and packaged frozen and case-ready meats for the foodservice, retail and home delivery markets.
Today, J&G Foods serves regional and national organizations, and is one of the largest producers of case-ready meats for well-known supermarkets around the country. The company has carved out a niche position, specializing in organic and grass-fed beef, as well as natural beef and pork, Australian natural lamb, organic chicken, and an array of marinated and value-added meats.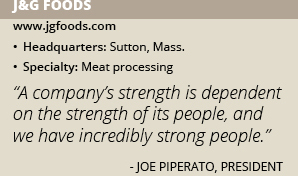 "It might sound clichéd, but we're nothing without our customers. So we are relentlessly dedicated to delivering exactly what they need – and what their end-users want," Piperato explains. "We work hard to get it right, on time, and at the highest quality. We believe in true partnership with our customers. It's not just a transaction; it's a relationship."
Investing in Improvement
A driving factor in J&G's current leadership position is its ongoing investments in improving its people, systems and operations. Both its Chief Operating Officer and Production Manager are Lean experts and the Lean philosophy is passed through the organization. Much of the company's in-house training is based on understanding and eliminating waste. Cost improvements can then be passed along to customers.
Within the last five years, the company added 2,000 square feet of production space, grew its staff and doubled production volumes. This month J&G will complete the installation of a second and entirely new grinding line to accommodate future customer demand.
Ground meats are vitally important to supermarkets. "In fact, all ground meats combined represent approximately 50 percent of supermarket meat volume," notes Piperato. "But the fastest growing area is the niche of grass-fed and organic ground products. Of course, within this niche J&G Foods also offers a full line of whole muscle steaks, roasts, stews, steak tips and stir-fry, as well as a wide assortment of marinated meats."
The company brought on the new grinding line for increased capacity, flexibility, redundancy and peace of mind. J&G Foods doesn't ever want to tell customers an order will be incomplete or delayed because a machine is down. Additionally, the grinding line will give the company the ability to bring on value added products, items that include ground meats along with other ingredients, such as meatloaf, meatballs, bacon-cheddar burgers, for example.
Growing Strategically
"We've been growing strategically. We're a well-tuned machine and we're constantly looking to do better," Piperato says. "And we're also focused on the long-term. What we do and how we do it matters today and it will matter tomorrow. So we're finding ways to be smart about how we run our operations, with an eye towards the environment."
Case in point: J&G Foods upgraded the interior of its plant, including installing a co-generation system that captures waste heat from compressors.
"All refrigeration compressors generate heat. Well we're at an industrial scale, so that's a lot of heat. We now capture that heat and use it to heat the hot water we need each night for the complete wash down of equipment and plant sanitation," Piperato explains. "That makes heating of that water self-sufficient. We're also using that captured heat to keep our offices warm. And in a few years, the money we save will pay back the cost of that project while simultaneously allowing us to lighten our footprint."
Other environmentally conscious initiatives are related to the company's use of corrugated boxes and vacuum packaging films. "We chose to work with a box supplier that uses solar power," Piperato says. "We are also trying to be greener with the film we use for packaging case-ready meats, collaborating with a company that makes film by utilizing plant by-products. Co-generation, solar power-produced boxes and plant-based film are all important environmental programs for us."
Responding to Consumers
One more element helping the company to grow is J&G's approach to the changing consumer attitude toward food. People are looking for healthier food, and they want to know more where their food is coming from and how it was produced. Specialty meats and organic and grass-fed products are a fast growing sector of the market, and J&G Foods has been a trendsetter in that space.
"We've developed strong, long-term relationships and programs with our supply partners," says Piperato. "We have a world-class order fulfillment system, with world-class fulfillment results (more than 99 percent on time and complete). We are dedicated to complete customer satisfaction."
Maintaining Success
As J&G Foods looks to the future, Piperato believes the company is far from outgrowing its capacity as a manufacturer. Right now, the company works mostly on a single shift, five days a week. The company could add days to its week, and shifts to its days when needed to handle substantially increased volumes. In the last few years, the company has seen significant growth to its business, key personnel, equipment, sales and packaging capabilities. This kind of growth remains a priority for the company.
To stay on that track, the company's core values of safety, quality, responsibility, and integrity, along with excellent productivity, must remain. J&G Foods is operating smoothly and efficiently, yet its core values and strengths are driving its ongoing evolution.
J&G Foods knows that its success stems from flexibility, honesty, creativity, and a fierce dedication to customer satisfaction. The skills and commitment of its people and partners, coupled with Lean manufacturing, are critical to maintaining success in the years ahead.
"A company's strength is dependent on the strength of its people, and we have incredibly strong people," Piperato says. "We are singular in our purpose: to delight our customers. We will deliver because we are resolute in our values – we will never compromise on quality, responsibility, or integrity. We are going to do what's right 100 percent of the time. That's how we're going to continue to grow. And I'll be darned if that isn't exciting."